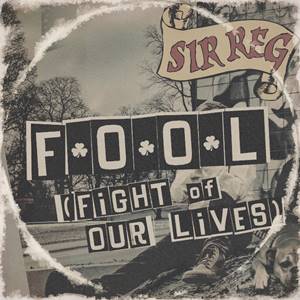 Celtic punk rockers Sir Reg release brand new single
18th May 2018
"FOOL (Fight of our Lives), the first single from the new SIR REG album is about pulling yourself back from the brink the minute you feel all hope is lost. Nothing and nobody can stand in your way when you decide to go grab your hopes and dreams and achieve everything you believe is rightfully yours."  – Brendan Sheehy
SIR REG is an energetic six piece from Sweden fronted by Irishman Brendan Sheehy on vocals, who left his home-town of Dublin to come to Sweden to fulfill his dream – to put together the most amazing band possible. 
With songs about everything from the issues of modern day society to finding the right bar on a Saturday night, combined with strong melodies and explosive live shows, SIR REG have made a name for themselves in the Celtic punk and rock scene.
Since the birth of the band in 2009 they have released four critically acclaimed albums and have performed on many of Europe's biggest stages alongside bands like The Mahones, The Misfits, Thin Lizzy and The Real McKenzies.
Later this year SIR REG will release their fifth studio album 'The Underdogs' on the Swedish based label Despotz Records. Here's what the band has to say about the album;
"The Underdogs is the new album from Celtic punk band SIR REG. Everyone loves an Underdog. They represent the belief that anyone can achieve and accomplish whatever they believe in, despite overwhelming odds. This album deals with the struggles and fighting of the ordinary men and women, to make their voice heard and their opinions count, whilst not losing their spirit and ability to enjoy the simpler things in life, like hanging out with friends at their favourite bar on a Saturday night."
SIR REG are:
Brendan Sheehy – vocals / acoustic guitar
Karin Ullvin – violin
Chris Inoue – guitar
Mattias Söderlund – bass
Filip Burgman – mandolin
Mattias Liss – drums

Discography:
SIR REG (2010)
A Sign of the Times (2011)
21st Century Loser (2013)
Modern Day Disgrace (2016)
How useful was this post?
Click on a thumb to rate it!
Average rating / 5. Vote count: