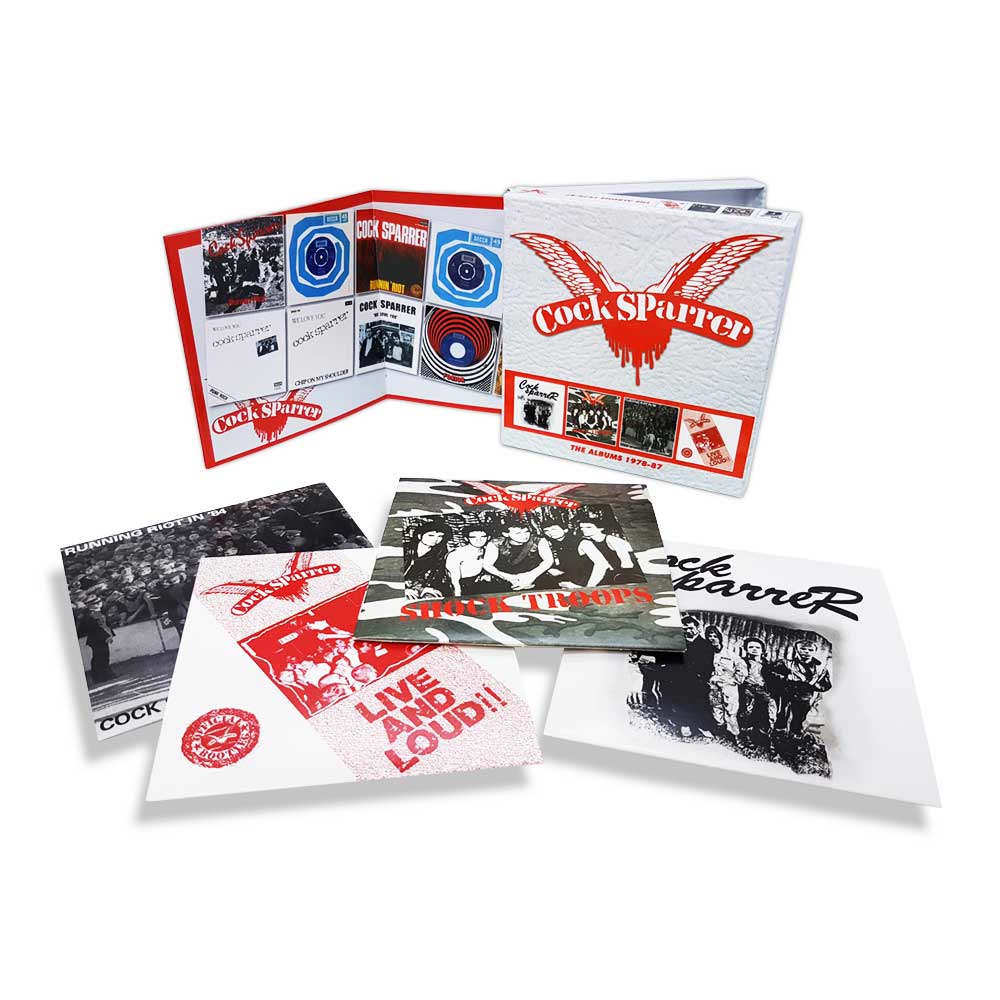 COCK SPARRER: THE ALBUMS 1978 – 87, 4CD CLAMSHELL BOX SET
25th June 2018
Housed in a lavish clamshell box and replica album sleeves, are the first 3 studio albums by Cock Sparrer and a live album.
Originally formed back in 1972 and still active to this day, this band have never had any real commercial success. it was 6 years between forming and releasing their self titled debut in 1978 (although it wasn't released in the UK until 1987 under the title of True Grit). Having released a number of singles through there then label Decca, the band had recorded an albums worth of material but were ceremoniously dropped, although the album was very strangely released in Spain in 1978.
This version of the album is expanded from the original 10 tracks to 15. This is incorporating the singles and B sides that were released back in the day via Decca. The most notable tracks are Sunday Stripper and Trouble On The Terraces.
This 1978 album still sounds vibrant, relevant and overall still retaining that DIY aspect of 70's punk, and it's all remastered from the original tapes.
Shock Troops was released in 1982 and is considered by most to be the bands actual debut album. This album gems on it, especially tracks  such as Secret Army an Droogs Don't Run, but it's the inclusion of 3 bonus tracks that make this a worthwhile purchase. One of the bonus tracks is England Belongs To Me, which some may recognise from UFC as Dan Hardy used it as his entrance music.
2 years later, Cock Sparrer followed up Shock Troops with Running Riot in '84. Still sounding like themselves, this album had a bit of money thrown behind it terms of production. Sadly there are no bonus tracks on this remastered version but Chip On My Shoulder (live) sounds the absolute mutts nuts. Much more powerful than on the original release.
The final album in this box is the 1987 live album Live and Loud. It's still the best sounding live recording of Cock Sparrer of this era (however there have been some live bootlegs that have come close, but I won't mention them.) There's a stunning version of The Clash's White Riot on this album which almost rivals the original, and a riotous version of the Stones classic We Love You.
Despite there being just 2 discs with bonus tracks, Cock Sparrer along with Captain Oi Records have put together an interesting box set. The liner note booklet is not only extensive, informative and illustrated with pictures from the eras, but it's a joy to read whilst blasting out these albums. 
It's been a real trip down memory lane for me as an old school punk and well worth a purchase. (There's a 2nd box set due out soon covering the years 1994 – 2017).
Score 7/10
TRACK LIST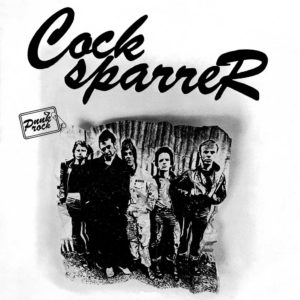 DISC ONE: COCK SPARRER
1. WE LOVE YOU
2. SISTER SUZIE
3. PLATINUM BLONDE
4. TAKEN FOR A RIDE (WE THINK YOU DON'T)
5. AGAIN AND AGAIN
6. RUNNIN' RIOT
7. CHIP ON MY SHOULDER
8. WATCHA GONNA DO ABOUT IT
9. TEENAGE HEART
10. I NEED A WITNESS
BONUS TRACKS
11. SUNDAY STRIPPER
12. TROUBLE ON THE TERRACES
13. WHAT'S IT LIKE TO BE OLD
14. RUN FOR COVER
15. WHAT'S IT LIKE TO BE OLD (SECOND VERSION)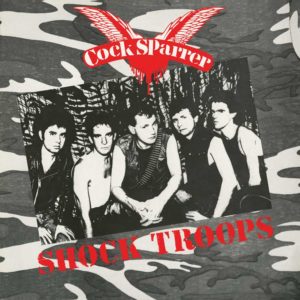 DISC TWO: SHOCK TROOPS
1. WHERE ARE THEY NOW?
2. RIOT SQUAD
3. WORKING
4. TAKE 'EM ALL
5. WE'RE COMING BACK
6. WATCH YOUR BACK
7. I GOT YOUR NUMBER
8. SECRET ARMY
9. DROOGS DON'T RUN
10. OUT ON AN ISLAND
BONUS TRACKS
11. ENGLAND BELONGS TO ME
12. ARGY BARGY
13. COLONEL BOGEY
DISC THREE: RUNNING RIOT IN '84
1. RUN WITH THE BLIND
2. IS ANYBODY THERE?
3. PRICE TOO HIGH TO PAY
4. THINK AGAIN
5. DON'T SAY A WORD
6. THE SUN SAYS
7. THEY MEAN MURDER
8. CLOSEDOWN
9. CHIP ON MY SHOULDER (LIVE)
10. RUNNIN' RIOT (LIVE)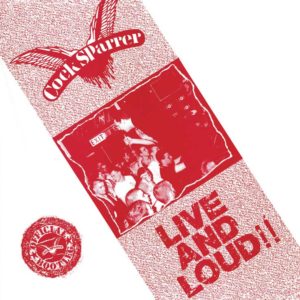 DISC FOUR: LIVE AND LOUD!!
1. RIOT SQUAD
2. WATCH YOUR BACK
3. I GOT YOUR NUMBER
4. TAKE 'EM ALL
5. WE LOVE YOU
6. WORKING
7. ARGY BARGY
8. WHERE ARE THEY NOW?
9. WHITE RIOT
10. RUNNIN' RIOT
11. THE SUN SAYS
12. SECRET ARMY
13. ENGLAND BELONGS TO ME
14. CHIP ON MY SHOULDER


Release Date
29th June 2018
Label
Captain Oi
For all things Cock Sparrer click HERE and to purchase this box set, point your mouse HERE