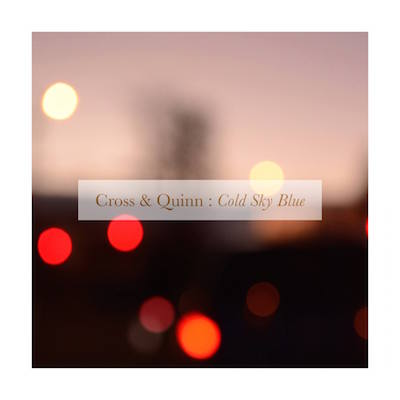 Cross & Quinn – Cold Blue Sky – CD Review
9th March 2016
Former King Crimson violin & mellowton player David Cross along with Sean Quinn of Tiny Magnetic Pets have joined forces to create one of the most beautiful progressive & ambient albums to grace the ether.
King Crimson may already be a name familiar to you.
In total contrast to Crimsons hard edge, Cross & Quinn have constructed something incredibly entertaining & almost Pink Floyd in nature.
Davids violin sound reminds me of Ed Alleyene-Johnson (former New Model Army) & if you enjoyed his Purple Electric Violin Concerto then you're really going to love this.
Sean Quinns piano & synthesizer work compliments Cross so perfectly it's truly ethereal.
Quinn has stated "I was always interested in ambient music & was working on a solo album which includes a collaboration with Roedelius. I started thinking about other artists I admired involved in ambient music. My all-time favourite band is King Crimson (72-74 line-up) and I was particularly fascinated by David's contribution to the band – his melodic sense is incredible."
Splattered with vocal performances from Beth Hirsch (Air's "Moon Safari" album) & Brendan Staunton (Dubh Chapter, Tea House Camp) add to taking the listener on some sort of trip & has elements of Radiohead, Talk Talk & Sigur Rós.
Cross & Quinn 'Cold Sky Blue' will be available 25th March via Esoteric Antenna/Cherry Red Records.
Track Listing:
1. SKYLINE VERTICAL
2. COLD SKY BLUE (featuring Beth Hirsch)
3. COUNTING ALL THE STARS (featuring Brendan Staunton)
4. ON SPIDER HILL
5. FOR SOMEONE (featuring Paula Gilmer)
6. ARC EN CIEL (PART ONE)
7. THE M CHORD (featuring Thomas Truax)
8. ARC EN CIEL (PART TWO)
9. MEANINGLESS (featuring Brendan Staunton)
Score 7.5/10
How useful was this post?
Click on a thumb to rate it!
Average rating / 5. Vote count: