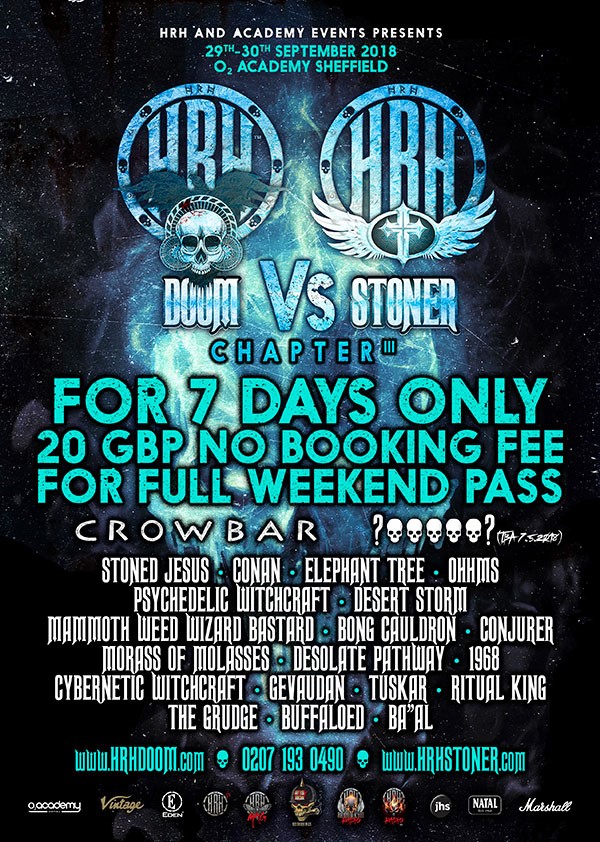 Crowbar, Stoned Jesus & Conan catapult HRH Doom vs HRH Stoner's 3rd Cycle
13th November 2017
Crowbar, Stoned Jesus & Conan catapult HRH Doom vs HRH Stoner's 3rd Cycle with an incredible 20 GBP no booking fee weekend teaser ticket.
HRH are proud to announce the opposing armies of talent who'll be lining up for HRH Doom Vs HRH Stoner Chapter III (at the O2 Academy, in Sheffield, between Saturday 29th and Sunday 30th September 2018).  
Headlining these fan-chosen favourites will be Crowbar: an American band famed for pioneering sludge doom metal, along with other outfits from the New Orleans scene. Crowbar's early commitment to the extreme remains legend today, even though (as their guitarist, singer and songwriter, Kirk Windstein, told Rolling Stone), "Being heavy for the sake of being heavy or loud for the sake of being loud is fine, but to me, it gets old kind of quick. There needs to be real songs and melody along with the aggression."
Joining the headliners will be the Ukrainian Doom/Stoner band Stoned Jesus with their heady post-metal brew of psychedelia, occult and sludge; also Conan: a British doom metal band, with their heavily distorted and downtuned sound, memorably described as "caveman battle doom."
Elephant Tree are a relatively new band on the scene, blasting out ballsy blues rock and heavy riffs, who've carved out a niche within the current growing Stoner Metal genre. OHHMS are also a relatively new band: formed in Kent in 2014, they'll be bringing their thick riffs and Paul Waller's trademark gravelly Viking-like vocals to DVSIII.
Also announced for Doom Vs Stoner Chapter III's initial line-up are Psychedelic Witchcraft, Desert Storm, Mammoth Weed Wizard Bastard, Bong Cauldron, Conjurer, Morass of Molasses, Desolate Pathway, 1968, Cybernetic Witch Cult, Gevaudan, Tuskar, Ritual King, The Grudge, Buffaloed, and Ba'al. Names to conjure with, indeed!
Built on expertise forged and honed like Excalibur at the legendary Camp HRH in North Wales, HRH Doom Vs Stoner Chapter III brings the same high standards of thunderous music, quality gaffs, close-knit kindred spirit community, and much malarkey to Sheffield at the O2 Academy site.
We are truly excited about Chapter III, as are our sponsors: Marshall, Eden, Natal, HRH Mag and HRH TV; not to mention the awesome array of bands, who'll be doing what they do best at this truly amazing event. And it won't be quiet!
As with all HRH events, tickets will sell FAST, so book early to avoid disappointment and missing out on Europe's #1 celebration of Doom and Stone. 
As ever, HRH will also be featuring three exclusive hotels on the O2's very doorstep, and offering Royalty & Classic packages. However, if you're local and just need weekend passes then that's fine with us.
For first 7 days only, full weekend passes will be 20 GBP with no booking fee, and will go on sale Monday 13th November at 12:00 GMT.