DarWin 2 – A Frozen War: A Review
23rd October 2020
0
By
Owen Edmonds
I suspect that many of you will know a band called Godsmack, hopefully you know the lead singer, Sully Erna, some of you may even be familiar with his solo record 'Avalon' released in 2010. Now I like that album, it has a good sound and is fairly easy to listen too.
DarWin 2 A Frozen War is just like that.
A fairly sedate 5 track album (I had to double check it was only 5 tracks) which sounds great and has lots of cool sounds and lyrics which makes me want to listen to more of DarWin's stuff.
It isn't all great stuff though, it is only 5 tracks long and to be honest, it's a harmless album. I wasn't blown away by the complexity of it, the music is really good in places, I truly have no issues with any of the tracks. However, that's part of the problem I have with the album.
However, there are moments when it feels safe, it feels like there weren't many risks being taken. It's fine. 
I didn't want to damn with feint praise, but I think that's what this review is going to do.

The Review
When you release an album with only 5 tracks on it, then it puts a lot of pressure on each track to be the best it can be. And when you have cover art of this album, I was expecting big things.
Especially when you look at the various musicians featured on it, I mean just having Billy Sheehan (bass) and Simon Phillips (drums and producer) as part of the team is a big deal. These are pretty big names and they are all vastly experienced with a lot of different influences.
Sadly, I don't think they've been used to the greatest potential.
One of the highlights for me is Nightmare of my Dreams. 
The song starts quit sedate, but there are bursts of energy and the song picks up the pace leading to a nice section. The solo is where the song really works for me. The music changes and becomes more intricate and interesting. The instrumental section has some lovely music provided by a Reykjavik strong quartet and this provides some lovely moment. On top of this the guitar work is superb and after chuggy bit (official term) the section of drums by Simon Phillips is lovely. I really enjoy this instrumental section, its intricate and expressive. More of this please.
The other four songs don't reach the same height for me. They are decent, but you know they just don't grab me.

I think part of my issue is that if you're only going to put 5 songs on an album, then each one has to be pretty blinding to make up for the lack of quantity. And whilst I like the music of Future History, the second track, it is let down by lyrics that didn't challenge me or make me focus on them too much. Although the solo is great, again.
A few weeks back I reviewed Fish' final album and I found myself trying to compare these songs to his and what he does with lyrics. Fish is the kind of lyrical writer that really puts a lot into the words, if he can choose 5 words instead of 2 he will. I've often found myself listening over and over and over to a small section of Emerald Isle or Script to work out exactly what was said and why. I just didn't get that from these songs.
Conclusion
The album is fine. It's good. It isn't exceptional. There is one section that I really liked. Overall I enjoyed listening to it. The musicians are all excellent at what they do and they have produced a good sounding album. I'd even go so far as to say that there are some musical sections that I really like.
However, I felt let down by some of the lyrics not grabbing me as much as I'd have liked.
Overall, it's fine. That's part of the problem and is the reason why I've given this the following score.
Score 6.5/10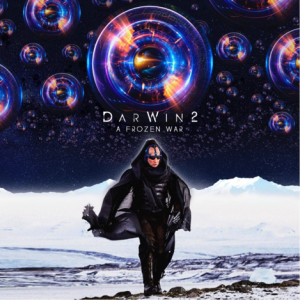 Track Listing
Nightmare of my Dreams
Future History
Eternal Life
A Frozen War
How useful was this post?
Click on a thumb to rate it!
Average rating 0 / 5. Vote count: 0
No votes so far! Be the first to rate this post.
Related
About the author
I love music. My favourite 3 bands are Iron Maiden, The Doors and Jethro Tull. However, I love early Metallica, early RHCP, RATM, QOTSA, The Lounge Kittens, Rammstein, Clutch, Slayer, Faith No More, Pearl Jam, Rush, Black Sabbath, Led Zeppelin and so many more.