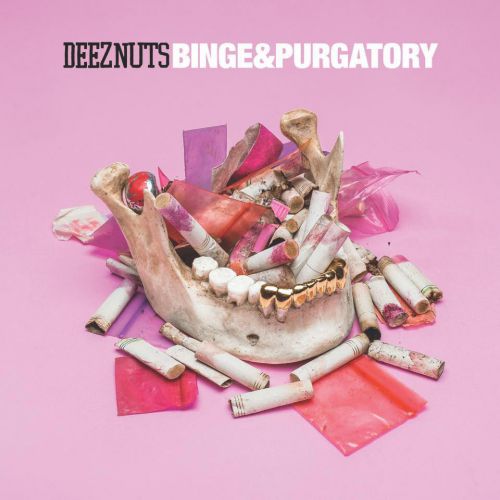 Deez Nuts – Binge and Purgatory
19th March 2017
Deez Nuts. Deez Nuts. Deez Nuts. The more times you say their name, the more ridiculous it sounds.
It sounds like a joke, like the name someone would give to a parody band. And it's a shame really, because Deez Nuts are pretty damn good.
While it's true that the Australian hardcore outfit aren't exactly reinventing the wheel it's also true that they could stand their ground against a whole load of US bands from the same genre.
If you like Madball and Death Before Dishonor, you'll like Deez Nuts – that's a given. Of course if you like Madball and Death Before Dishonor you should already know about Deez Nuts, to be fair.
If hardcore ain't broke, don't try to fix it
Tim Jones
Binge and Purgatory is Deez Nuts' fifth studio album, so they've been around the block a few times and this album is as brutal as any modern hardcore album you'll find.
It kicks off with half-title track, Binge, a 50 second instrumental that builds up to other half-title track, Purgatory. It's heavy, like a sack of bricks being dropped, and if you don't nod your head in agreement as you listen to this then check your pulse because you might be dead.
Break Out, Do Not As I Do and Lessons Learned are all great, meaty slabs of hardcore that will inspire many a circle pit at future shows.
It might feel a bit like hardcore-by-numbers at times. You've got heavy, chugging riffs, breakdowns, gang vocals and yes, it ticks all the boxes in that respect, but there's more. Deez Nuts have invited some heavyweights of hardcore to give them a hand. Hatebreed's Jamey Jasta and Terror's Scott Vogel turn up to help out on vocal duties and if that's not a ringing endorsement I don't know what is.
Like a lot of hardcore albums, Binge and Purgatory is almost over before it starts. It comes in at just over half an hour and leaves you wanting more.
There's not a bad song on here and while it's absolutely true that very familiar paths are being trodden you need to remember that if hardcore ain't broke, don't try to fix it and Deez Nuts are well aware of this. At least this album is proof if any were needed that hardcore still lives.
Score: 7/10
Reader album rating: [ratings]
BINGE AND PURGATORY ALBUM INFO
Track listing:
Binge
2. Purgatory
3. Antidote
4. Commas & Zeros
5. Break Out
6. Discord
7. Lessons Learned
8. Carried By Six
9. Cakewalk
10. For What It's Worth
11. Hedonistic Wasteland
12. Remedy
13. Do Not As I Do



Release date:
7th April 2017
Record Label:
Century Media