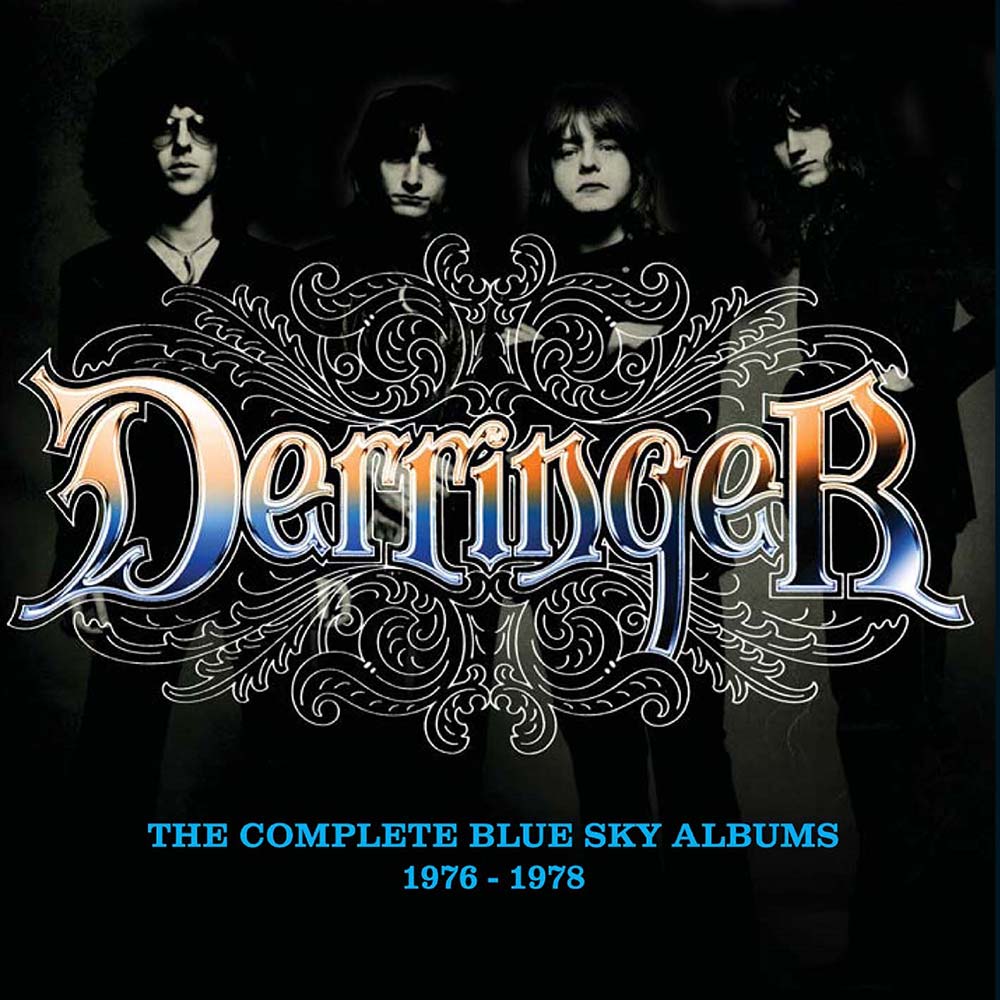 Derringer – The Complete Blue Sky Albums 1976-1978
1st February 2017
In such a short space of time Derringer managed to clock up a reputation as one of the hardest working bands in the industry at this time & released 3 studio albums & 1 live album, in just 3 short years.
In this collection you not only get their 4 officially released albums (Derringer, Sweet Evil, Derringer Live & If I Weren't So Romantic I'd Shoot You) but you also get a previously unreleased Live in Cleveland. This album was a promotional item only, containing live versions of Rock And Roll,  Hoochie Koo ( with an added heavy as frak version of The Kinks, You Really Got Me) along with a great version of David Bowies Rebel Rebel. Live In Cleveland along with the officially released Derringer Live, show how incendiary this band were live. Sadly the studio recordings don't capture it as well but they're still incredibly strong albums. 
Infact live is where this band truly felt comfortable. Derringer were an amazing stadium rock band & their performances rivaled those of Montrose, Ted Nugent & Van Halen & the live albums show that perfectly.

The studio albums themselves still pack a punch & have benefited immensely to the remaster. Especially when hearing the monstrous track Sittin' By The Pool which has some of the best guitar work ever committed to tape.

Thankfully these records will last a lot longer for future generations to discover.

This set of complete recordings is extremely well put together. From the remasters, artwork & the essay by the rock guru Malcolm Dome of Classic Rock magazine, this is an essential purchase.
To a new listener, you're just going to be blown away by the sheer magnitude of this band & it'll leave you with the feeling of jealousy that you didn't witness this band the 1st time around. 

DISC ONE:
DERRINGER (1976)
1. LET ME IN
2. YOU CAN HAVE ME
3. LOOSEN UP YOUR GRIP
4. ENVY
5. COMES A WOMAN
6. SAILOR
7. BEYOND THE UNIVERSE
8. GOODBYE AGAIN
BONUS TRACK
9. LET ME IN (MONO VERSION)
PRODUCED BY RICK DERRINGER
DISC TWO:
LIVE IN CLEVELAND (1976)
1. LET ME IN
2. TEENAGE LOVE AFFAIR
3. SAILOR
4. BEYOND THE UNIVERSE
5. ROCK AND ROLL, HOOCHIE KOO
6. ROLL WITH ME
7. REBEL REBEL
PRODUCED BY RICK DERRINGER
DISC THREE:
SWEET EVIL (1977)
1. DON'T STOP LOVING ME
2. SITTIN' BY THE POOL
3. KEEP ON MAKIN' LOVE
4. ONE EYED JACK
5. LET'S MAKE IT
6. SWEET EVIL
7. DRIVIN' SIDEWAYS
8. I DIDN'T ASK TO BE BORN
BONUS TRACK
9. DON'T STOP LOVING ME (MONO VERSION)
DISC FOUR:
DERRINGER LIVE (1977)
1. LET ME IN
2. TEENAGE LOVE AFFAIR
3. SAILOR
4. BEYOND THE UNIVERSE
5. SITTIN' BY THE POOL
6. UNCOMPLICATED
7. STILL ALIVE AND WELL
8. ROCK AND ROLL, HOOCHIE KOO
DISC FIVE:
F I WEREN'T SO ROMANTIC, I'D SHOOT YOU (1978)
1. IT AIN'T FUNNY
2. MIDNIGHT ROAD
3. IF I WEREN'T SO ROMANTIC, I'D SHOOT YOU
4. EZ ACTION
5. LAWYERS, GUNS AND MONEY
6. POWER OF LOVE
7. SLEEPLESS
8. TONIGHT
9. ROCKA ROLLA
10. ATTITUDE
11. MONOMANIA
BONUS TRACK
12. LAWYERS, GUNS AND MONEY (MONO VERSION)
Label
HNE
Release Date
27th January 2017
Check out Derringer HERE