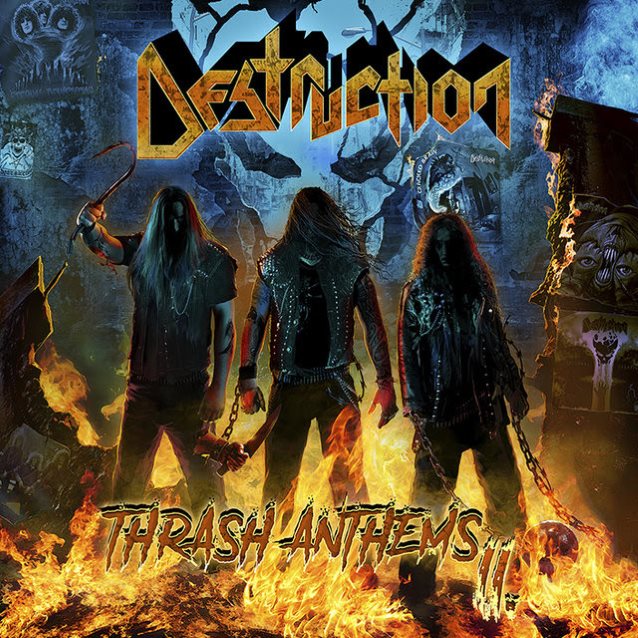 Destruction – Thrash Anthems II
15th November 2017
DESTRUCTION are back with "Thrash Anthems II", now if you missed the first "Thrash Anthems" then you might be misled into thinking this is a collection of covers of thrash metal greatests songs? Well you would actually be wrong as this is effectively 'Greatest Hits Part 2'! Confused? Let me explain it to you.
Teutonic Thrash Legends DESTRUCTION have been going for 35 years and have released 13 studio albums, with two of the original trio back in the fold they decided to do a crowdfunding album where fans who preordered the album would pick the track listing for the forth coming release (along with other bonus content for funding the album). "Thrash Anthems II" is made up of mainly earlier material with a cover of the DEAD KENNEDYS hit 'Holiday in Cambodia' thrown into the mix.
Through the re-recordings of DESTRUCTIONS back catalogue the production is significantly better than the originals and the trio still have the exuberant youthful energy shown on the original tracks. The sound is more punchy and the drums powerfully pound along, while the bass rumbles along like a Panzer tank (like the reference I did their to Marcel Schirmer side project!) and the guitar riffs and solos have been given a new sharper attack while still retaining some of the fuzz from the original releases. Finally Schirmer hasn't lost any of the snarl from his voice and still bellows the lyrics as powerful as he did all them years ago on the original releases.
So what's not to like I hear you scream?
Well this seems like a release aimed either at diehard completist fans or winning over new fans to DESTRUCTION. Now if you are a new fan then I would definitely recommend going out and picking up "Thrash Anthems" and "Thrash Anthems II" as a starting point for your education into DESTRUCTION. However if you are already a fan of DESTRUCTION then this is worth a listen so that you can compare the re-recordings to the originals, but it isn't really essential listening. I suppose this release is much better than a half arse greatest hits release or even (more annoying in my opinion) a crap greatest hits live album which bands love to do! Also hats off to DESTRUCTION for letting the fans decide the tracks that would make up the album. So this release is really down to personal taste and opinion, if you hate original material getting reworked then this release is definitely not for you. The rest of the metal community will be split by personal choice as to whether you want to part with your hard earned cash for effectively a greatest hits part 2 or pick up a new studio album? 
AVERAGE SCORE – 6.5
Breakdown of Scores
Destruction/Thrash newbie fans – 8
Thrash/Destruction fans – 5
Diehard Destruction fans – 7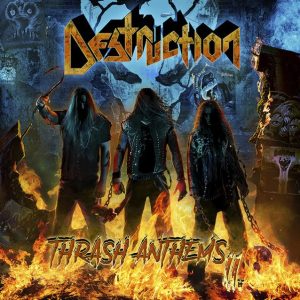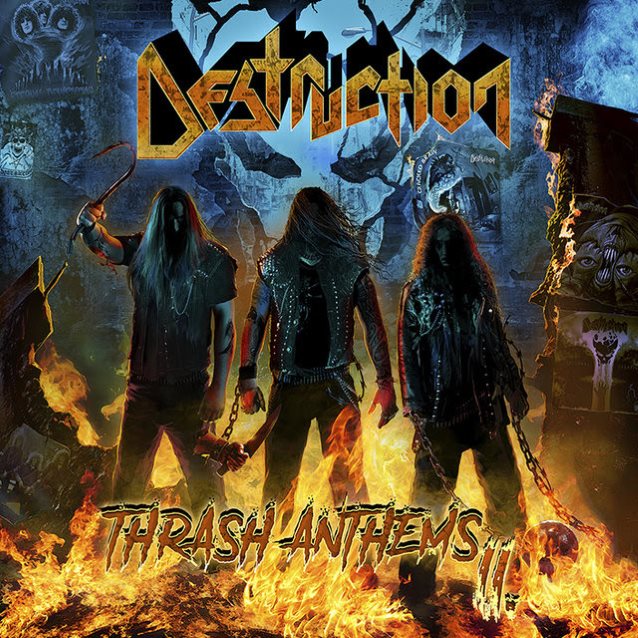 Track Listing
1. Confused Minds (Eternal Devastation)
2. Black Mass (Sentence of Death EP)
3. Frontbeast (All Hell Breaks Loose)
4. Dissatisfied Existence (Release From Agony)
5. United By Hatred (Eternal Devastation)
6. The Ritual (Infernal Overkill)
7. Black Death (Infernal Overkill)
8. The Antichrist (Infernal Overkill)
9. Confound Games (Eternal Devastation)
10. Rippin You Off Blind (Cracked Brain)
11. Satan's Vengeance (All Hell Breaks Loose)
12. Holiday In Cambodia (Dead Kennedy's Cover)
Label: Nuclear Blast
Release Date: 10th November 2017
Official Website: www.destruction.de
To purchase Thrash Anthems II or other Destruction merchandise then click here