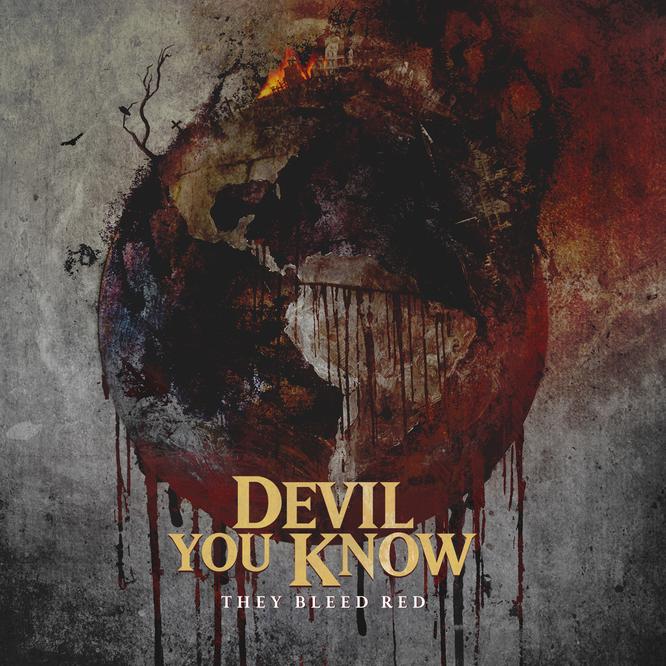 Devil You Know – They Bleed Red
6th November 2015
0
By
Fraser
Devil You Know are one of the latest and better "supergroups" (for want of a better term) to grace the world of metal in recent years. An all-star group of musicians, vocalist Howard Jones (Killswitch Engage, Blood Has Been Shed), guitarist Francesco Artusato (All Shall Perish, The Francesco Artusato Project), bassist Roy Wombacher (Bleeding Through) and drummer John Sankey (Divine Heresy, Fear Factory, Devolved) are on the cusp of unleashing their sophomore album upon the world. A modern metal band with the chops to challenge some of the most established on the scene, Devil You Know have the talent to go far and new album They Bleed Red displays the potential that will propel them towards the glory they deserve. Debut album The Beauty of Destruction was a bit of a hit or a miss – the good tracks were truly excellent, but the weaker ones are skipped more than often than not for me whenever I give the album another spin – this is not an issue with They Bleed Red, the group have taken a very much all killer, no filler approach to the album.
Opening quickly with Consume The Damned they dive straight into some speedy riffing and Howard Jones' (or HoJo, as some articles of Devil You Know merch call him) unique, iconic vocals – there is no soft, enchanting atmospherics to ease you in or to build the mood, the action kick starts straight away. Fast, heavy and fun, Consume the Damned is an excellent way to open the album. Moving onto to The Way We Die, the song carries much more of a feel of Blood Has Been Shed, HoJo's band before Killswitch Engage. Heavy and gritty, the verses sound excellent but the highlight of the track is the chorus – absolutely freaking huge, and with those melodic vocals we grew to love from his time in Killswitch, Howard is killing it. We are also treated to a very entertaining solo from Francesco (dubbed Fran-Halen by the band, and rightfully so). The Way We Die is the second single from the album, accompanied with a music video that I doubt will get much air time on MTV. A witty, self-aware play on Howard's pornstar dramas of yesteryear, or simply because why not? Who knows?
Taking a very slightly softer tone, Your Last Breath is absolutely steeped in melody and HoJo delivers an truly incredible vocal performance. About half way through the track they pick up the heavy, harder hitting side we've come to love. A catchy, heavy and incredibly melodic track, Your Last Breath is just one of the many fantastic songs to be found on They Bleed Red. Next up is lead single Stay of Execution which is set to become a live favourite. One of the heaviest tracks on the record, it certainly seems like John Sankey had a hand in writing this one with his death metal roots. As heavy as they come, but still dripping with melodic guitar work, tight and insane drumming and Howard's iconic clean vocals, Stay of Execution is simply one of the best tracks Devil You Know have recorded. Break the Ties slows down the tempo somewhat – but don't take this for weakness, another brilliant track with a completely huge chorus featuring some very Iron Maiden influenced guitar work from Fran-Halen, these melodies will get stuck in your head for days.
From the opening notes, you know Shattered Silence is going to be heavy – it sounds completely savage. A blast beat fuelled, down-tuned riff fest, if it wasn't for the cleaner edge to Howard's shouted vocals this would not be out of place on a straight up death metal record. If played live, Shattered Silence will undoubtedly lead to some pretty brutal (read: really, really fun) mosh pits – I'll be hoping for this to make an appearance when they play Soundwave in a couple of months! In Jekyll and Hyde like contrast, the album moves onto Let The Pain Take Hold. A misery drenched, slower, absolutely beautiful track that shows the softer side of the band excellently. A nice, steady beat from John Sankey and Roy Wombacher allows the melodic guitar work and the stunning vocals to take centre stage. A truly beautiful song, it is the perfect chance to catch a breath and the perfect contrast to such heavy work that has come before. Master of None picks up the speed and the heavy again, with some more fantastic riffing and drum work – the song is just packed with talent and excellent musicianship. HoJo's almost whispered clean vocals are a nice touch and I couldn't help but have a little grin with the lyric of "I am the Devil You Know!" at the end of the chorus.
Opening with a lovely, melodic riff, soft clean vocals and an almost galloping drum fill, Searching For The Sun is another of the less-heavy tracks on the record but is just fantastically written and well executed. It has a really interesting sound to it, with little bursts to fret-wankery from Fran-Halen contrasting the softer feel of the song as a whole. Just after the half way mark we are also gifted with a groove filled section which leads in nicely to yet another brilliant solo. Picking up the pace as we near the end of the album, How The End Shall Be is thrashy, heavy and catchy again picking up the death metal influences from Sankey's previous bands. Packed with blindingly good guitar work and some venomous lyrics, this song is clear evidence the end shall be pretty damn brutal. Sadly, we have come to the closing track, Broken By The Cold. What can I say about Broken By The Cold other than it's a simply amazing song? Another of the best from the album, it showcases every aspect of the band perfectly and with the atmospheric fade out at the end, it is just a fantastic way to close the album – you're left feeling both satisfied and wanting more.
At times the riffs do feel a little chuggy, and it would be nice to see Roy Wombacher given more of a chance to shine, but aside from these two minor complaints, They Bleed Red is a near perfect album. A collection of songs that every member of the band needs to be proud of, the album is definitely all killer, no filler with every song packed with talent, excellent song writing, and most importantly, being fun to listen to.

9/10
ALBUM INFO: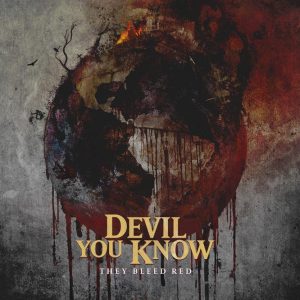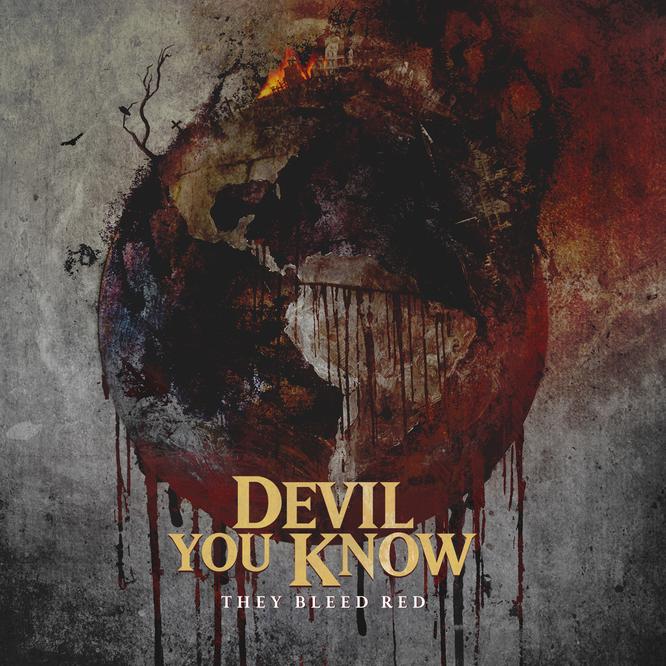 Track List:
1. Consume the Damned
2. The Way We Die
3. Your Last Breath
4. Stay of Execution
5. Break the Ties
6. Shattered Silence
7. Let The Pain Take Hold
8. Master of None
9. Searching For the Sun
10. How The End Shall Be
11. Broken By The Cold
Release Date:
6th November 2015
Record Label:
Nuclear Blast Records
Devil You Know is…
Howard "HoJo" Jones – Vocals
Francesco "Fran-Halen" Artusato – Guitar
Roy Wombacher – Bass
John Sankey – Drums
How useful was this post?
Click on a thumb to rate it!
Average rating 0 / 5. Vote count: 0
No votes so far! Be the first to rate this post.
Related
About the author
This bearded wildman from North of the wall survives the harsh ever-present winter of Scotland on a healthy diet of thrash, death metal and beer.