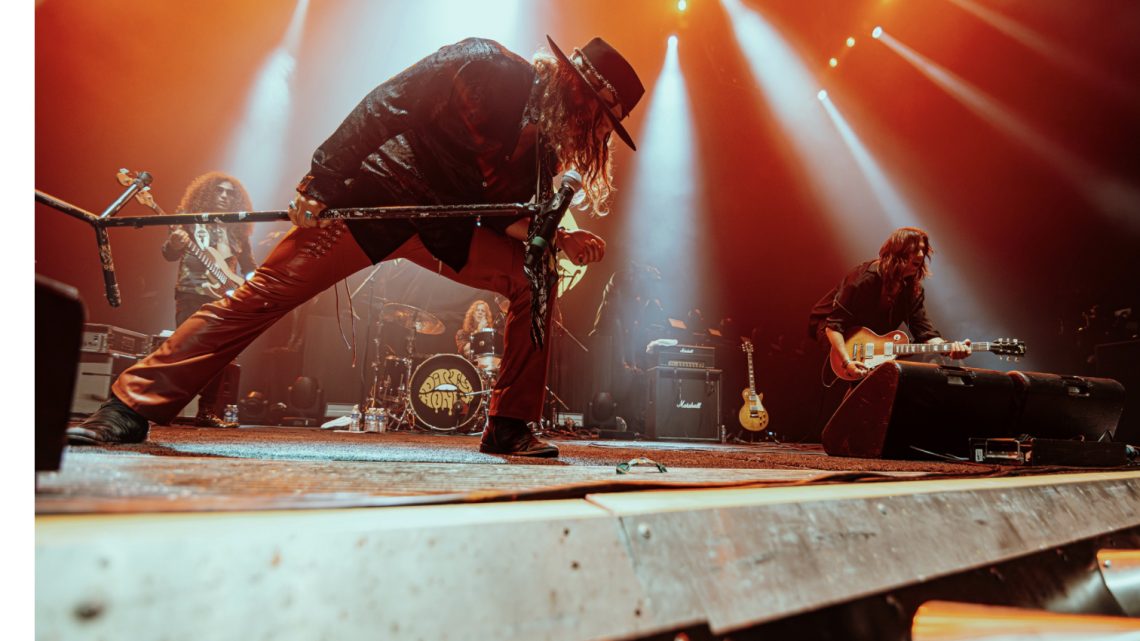 DIRTY HONEY ANNOUNCE "CAN'T FIND THE BRAKES" EU AND UK TOUR FEBRUARY/MARCH 2024
14th November 2023
With a critically acclaimed new single, "Won't Take Me Alive," now Top 5 at USA Rock Radio and having spent 8 weeks on the Planet Rock UK playlist. The band well into their extensive, nine-week, 39-date North American headline tour, November 2023 saw Dirty Honey release of its full-length sophomore album, "Can't Find The Brakes". Produced by Nick DiDia and recorded at his studio in Byron Bay, Australia this past Spring.
 
"Can"t Find The Brakes" has been hugely well received by fans and critics alike – an album that shows the breadth of the band's songwriting. From the grove of opener "Don't Put Out The Fire" to "Coming Home (Ballad of the Shire)," a profoundly personal, shatter-your-heart-into-a-million-pieces ballad and 180-degree turnabout from the high-energy rock'n'roll the band is known for. From the staccato riffing of "Satisfied" to the bluesy album closer "Rebel Son", "Can't Find the Brakes" perfectly distills Dirty Honey.
 
Dirty Honey has announced the "Can't Find The Brakes" EU and UK tour in February and March 2024.  The 28-date headline tour takes in 17 countries. Full list of dates below: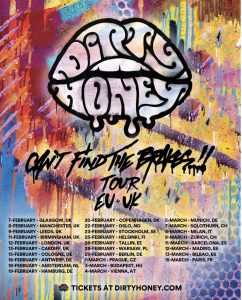 Wed 7th Feb 2023​​ Oran Mor, Glasgow UK
Thurs 8th Feb 2023 ​​Academy 2, Manchester UK
Fri 9th Feb 2023​​ University Stylus, Leeds UK
Sun 11th Feb 2023 ​​o2 Academy 2, Birmingham UK
Mon 12th Feb 2023​​ Camden Electric Ballroom, London UK
Tues 13th Feb 2023 ​​Tramshed, Cardiff UK
Thurs 15th Feb 2023 ​​Luxor, Cologne GERMANY
Fri 16th Feb 2023​​ Kavka Oudaan, Antwerp BELGIUM
Sun 18th Feb 2023​​ Patronaat, Haarlem NETHERLANDS
Mon 19th Feb 2023​​ Kaiserkeller, Hamburg GERMANY
Tues 20th Feb 2023​​ Pumphuset, Copenhagen DENMARK
Thurs 22nd Feb 2023​​ Rockefeller, Oslo NORWAY
Fri 23rd Feb 2023​​ Stadsgarsterminalen, Stockholm SWEDEN
Sun 25th Feb 2023​​ Banha Ylioppilastalo, Helsinki FINLAND
Mon 26th Feb 2023​​ Paavil Culture Factory, Tallinn ESTONIA
Wed 28th Feb 2023​​ Hybrydy, Warsaw POLAND
Thurs 29th Feb 2023​​ ColumbiaTeater, Berlin GERMANY
Fri 1st March 2023​​ Futurm, Prague CZECH REPUBLIC
Sun 3rd Feb 2023​​ Analog, Budapest HUNGARY
Mon 4th Feb 2023​​ Simm City, Vienna AUSTRIA
Tues 5th Feb 2023​​ Backstage Halle, Munich GERMANY
Thurs 7th Feb 2023​​ Kofmehl, Solothurn SWITZERLAND
Fri 8th Feb 2023 ​​Alcatraz, Milan ITALY
Sat 9th Feb 2023​​ Dynamo, Zurich SWITZERLAND
Mon 11th Feb 2023​​ Apollo 2, Barcelona SPAIN
Tues 12th Feb 2023 ​​La Paqui, Madrid SPAIN
Wed 13th Feb 2023 ​​Kafe Antzokia, Bilbao SPAIN
Fri 15th March 2023 ​​Machine Du Moulin Rouge, Paris FRANCE
For ticket information please see www.dirtyhoney.com
General on sale Fri 17th November 2023 10 am GMT / 11am CET. There will be presales in the UK only with O2 presales running on Wed 15th November from 10am GMT and on Thurs 16th November a Live Nation pre-sale will begin at 10 am GMT.
The making of "Can't Find The Brakes", as told by Marc LaBelle…
"Making the Can't Find The Brakes album was a completely different experience than making the Dirty Honey album," said Marc LaBelle. "Covid created a situation where we weren't really living or experiencing. But, for our new album, we were able to spend time with each other again. We spent more than a month with Nick, our producer, at his studio in Australia. Just getting back into the studio with him – no ZOOM this time – all of us physically being together in the same space allowed us to do some experimenting, all of which contributed to the wide spectrum of emotion on the new album."