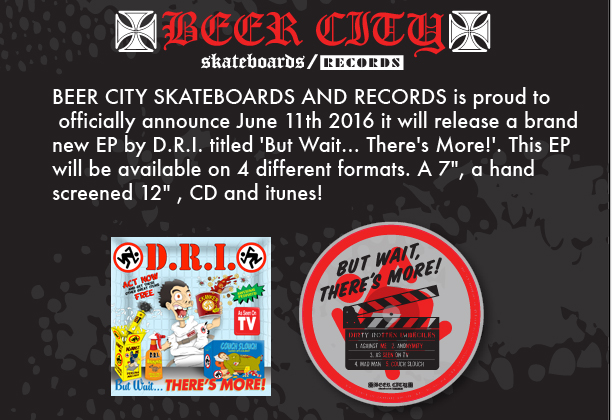 But Wait… There's More!
21st May 2016
BEER CITY SKATEBOARDS AND RECORDS is proud to officially announce the June 11th, 2016 release of a brand new EP by D.R.I. entitled But Wait… There's More! This EP will be available as a 7″, a hand–screened 12″, a CD and available on iTunes!
The 7″ will be available on nine different colors of vinyl. Translucent red, blue, gold, green and clear. As well as opaque white and black. As well as a limited edition color Only available at live D.R.I. shows!
All colors limited to 1000 pressed (except black)
The 12″ is a custom, screen printed edition, limited to only 2000 copies pressed. The clear vinyl is physically screen printed with a unique hand process making each one a unique. Hand–screened,
vinyl records are far and few between due to the time consuming, labor–intensive process. Aside from it's visual appeal, this 12" sounds incredible, thanks to the wider grooves!
D.R.I. is once again ready for punk / hardcore and metal consumption