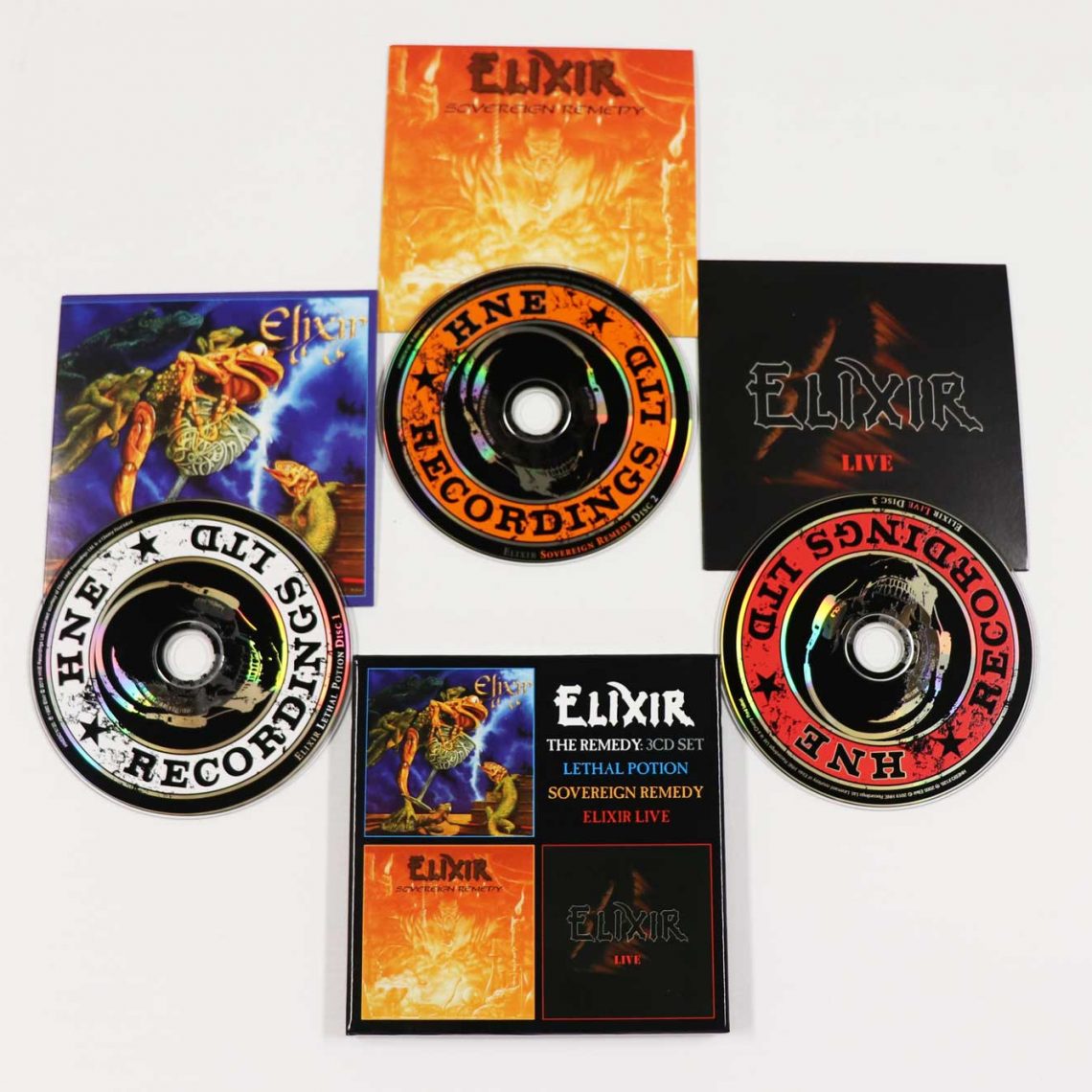 Elixir: The Remedy: Lethal Potion / Sovereign Remedy / Elixir Live, 3CD Remastered Boxset Edition
18th July 2019
Elixir are probably better know for featuring Clive Burr (of Iron Maiden fame) as their drummer for a little while. However even without that connection. Elixir produced some of the finest NWOBHM albums. To prove that point HNE Recordings are releasing a 3CD box with a trilogy of their finest works. 
Lethal Potion from 1990 still sounds as fresh as a daisy. The track Sovereign Remedy is a prime example of this. Clive Burrs drumming coupled with the melodic lead guitars and Paul Taylors vocal are HUGE sounding.
The 2004 album Sovereign Remedy (originally recorded in 1988)is a bit of an oddity in that it contains alternative versions of previously recorded Lethal Potion tracks. Lethal Potion itself sounds so much better than this 'bootleg' looking album. Although this isn't a bootleg, sounds like demos and shockingly bad ones.
The 3rd and final disc is Elix Live is exactly what it says. This is a band that are very comfortable and tighter than a mouses ear. This captures the band perfectly in a live situation and is well worth the price of the box on its own.
Had Elixir just released live sounding albums they all would've sounded massive. 
All in all this isn't a fair representation of the band but it's a good one. Especially if you're just discovering this band purely based on the Iron Maiden connection. Lethal Potion is quite simply a brilliant studio album.
Score 6/10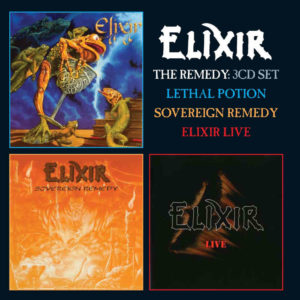 TRACKLISTING 
DISC ONE
LETHAL POTION (1988)
1. SHE'S GOT IT
2. SOVEREIGN REMEDY
3. LLAGAERAN
4. LOUISE
5. SHADOWS OF THE NIGHT
6. ALL TOGETHER AGAIN
7. LIGHT IN YOUR HEART
8. (METAL TRANCE INTRO)
VISIONS OF DARKNESS
9. EDGE OF ETERNITY
10. LAST RAYS OF THE SUN
DISC TWO
SOVEREIGN REMEDY (2004)
1. METAL TRANCE
2. VISIONS OF DARKNESS
3. LIGHT IN YOUR HEART
4. SHE'S GOT IT
5. SOVEREIGN REMEDY
6. LLAGAERAN
7. LAST RAYS OF THE SUN
8. SHADOWS OF THE NIGHT
9. LOUISE
10. LEGION OF THE EAGLE
11. EDGE OF ETERNITY
12. LOST IN A DREAM
13. (WHEN WE'RE) ALL TOGETHER AGAIN
14. METAL TRANCE (REPRISE)
DISC THREE
ELIXIR LIVE (2005)
1. THE RETURN
2. MOONLIGHT
3. TRIAL BY FIRE
4. PANDORA'S BOX
5. HOLD HIGH THE FLAME
6. THE IDOL
7. SON OF ODIN
8. SOVEREIGN REMEDY
9. BORN LOSER
10. WINDS OF TIME
11. DEATH TOLL
12. METAL TRANCE
13. VISIONS OF DARKNESS
14. SHADOWS OF THE NIGHT
15. DEAL WITH THE DEVIL
16. TREACHERY
17. LLAGAERAN
Release Date
26th July 2019
Label
HNE Recordings
For all things Elixer, click HERE and to purchase this  Box, click HERE