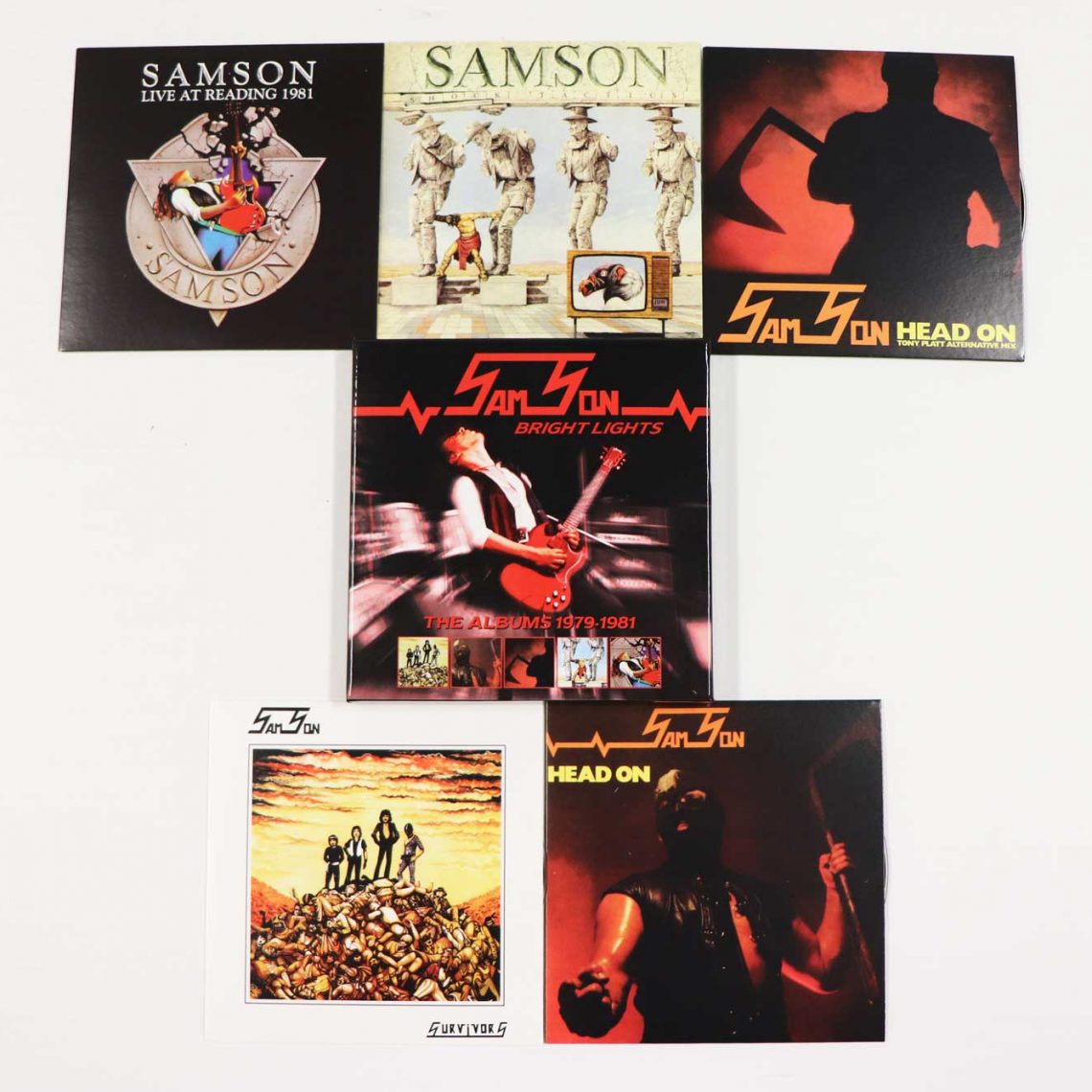 Samson: Bright Lights – The Albums 1979-1981, 5CD Boxset with Poster
18th July 2019
NWOBHM legends Samson get a really nice 5CD collection. You can't go wrong with 5CDs pure unadulterated and in your face classic Heavy Metal. And the best part of this boxset? Iron Maidens Bruce Dickinson is on vocals. 
This box set is the canines dangly bits. Bruce is on fire and the Samson live album recorded at Reading in 1981 show WHY he was picked to join Maiden for Number Of The Beast etc.
Each and everyone of these albums is a masterclass in how NWOBHM should be. The musicianship is top notch, the production is typically 80's and raw sounding. It's quite simply stunning.
There are 2 versions of the 1980 album Head On. The official release and a disc of a totally different mix. I was pretty familiar with the original version and the alternative mix just knock the original version for 6 (in my opinion). It's just got a little more bollocks to it. The original mix is really raw sounding. The alternative mix is a little more produced. 
The bonus tracks that are splattered throughout the 5 discs are great. A lot of them I hadn't heard (especially Bruces version of tracks from the Survivors album and the Reading rehearsals).
It's a beautifully put together set. The poster is really nice with extensive liner notes on the back.
I honestly cannot fault this box. It's quite simply excellent on all fronts. The music is fabulous. 
If you're an Iron Maiden completiest, you're going to want it, if you want to retire the vinyl, you're REALLY going to want it and if you're a fan of heavy metal in general, you're going to NEED it. 
Go on, treat yourself and play it as loud as possible so you can go to the hearing doctor and say, 'Doctor, Samson have fucked up my hearing!'
Score 10/10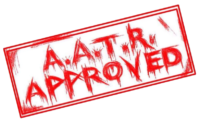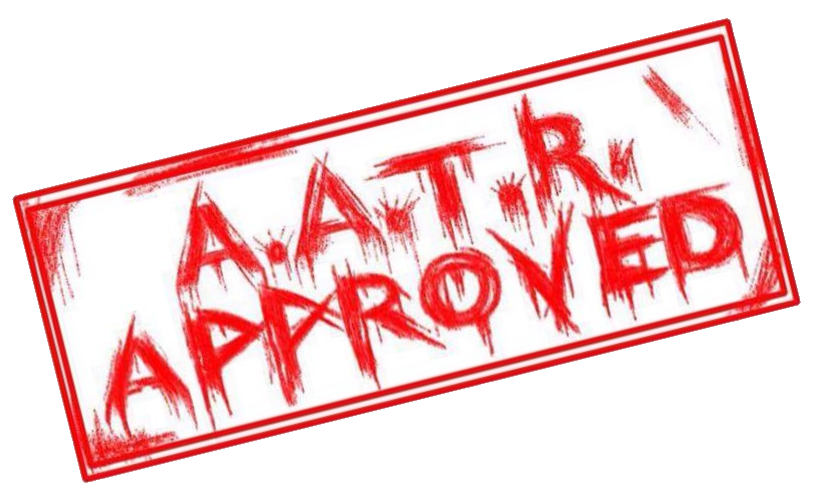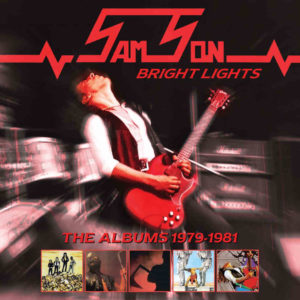 DISC ONE
SURVIVORS (1979)
1. IT'S NOT AS EASY AS IT SEEMS
2. I WISH I WAS THE SADDLE OF A SCHOOLGIRL'S BIKE
3. BIG BROTHER
4. TOMORROW OR YESTERDAY
5. KOZ
6. SIX FOOT UNDER
7. INSIDE OUT
8. WRONG SIDE OF TIME
BONUS TRACKS
9. MR ROCK 'N' ROLL
10. PRIMROSE SHUFFLE
ALTERNATIVE RECORDINGS WITH
BRUCE DICKINSON ON VOCALS:
11. IT'S NOT AS EASY AS IT SEEMS
12. I WISH I WAS THE SADDLE OF A SCHOOLGIRL'S BIKE
13. BIG BROTHER
14. TOMORROW OR YESTERDAY
15. SIX FOOT UNDER
16. INSIDE OUT
17. WRONG SIDE OF TIME
DISC TWO
HEAD ON (1980)
1. HARD TIMES
2. TAKE IT LIKE A MAN
3. VICE VERSA
4. MANWATCHER
5. TOO CLOSE TO ROCK
6. THUNDERBURST
7. HAMMERHEAD
8. HUNTED
9. TAKE ME TO YOUR LEADER
10. WALKING OUT ON YOU
BONUS TRACKS
11. ANGEL WITH A MACHINE GUN (7″ B-SIDE)
12. KINGSWAY JAM
13. VICE VERSA (7" EDIT)
DISC THREE
HEAD ON: TONY PLATT ALTERNATIVE MIX (1980)
PREVIOUSLY UNAVAILABLE ON CD
1. HARD TIMES
2. TAKE IT LIKE A MAN
3. VICE VERSA
4. MANWATCHER
5. TOO CLOSE TO ROCK
6. THUNDERBURST
7. HAMMERHEAD
8. HUNTED
9. TAKE ME TO YOUR LEADER
10. WALKING OUT ON YOU
BONUS TRACK
11. HARD TIMES (7" VERSION)
DISC FOUR
SHOCK TACTICS (1981)
1. RIDING WITH THE ANGELS
2. EARTH MOTHER
3. NICE GIRL
4. BLOOD LUST
5. GO TO HELL
6. BRIGHT LIGHTS
7. ONCE BITTEN
8. GRIME CRIME
9. COMMUNION
BONUS TRACKS
10. LITTLE BIG MAN (7″ B-SIDE)
11. PYRAMID TO THE STARS
12. LOSING MY GRIP
DISC FIVE
LIVE AT READING (1981)
1. BIG BROTHER
2. TAKE IT LIKE A MAN
3. NICE GIRL
4. EARTH MOTHER
5. VICE VERSA
6. BRIGHT LIGHTS
7. WALKING OUT ON YOU
8. HAMMERHEAD
9. RIDING WITH THE ANGELS
10. GRAVY TRAIN
BONUS TRACK REHEARSALS
11. RED SKIES
12. TURN OUT THE LIGHTS
13. FIRING LINE
Release Date
26th July 2019
Label
HNE Recordings
For all things Samson, click HERE and to purchase the box, click HERE