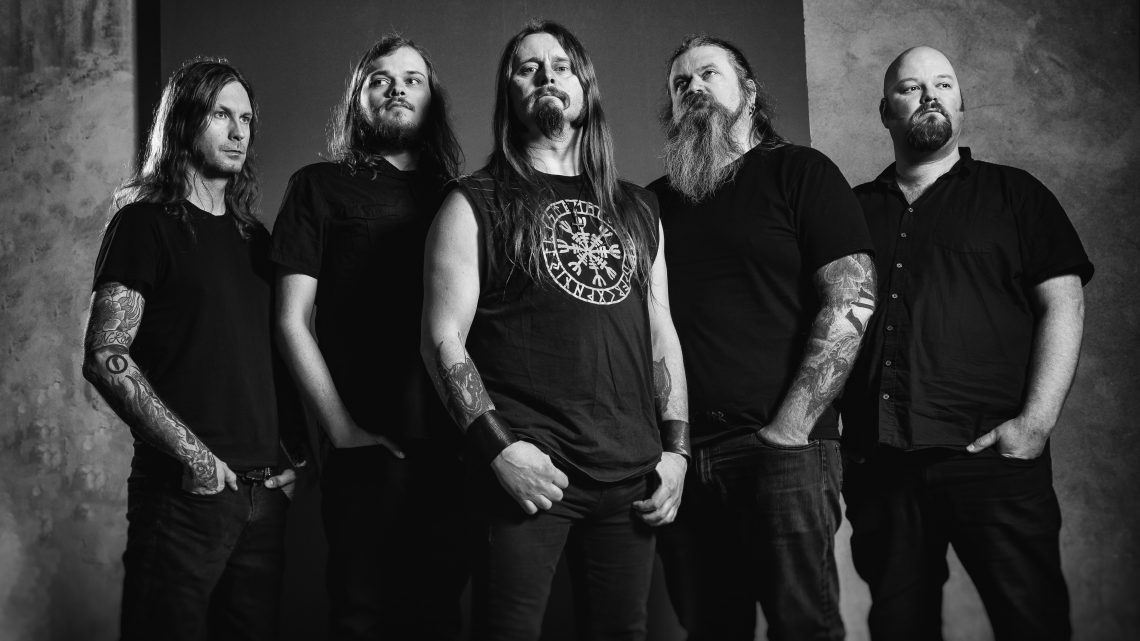 ENSLAVED | announce May 2021 UK + European tour dates
14th October 2020
0
By
John Deaux
Norwegian blackened avant-gardists Enslaved are proud to announce a European tour for May 2021, having just released their acclaimed new studio album Utgard little over a week ago – achieving some incredible chart positions worldwide including; US #67 Billboard #9 Current Hard Music #3 Top New Artist, Germany #30, UK #17 Indie #8 Rock and Italy #39. More to come! The live run is set to include nineteen dates taking the band across seven countries, accompanied by Intronaut, Obsidian Kingdom and Crown. 
Please read the band's statement as follows…
"We are aware of the uncertainty surrounding any activities being planned for the foreseeable future. Meanwhile, incurable optimism and a pragmatic outlook is in our nature. This has guided us in making plans for May 2021; plans for a tour that will finally bring the Utgard live concept outside of Norway. Expect to see an Enslaved show unlike anything you have seen before!!! Tickets will go on sale this Friday October 16th. We cannot wait to hit the road with class acts such as Intronaut, Obsidian Kingdom and Crown. 
And yes… in case we cannot bring Utgard to the stage in May 2021 – we already have a back-up solution for early 2022 (Peter Griffin style sigh). Any purchased tickets will of course remain valid! We will observe the situation closely and keep you updated. We have high hopes that Utgard can be presented to the world, live on stage in May 2021. This is who we are. Of course, the health of everyone involved is our number one priority, and we will never compromise on that. Stay safe!
See you in the flesh!"
Tickets will go on sale on Friday October 16th @ 9am local time from: 
http://enslaved.no/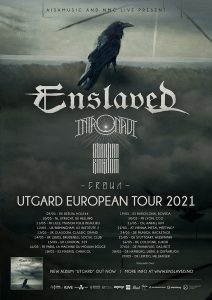 ENSLAVED – UTGARD EUROPEAN TOUR 2021
w/ Intronaut, Obsidian Kingdom, Crown
09/05 – DE Berlin, Hole44 
10/05 – NL Utrecht, De Helling 
11/05 – FR Lille, Maison Folie Beaulieu
12/05 – UK Birmingham, 02 Institute 2
13/05 – UK Glasgow, Classic Grand
14/05 – UK Leeds, Brudenell Social Club
15/05 – UK London, 229 
16/05 – FR Paris, La Machine du Moulin Rouge 
18/05 – ES Madrid, Caracol
19/05 – ES Barcelona, Boveda 
20/05 – FR Lyon, CCO 
21/05 – CH, Aarau, KiFF
22/05 – AT Vienna, Metal Meeting 
24/05 – DE Munich, Backstage 
25/05 – DE Stuttgart, Wizemann 
26/05 – DE Cologne, Luxor 
27/05 – DE Frankfurt, Das Bett 
28/05 – DE Hamburg, Uebel & Gefährlich 
29/05 – DE Leipzig, Hellraiser 
Ivar Bjørnson also commented:
"Your support does not cease to amaze us – now it has even been translated into some numbers, and some chart positions to be specific. We cherish each and every person giving their time to check out Utgard – no matter where they might be on the planet (or off it), but we have to comment specifically on two historical positions: #30 in Germany and #67 on the US Billboard Album Chart – two charts we have never had the pleasure of sticking out like sore thumbs on before. This is our moment in Enslaved history, all fellow travelers of Utgard! Thank you!"
ORDER NEW ALBUM UTGARD HERE: 
https://nuclearblast.com/enslaved-utgard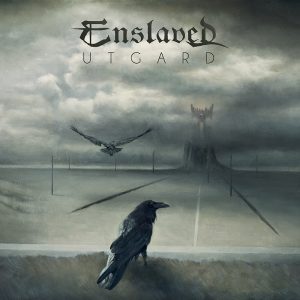 ENSLAVED will be touring in honour of their new, highly lauded latest studio album Utgard, which you can purchase here: https://nuclearblast.com/enslaved-utgard
Watch their latest videos:
'Urjotun': https://youtu.be/pXzRjf7OMek
'Jettegryta': https://youtu.be/xkEXIpym5E0
'Homebound': https://youtu.be/92ptxt1FQiU
ICYMI:
Trailer #1 Ivar on recording UTGARD with the current line-up: https://youtu.be/PXNokqpilbU
Trailer #2 Ivar discusses the new album artwork and working with Truls Espedal: https://youtu.be/9UM8HuaxivM
Trailer #3 Ivar Discusses the themes of UTGARD: https://youtu.be/Q4NaNUmNRdI
Trailer #4  Ivar and Martin Horntveth on guest percussions on 'Sequence': https://youtu.be/N8q1dgvgqVw
Never faltering, Norway's iconic Enslaved continue to exist as one of the most original and dependable components in our scene's indestructible backbone. Possessing the reputation as one of the most riveting live acts around, they never fail to offer us talent of the highest calibre, always doing justice to their signature black/progressive sound. Enslaved was formed in 1991 by Ivar Bjørnson and Grutle Kjellson releasing their first demo Yggdrasill in the summer of 1992, their legendary mini-album Hordanes Land coming out in 1993 with debut full length Vikingligr Veldi arriving in the spring of 1994.
Enslaved in 2020 is a band in stellar form, a band at its most existentialist and self-conscious, proud Bergeners bearing the torch of their hometown's extraordinary musical history. Utgard shows them at a stage where simply everything they touch turns to gold. Icy black metal anthems walk hand in hand with refined prog rock gems and primordial, dark folk sorcery. It's Enslaved to the bone. And yet again a band that cast off its old skin, delivering some of their shortest songs in years while still packing them with glimmering detail. It is a journey into and through scary Utgard, showing Enslaved both unleashed and thought-through – a lethal combination unfurling a potential that's easily rekindling the furor of their early works while dancing gracefully through their most ambitious, most haunting and most musical tunes yet. A contradiction? Life itself is a contradiction. And yet we all live to prove it wrong
Enslaved are:
Ivar Bjørnson | guitars 
Grutle Kjellson | vocals
Arve 'Ice Dale' Isdal | guitar
Håkon Vinje | keyboards, clean vocals
Iver Sandøy | drums
ENSLAVED online:
http://enslaved.no
http://facebook.com/enslaved
http://instagram.com/enslavedofficial
http://nuclearblast.de/enslaved
How useful was this post?
Click on a thumb to rate it!
Average rating 0 / 5. Vote count: 0
No votes so far! Be the first to rate this post.
Related
About the author
Some say Yank My Doodle, It's A Dandy! is a biographical movie based on John. Some have even said that his favorite artist is Chesney Hawke! All we really know is he sleeps inside out and his hair tastes like candy floss.