Escape the Fate – I Am Human
15th March 2018
0
By
Aaron Emerson
Squealing into gear with 'Beautifully Tragic', I am Human begins it's reigns within the veins of Romantic Metal, made famous by His Infernal Majesty and My Chemical Romance that really doesn't lend too well with their more recent material from Ungrateful and Hate Me; the high tempo lead sill rings out yet the lyrics and tweeny twinge creeps in from Craig Mabbit. The lyrics feel clean with little to no growl however it's the odd addition to the odd swear word that really feels pointless. The sickly woe is me in love lyrics continue with 'Broken Heart'; though this is not necessarily a bad ploy, the older aspects of the bad seemed to have vanished. Where are the metalcore screams gone? Where's the distortion drum thunder disappeared to? This continuation of emo styled diatribe doesn't get more obvious than in 'Four Letter Word' – urgh, this is just cringe worthy, right down to the chorus of whiney brat backing vocal squeaking out "love is a four letter word", it's painful and by far the worst track on the album. It has it's moments with some sublime guitar squeals but you just can't get past the cheese of the lyrics. This blend of rom-metal emo suddenly turns to a more Sk8r feel with 'I Will Make it Up to You' which seems to channel it's inner Bowling for Soup or Blink 182, the similar love theme is still very much soaked in the membrane of the track which it accentuated with the anthemic 'Bleed for Me'. Craig's vocals are definitely on sow here, giving us a proper show of his harmonic abilities with some serious pull of the guitar riffs form Kevin Grust and Thomas Bell.
Here is where it gets weird, this album is like a album of two halves, having listened to Jekyl throwing up his undying love loss, 'Do You Love Me' gives us the Hyde throat ripping anger with incredible harmony chorus that brings back the memories of Ungrateful and reminds me of Papa Roachs' Paramore Sessions, right down to the vocal connotations of Mabbit sounding almost like Jacoby Shaddix. Back to an anthemic theme, 'I am Human' really does all the right things; the lyrics and contemporary, and really will resonate with us all, the inclusion of the piano notes really gives it a defiant, delicate sound that makes this a truly great song. Lyrics such as "I am strong, I am weak, I am everything in between, I am Human" gives you a true sense of it's powerful message to all fans and everyone else. The brilliant acoustic 'If Only' has a haunting story to it, telling us all to always find time to send with loved ones before they pass on; done with absolute class and dignity, once again the boys bring a tough subject to the surface for us all to recognise and understand.
From a bit of a heart wrencher to 'Empire' which really punches with the heavy aspects of Escape the Fate, a song and homage to their fans and real crowd pleaser at a gig I would wager. This theme continues with more blistering riffs and thumping bass lines in 'Riot' with the heavy squeals that remind you of the 80's Hair Metal era as it screams influences from Motley Crue and Poison. 'Digging My Own Grave' gives you a kick in the teeth with huge metalcore sounds, the crunching percussions and massive devil growls that swing into the harmonic chorus that is typical of the genre yet it's the addition of the female backing vocals that overlay parts of the track that really give it it's unique quality and punch; this is the EtF that I know and got to adore, yet the chugging power chords of songs like 'Recipe of Disaster' and 'Resistance' really makes you want to bounce around the room. Ending with the anthemic 'Let Me Be' makes you feel like you were at a concert and it was the ending song to send you all home with a happiness that only music can give you. This has been a roller-coaster of a ride from Escape the Fate and though the opening half wasn't really what I have come to expect from the band, the second half more than made up for it. Though not the best they have produced, it certainly is going to be a fan favourite for it's diversity and puts on show what the lads can produce.
Score: 7/10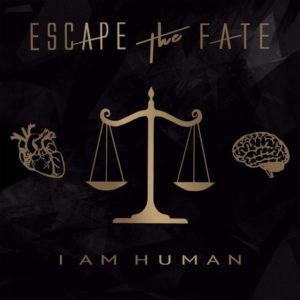 Track List:
1.     Beautifully Tragic
2.     Broken Heart
3.     Four Letter Word
4.     I Will Make it Up to You
5.     Bleed For Me
6.     Do You Love Me?
7.     I am Human
8.     If Only
9.     Empire
10.  Recipe for Disaster
11.  Riot
12.  Digging My Own Grave
13.  Resistance
14.  Let Me be
 Record Label:
Eleven Seven Music
Release Date:
30th March 2018
Website: https://www.escapethefate.com/
For all things Escape The Fate, click HERE and to purchase the album, click HERE
How useful was this post?
Click on a thumb to rate it!
Average rating 0 / 5. Vote count: 0
No votes so far! Be the first to rate this post.
Related