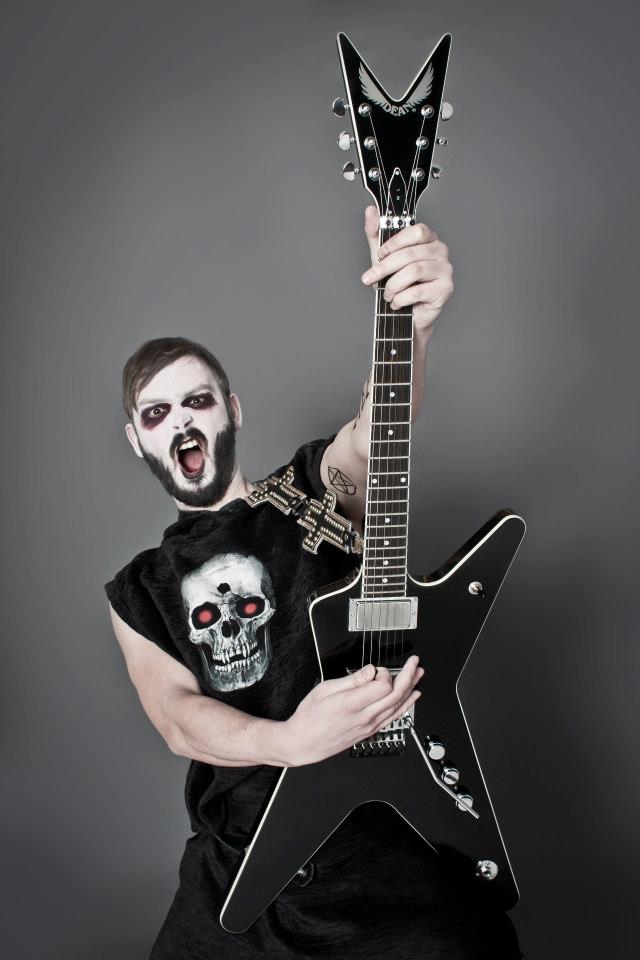 EVIL SCARECROW – Brother Pain Interview
5th September 2016
Brother Pain of Evil Scarecrow kindly took the time to answer a few questions.

Well you guys smashed it again at Bloodstock, how does it feel for you when you walk out onto that stage and you are faced with such an amazing response from the crowds?
I recently watched an interview with Scott Ian who explained very much how it is going on stage.  I don't think any of us are really nervous it's just hard trying to get everything right!  Everything is going so quickly and because the stage is so big you kinda get lost in your own little world trying to get your little part of the whole Evil Scarecrow experience together
What was your favourite band of the weekend at Bloodstock?
Personally, my favourite band of the weekend was Gojira.  I have seen them a number of times before but this time they sounded absolutely brutal!
How does Bloodstock compare to Download?
They are two quite different festivals.  I have attended both a lot of times.  Bloodstock has more of a "Heavy Metal Family" feel to it as it's smaller and I think the bands that play are on the whole heavier and more up-and-coming.  Especially with the New Blood Stage.  Download is probably more glamorous.  It is hard to explain, but both festivals certainly have their place.
Did you ever think that your songs and dance moves to such songs as crabulon would catch on?
Of course!  Did you ever think being a journalist would catch on?  Of course.  We know what the people want and force it down their throats until they realise that that's also what they want.

You have just released your new video  'Hurricanado' which has currently had 106k views on Facebook, what do you think entices people to watch your videos?
Stupidity and spectacle (not the name of our next album… well maybe).  I guess we are a lot of fun and we try to have fun on a shoestring budget and I think the fans appreciate that.

Do you ever worry that you may not be taken seriously as a band, and may be seen as a party piece?
Ha ha ha! No one takes us seriously!  We are a party piece!  If I was worried about people not taking us seriously then  doubt we would have written a song about a boy with an elephant's head and an elephant with a boy's head. 
There was one article written about you recently where the reviewer wrote 'I really can't understand the appeal of this band and they haven't convinced me with their musical offerings, I have heard that their live shows can be 'entertaining', dancing crabs and robots anybody?
Obviously not everyone is going to be fan but when you hear snide little jibes like this what are your thoughts?
I think initially when we started getting more media attention we may have been a little hurt by these comments and got a little defensive, but really now we don't care.  Enough people do like us for us not to worry about the people who don't.  If you don't like us or can't see the appeal in us then that's fine. I doubt we'd like you or your band either. 
As it stands you are one of the fastest growing underground bands to break out onto the music scene hitting all the major festivals across the UK, you have made such a huge impact, how does that feel for you guys?
One of the fastest!?  How long do you think we have been doing this?  It's nice to get some recognition nowadays and we love playing festivals and big gigs etc, but when you have been grinding away at it as long as we have then you see each accomplishment as another step on the journey.  When we started doing this band it was initially just a bit of fun and we never believed that we would get to where we are nowadays.  I guess what worries us most is thinking have we hit the pinnacle of our career?  Is this it now?  Are we going to fade out into obscurity?  As long as it's fun for us we'll keep doing it.
Galactic Hunt was produced by the marvellous Russ Russell who produced Dimmu Borgir & Napalm Death, how did that all come about?
To be honest, I have no idea.  I'll make something up. 
Kraven Morrdeth's Myspace page was making waves in the social media blogosphere and hit 14 billion followers.  Russ Russell was a big fan of Scottish backweaved crocheting and that was the main draw to Kraven's page.  They swapped patterns for a while and then Monty decided to ask him if he wanted to produce our album and we'd pay him in prawn cocktails… or something.  I dunno.
Do you guys enjoy being in the studio?
Personally, not really.  There is no crowd giving you a round of applause after everything you do.  Just a few beardy men saying, "No, that was shit.  Do it again."  That lasts about a week and then when your soul is crushed because you are an awful guitar player you go home.
Thundercats – who came up with the idea to recreate this old childhood favourite?
I can't remember, but seeing as I am the one answering the questions I am going to say it was me. Brother Pain.  I went to band practice and said "Right guys, we're going to cover Thundercats" and the rest of the band were like "Wow, Brother Pain!  You have all the best ideas.  I wish I was more like you and less like me."  And then I say, "It's ok.  If you all try to be as cool as me then maybe you can come up with great ideas like I do."  And then they're all like "I wish!  You are just so god damned talented.  Here have all my money in my wallet because really it's you who is the star of this band. Not us."
There seems to be a bit of a theme within your songs/albums, there's a bit of a comic book related sci-fi feel going on, so the question is who within the band is the comic/sci fi geek?
Not me.  Computer games and sci-fi are for losers.  I like football and X-factor and The Daily Mail and Starbucks and Tesco and Ikea and Other Sports and Coldplay.  If I had my way, the next album would be called "Footy, Footy, Wetherspoons, wallpaper".  It's the rest of the band who are into such puerile things.
So what are you guys listening to at the moment, what would we find on your playlist on your phone?
I listen to a lot of old stuff.  I feel like I have to catch up and listen to everything in order.  Currently I am listening to System Of A Down.  Sorry I am not cool and mentioning up and coming breakthrough acts.  Although I do love Ten Foot Wizard and I have two of their shirts and they stayed at my house once and I think we are friends.
Is there anyone who you would really like to make a guest appearance on your next album?
Elton John.  Can you imagine the sales figures we'd get if he played sax on a couple of tracks?  I don't think he can play saxophone, but even so, I bet we'd get into the top 10 #myonlydream
Is there anything you would like to say to your fans?
Yes.  Thanks for telling all your mates about us, because you are the source of our new fans.  I think word of mouth has been our main source of reaching out to new people.  Thanks for all your help and support throughout the years, because I know this sounds cheesy, but really without your help we couldn't continue doing this.  Love you all!
Thankyou for your time
We look forward to catching up with you in Manchester