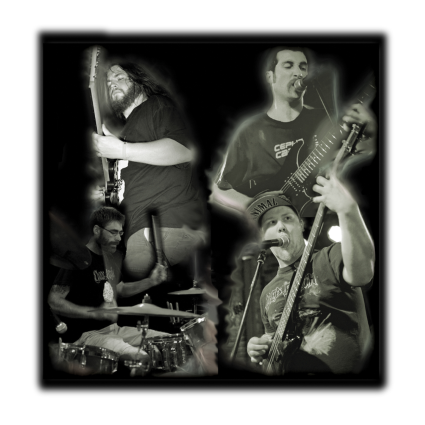 Exclusive Album Stream: Super Massive Black Holes – Calculations of the Ancients
22nd April 2014
Canadian Experimental Metalists SUPER MASSIVE BLACK HOLES will release Calculations of the Ancients on April 29 via Minotauro Records and All About The Rock are pleased bring you an exclusive album stream! Intriguing, thought-provoking and memorable, SUPER MASSIVE BLACK HOLES plays a mix of genres that will make you scratch your head and tap your foot, all the while banging your head into solid objects. Seamlessly blending Death Metal, Rock, Jazz-Fusion, Prog, Blues, and a variety of others, SUPER MASSIVE BLACK HOLES will expand your mind and prove that new and interesting music is alive and well.
SUPER MASSIVE BLACK HOLES guitarist Denver Bergreen (ex-CHAOS LOGIC) had this to say about Calculations of the Ancients:
"It was a total DIY effort. Everything was produced by myself, from artwork and layout, to engineering/mixing/mastering. The lyrics are based around science theories (be they real, fictitious, or conspiracy), and often wrap around metaphorically to human experiences (beliefs, insecurities, questions about the world around us.) The music is meant to zig zag-across genres, while still holding root within the composition as a whole. To express every possible emotion in the best way we could think of".
Our very own Chris Key said: "How do I rate this, it's a dilemma, my head is spinning, I loved the sheer audacity, but was puzzled by the ingrediants added to songs across the album, jazz, death metal, blues, thrash, of which I like to varying degrees". Have a listen to the album here and let us know what you think to it in the comments section below. If you like the album we have provided you some links at the end of this post.
Calculations of the Ancients
Dyatlov Pass Incident
ý÷µ (interlude)
Distance to the Great Attractor
Holographic Principle
Mathematics of Emotion
Refracted Kaleidoscopic Photons
Ghosts of Bhopal
Lift the Veils
http://www.facebook.com/smbhmusic
http://www.smbhmusic.com
http://www.soundcloud.com/supermassiveblackholes
http://www.youtube.com/smbhmusicca
http://smbhmusic.bandcamp.com/
http://www.reverbnation.com/supermassiveblackholes
minotaurorecords.bandcamp.com
www.minotaurorecords.com
https://www.facebook.com/pages/Minotauro-Records/310550442387530