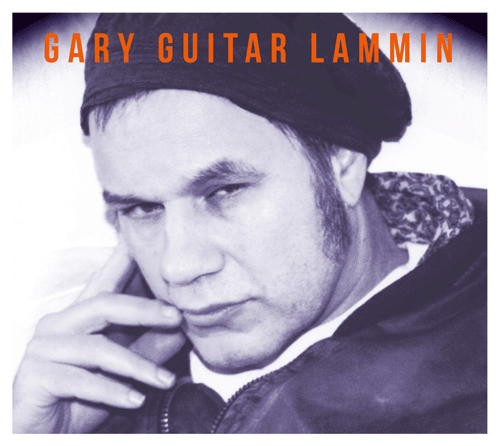 Gary 'Guitar' Lammin: Interview
11th January 2017
Hi Gary, Linzi here from All About The Rock how are you this fine evening
Hi Linzi… I'm doing my thing that I do… You know… playing guitar and listening to underground Rock n Roll
We see you have some tour dates set with The Bermondsey Joyriders this year, are you looking forward to these and have you got anything special lined up – any guest appearances?
Yes there could well be some guest appearances this year with some very big names jumping up on stage to play with The Bermondsey Joyriders.  I will keep you informed !
You've finally got the solo album coming out 'Gary Guitar Lammin' , can you tell us a little about this and how the song writing process went for this?
Well… the song writing process for this album was quite a bit different from how I've worked in the past.
Dave Goodman was very artistic and as such was always looking to discover spontaneous inspiration. He would often encourage me to record a lead vocal before Id written any words because he wanted to try and capture on tape an instinctive performance and involuntary lyrics… This is exactly what happened on the track "Last Night I Dreamt I Met My Enemy"…. I already had the title but no actual story line or lyrics and so under Dave's guidance I sub consciously came up with the theme and I realized that this process was both liberating and a bit scary!   It certainly takes you outside your safety zone working in that way and often I was thinking to myself " I cant believe I actually came out with that lyric "
Did you enjoy your time in the studio recording the album?
All recording processes will have their own particular qualities but recording with Dave Goodman was unique.Dave was, as well as very artistic, very much into esoterically themed ideas and I learnt some very interesting theories from Dave. But Dave made everything fun and there were times I laughed so much it was as if Id just heard the funniest thing in the world… Just Dave's brilliantly playful and skillful way of working I suppose… He was a most clever court jester… All knowing and with perfect timing to play a prank.   
When Dave died I remember thinking to myself that it would be a long time before I ever recorded again. And it was… I was very upset and felt very lost not being able to pick up the phone and say I'm coming over so put the kettle on because Ive got a song idea I wanted to show Him….Dave was a genius and I couldn't see the point of recording again with anyone else.  This feeling stayed with me for several years.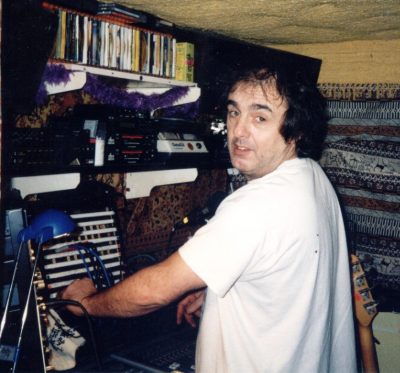 What was your go to guitar for these sessions?
I used several guitars… I had my trusty Godin of course but I also used a Dan Electron…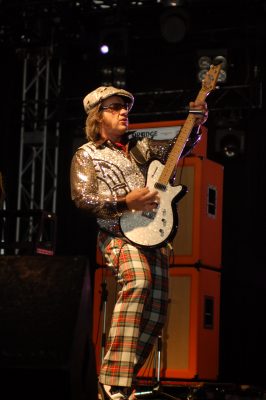 What would you do differently if you were entering into the music industry today?
The music business is something that you can only negotiate on your own terms.
If you could play in any other band which would it be?
THE FACES or THE ROLLING STONES of course !
You have worked alongside some pretty iconic people in the music industry such as Dave Goodman (original producer of Sex Pistols) and John Sinclair (ex MC5 manager.) As your time as a musician who has been your favorite person to work alongside musically and have you any tales you can tell us from working with this person?
My favorite musician that I've ever played along side was Kenney Jones the drummer of The Faces. I was once invited along to his studio at his home in Forest Green. Kenney was getting a charity gig together to raise money for a school and there was lots of really big names there. Suddenly at some point there I was…! Standing there! in Kenney Jones studio! With my guitar and Kenney Jones on drums…!
So we start a mid tempo Chuck Berry style Rock n Roll groove and I'm thinking Yeah this is very cool and I'm also thinking Yeah I'm doing pretty good here… And then suddenly without warning Kenney does this kind of drum chase around all his tom toms and his floor tom and follows through with the most rollicking attack on his snare drum that it literally stopped me in my tracks… It was actually frightening Id never felt such energy and intent.   I actually dropped my plectrum in astonishment !
What are you working on at the moment?
At the moment I'm trawling through Bermondsey Joyriders live recordings. When I sell merch at The Bermondsey Joyriders gig lots of people often asked me if there are any live recordings of The Bermondsey Joyriders… So I'm thinking its time that The Bermondsey Joyriders made available a live recording.
What are you hoping to accomplish this year?
Id like to do more festivals… The Bermondsey Joyriders are really The Pink Fairies in disguise and as such are perfect for festis!
Is there anything you would like to say to your fans and followers?
Yes I appreciate very much that people come to see me play and buy my recordings. Without the people, musicians have no way at all that they can evaluate themselves… There may be some musicians who say I do it just to please myself but I'm not one of them types of musicians… I need to know from the people that what I'm doing is of value to them.
Thank-you for your time & I hope to catch up with you in person soon.
Thanks Linzi… Keep Rockin!
Check out Gary Guitar Lammin HERE where you can also purchase a copy of this wonderful album