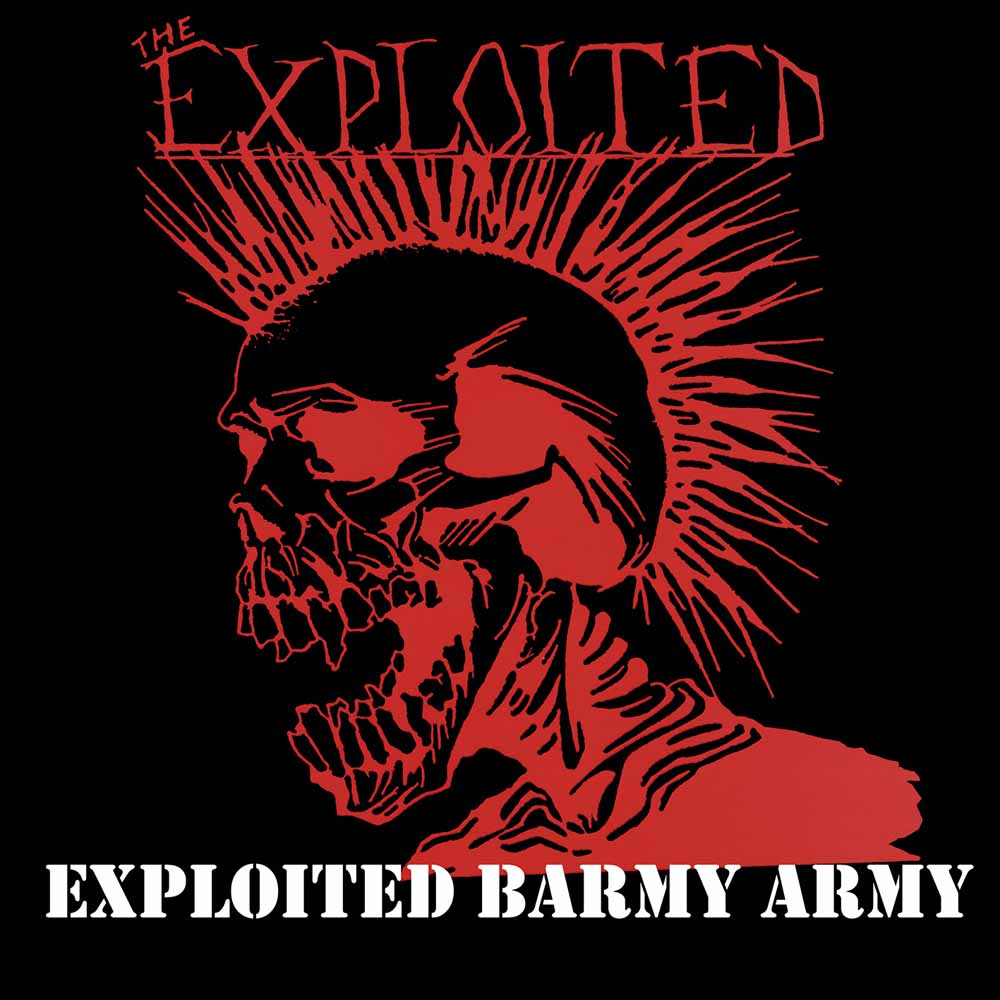 The Exploited – Exploited Barmy Army
10th January 2017
The Exploited are back!
Hang on though, The Exploited never really went away. And saying they're back might be a misnomer as this album is a re-issue of sorts. Why of sorts? Well it's four things packaged together that were previously stand alone releases.
Exploited Barmy Army is a three disc behemoth containing 62 tracks. A lot of the tracks are live so it's kind of an anthology/greatest hits mash-up and at the same time you get a feel of what the band sound like live. And all for the price of one album!
The Exploited
in the early 80s absolutely piss all over some of today's so called punk bands
Tim Jones
It's 1981 on disc 1 and it was punk in its prime. You can tell it was the 80s by the glue-sniffing reference, but for those who say it was all just shouting and swearing and spitting in the early days of punk, well it might have been, but there's more too. The quick hardcore songs of The Exploited became a template that plenty of other bands have borrowed in the years since. Musically The Exploited in the early 80s absolutely piss all over some of today's so called punk bands – I'm looking at you, Good Charlotte. From Dogs of War and through a dozen other classics and until set-closer Warhead it's amazing to think you've been listening for 40 minutes when it's felt more like 5.
Disc 2 takes us forward to 1986. 20 tracks of what was really a best of album when it was released in 1986. The anthemic Punk's Not Dead and the trans-Atlantic friendly Fuck the USA are the highlights on a disc full of nothing but gems.
Disc 3 starts with On Stage, another live release from 1981. To be honest, while it's good this is a bit of overkill. The Apocalypse Tour on disc 1 would have sufficed as it was way better produced than this show which sounds like it was recorded on an old cassette recorder (maybe it was?).
The second part of disc 3 is more live stuff, but a much better recording and it closes the triple album on a high with rousing singalong, Sex and Violence.
There is a little bit of repetition, but how many bands have released more than one live album and had a completely different set list on them? I'm sure you can count them on one hand with no fingers on it.
Is this release necessary? No, but it's a fantastic place for any new fans to start and it's a great place for existing fans to re-acquaint themselves with some old classics.
Reader album rating: [ratings]
EXPLOITED BARMY ARMY ALBUM INFO
Track listing:
CD1 – Apocalypse Tour 1981
1: Dogs Of War
2: Cop Cars
3: Crashed Out
4: Dole Q
5: Exploited Barmy Army
6: Sex & Violence
7: Fuck A Mod
8: Dead Cities
9: S.P.G.
10: Army Life
11: Blown To Bits
12: I Believe In Anarchy
13: Punks Not Dead
14: Warhead
CD2 – Totally Exploited
1: Punks Not Dead
2: Army Life
3: Fuck A Mod
4: Barmy Army
5: Dogs Of War
6: Dead Cities
7: Sex & Violence
8: Yops
9: Daily News
10: Dole Q
11: I Believe In Anarchy
12: God Save The Queen
13: Psycho
14: Blown To Bits
15: Insanity
16: S.P.G.
17: Jimmy Boyle
18: (Fuck The) USA
19: Attack
20: Rival Leaders
CD3 – Live On Stage/Dogs Of War – Live
1: Cop Cars
2: Crashed Out
3: Dole Q
4: Dogs Of War
5: Army Life
6: Out Of Control
7: Ripper
8: Mod Song
9: Exploited Barmy Army
10: Royalty
11: S.P.G.
12: Sex & Violence
13: Punks Not Dead
14: I Believe In Anarchy
15: Law And Order
16: Let's Start A War
17: Horror Epics
18: Cop Cars
19: Blown To Bits
20: Hitler's In The Charts Again
21: Belson Was A Gas
22: Alternative
23: I Hate You
24: UK 82
25: Rival Leaders
26: Maggie You…
27: Troops Of Tomorrow
28: Sex & Violence
Release date: 28th October 2016
Record label: Westworld Recordings