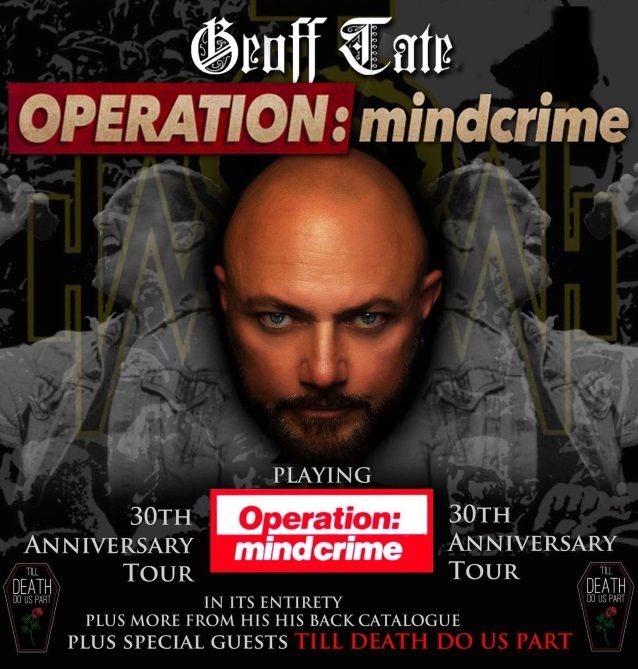 Geoff Tate's Operation Mindcrime – 15/1/18 – The Garage , Islington , London
25th January 2018
0
By
Lee Farmery
Operation Mindcrime is probably still the most revered Queensryche album to date.
And the chance to hear this concept album performed by Geoff Tate the vocalist of the band with some new recruits and never having the opportunity to see Queensryche live, I felt the urge to see this.
As I entered The Garage which is a good sounding modest sized venue (600 capacity) I thought the Promotion could probably been done better as it felt more like 300 and I am sure the main man can pull more of an audience than this.
This does not detract from a good night had by myself and the rest of the audience but being to many a gig and also a musician I have a few things to point out .
On entering the room the support band Till Death Do Us Part had just started and although I thought they were ok as a whole but  I felt musically they were at the wrong gig and probably not slick enough.
After they finished I heard it was Emily Tate the Daughter of Geoff and later on I would discover the bassist and a guitarist would be performing again with Geoff.
This felt more like a cost cutting and scratching backs exercise .
In my opinion support bands are there to entertain ,be good enough and complimentary to get the audience warmed up for the main show  and help fill the venue when possible . Unfortunately I felt they ticked none of the above boxes at this gig .
So here I am waiting for the Geoff and his band to fire up and the Audience is full of anticipation .
The gig builds up with the first track from Mindcrime called I Remember now/Anarchy X which is a truly epic instrumental to start a gig with just the band. 
As that song draws to a close the singer Geoff Tate takes to the stage with great applause and the band swiftly transition into Queensryche  anthem Revolution Calling and at this point the audience can agree his vocals are as strong as ever.
Suite Sister Mary was performed with Geoff's daughter Emily which was nice to see.
The gig drew to a close with Jet City Woman but Geoff re-entered the stage to perform  one more song called Someone Else.
A fantastic closing song from the Promised Land album and it was beautifully performed with just vocals and piano.  
Can I pick out highlights?  
Yes,
I DON'T BELIEVE IN LOVE
EYES OF A STRANGER
EMPIRE
SILENT LUCIDITY
SOMEONE ELSE
All of the above had the audience singing in full voice.
But unfortunately again I get drawn into a conversation about what should we expect from a gig.
I thought the band were good but unfortunately as a collective not good enough.
The original band Queensryche was a band of top class musicians and unfortunately this band was not.
There were key musical movements missed in my opinion. The Keyboard player was good,one guitarist did do well and one did not and the rhythm section was O.K .
From a singer who could have any pick of musicians I felt this a bit disappointing and so yes this could have been better because O.K and average  and was not good are words I shouldn't be writing about his band.
So after all that you might say I didn't enjoy it?
Of course I enjoyed it!! 😉
But sometimes we need to look at these gigs and speak our mind even if you think I'm committing a crime.(bad pun)
Set List

I Remember Now (intro tape)
Anarchy-X
Revolution Calling
Operation: Mindcrime
Speak
Spreading the Disease
The Mission
Suite Sister Mary (with Emily Tate)
The Needle Lies
Electric Requiem
Breaking the Silence
I Don't Believe in Love
Waiting for 22
My Empty Room
Eyes of a Stranger
Encore:
Best I Can
Silent Lucidity
Empire
Jet City Woman
Encore 2:
Someone Else?
How useful was this post?
Click on a thumb to rate it!
Average rating 0 / 5. Vote count: 0
No votes so far! Be the first to rate this post.
Related
About the author
I am the drummer of signed band Furyon but am a regular Session and Dep musician throughout the U.K and abroad with years of experience from Funk,Blues,Rock,Metal and even a touch of Jazz and Latin. Experienced in Single and double pedal techniques and recording and have variations from 4 to 9 piece kits and electric kits. I play the cahon and a variation of percussion and can do main and backing vocals with harmonies. I also have been teaching for 14 yrs from Little people to older and even experienced seeking guidance . I am Very experienced on Click with a good work ethic . My equipment is my tools and insist on the best !!!!! Will travel anywhere! BRIEF HISTORY ........Noteable performances.etc 2006-2007 M.I (Musicians institute London) 1999-2001 Joined Eugene Speed ......Band (Touring ,Festivals ,Recording,etc) 2003-2004 Toured "Hedwig and the Angry Inch" Musical @Brighton Festival,Edinburgh Fringe and season in Milano. 2006 Joined FURYON ...............Till present day . 2007 Performing PRK for Manumission Ibiza 2008 + 2009 Winnipeg Fringe Festival performing "Pink Floyd " Dark side of the Moon . General touring and festivals including . Download,Bloodstock,High Voltage,Hard Rock Hell,Hammerfest,Baroeg Festival (Ne) And many other U.K and European Shows!