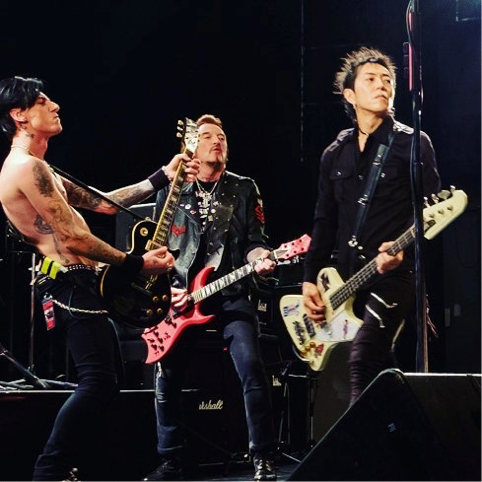 The Ginger Wildheart Band & Hey! Hello! hit the road in July – with Ginger playing 18 shows in 16 days !
4th July 2016
July sees Ginger Wildheart on the road with The Ginger Wildheart Band and Hey!Hello!, with 18 performances in 16 days!
Ginger exclaimed
"I can't wait to get onto a bus again and back on the road. 18 shows back to back, bring it on!
After being in the studio for eight months, recording three albums together, this is going to feel like a holiday".
Ginger will be supported at all shows by US power pop titan Ryan Hamilton & The Traitors. Opening the shows at Leeds, Newcastle & Cambridge will be Danny McCormack's new band, The Main Grains and this is the first time Danny and Ginger have shared a stage in years! In London Ginger's Hey! Hello! support while 
the remaining shows are opened by the UK's very own rock behemoth Massive Wagons.
Ginger is accompanied on these dates by Toshi (bass), Denzel (drums) and Conny Bloom (lead guitar & vocals).
Hey! Hello! are an ultra-catchy noise pop group and have been creating their first full-length studio album as a band 'Hey! Hello! Too!'.
T In The Park will give audiences the first opportunity to hear the new music, with  'Hey! Hello! Too!' set to be released on Round Records Records in the near future.
Hey! Hello! describe themselves as 'Hyper energetic, ultra positive and heavily melodic' with a punk spirit and a take-no-shit attitude while coming armed with a trick full of great tunes. 
The Hey! Hello! shows will unite everyone by music, involving the audience as much as the band . 'We can't change the entire world, but we can change our world by using positive thought and actions, and we will spread this message to every pair of ears that we come into contact with.'
Hey!Hello! play pure unadulterated volume driven rock' n'roll "We're bringing rock n roll back in 2016, and you better believe we mean that 100%."
Hey! Hello! is – Ai (drums / vocals) the calm one, Toshi (bass)  the resourceful one, The Rev (lead guitar) the cool one and Ginger (rhythm guitar /vocals)  the wise one. 
'Music is the sound of feelings, and we are all the creators of our own feelings – positive or negative. Hey! Hello! choose to be positive, therefore our music reflects that intention. This is the sound of joy.' 
July Tour dates 
The Ginger Wildheart band unless stated 
9th – 2000Trees Festival (Hey! Hello! & Ginger Acoustic)
10th – T in the Park (Hey! Hello!)
12th – Bristol Exchange
13th – Leicester Musician
14th – Leeds Brudenell
15th – Glasgow Stereo
16th – Aberdeen Underdog
17th – Newcastle Trillians
18th – Manchester Deaf Institute – SOLD OUT
19th – Wolverhampton Slade Rooms
20th – Cambridge Portland Arms – SOLD OUT
21st – Cambridge Portland Arms
22nd – London Brooklyn Bowl (The Ginger Wildheart Band & Hey! Hello!)
23rd – Ramblin' Man Fair
24th – Steelhouse Festival (Hey! Hello!)
Round Records Records is the new record label from Ginger Wildheart – a home for Hey! Hello!, Mutation, live albums and DVDs from The Wildhearts and more. It's arguably Ginger's most ambitious project to date; moving from stand-alone individual releases to a fully-fledged record label. PledgeMusic is proud to be partnering with Ginger and Round Records Records for fans to pre-order new releases and access a host of extra and exclusive offers.
Ginger
 and PledgeMusic have history. In August 2011, Ginger launched his Triple Album Project via 
Pledgemusic
. The pitch was to record a 30-song triple album and the campaign met with immediate success, hitting 100% of the funding target within six hours of launching. The resulting album released in 2012 in single and triple album format was a huge success for 
Ginger 
and won him the Classic Rock magazine 'Event of the Year' award. Subsequent projects with PledgeMusic have delivered equally stunning results; the last one being a book entitled 
'Songs & Words'
, which featured archive photos and the stories behind 
Ginger
's songs as only 
Ginger
 could tell them.
To start things, the Round Records Records launch includes the following;
• The Wildhearts – PHUQ Live (released June 3rd)
• Hey! Hello! – Hey! Hello! Too! (release date tbc )
• Ginger Wildheart – Solo Album Boxset (released 5th August 2016)
• Mutation – Mutation III album (released 2nd September 2016)