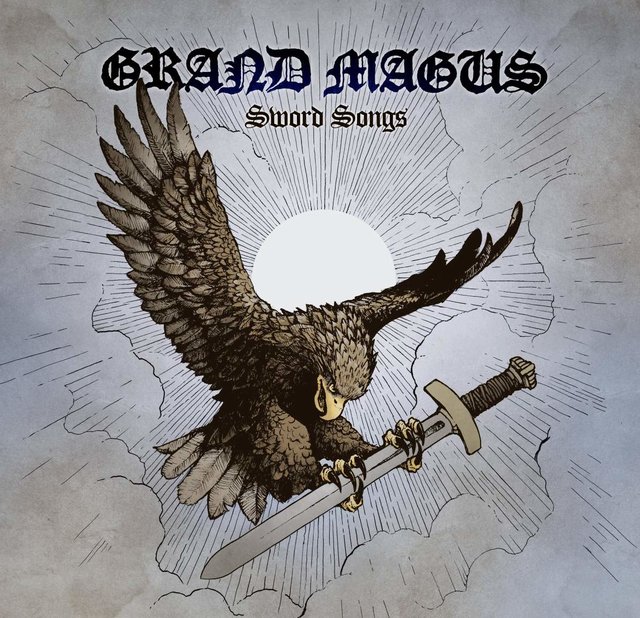 Grand Magus – New Album This Year!
17th February 2016
Swedish riff-machine Grand Magus have announced their much anticapted follow up to 2014's excellent Triumph and Power – prepare yourselves for Sword Songs! The bands eighth record will be released on Friday the 13th of May this year, via our very good friends at Nuclear Blast Records.
Frontman and creative driving force JB Christoffersson is feeling pretty confident about the quality of Sword Songs, commenting:
"We put all of our sweat, blood and tears into this new album and I think that you can hear that. For me, "Sword Songs" is the best GRAND MAGUS album ever! The new songs are faster and more aggressive than on "Triumph And Power" – and we have also included some more extreme and harder stuff. I'm convinced that there are some future classics on the disc!"
Guitars, vocals and bass were record at Studio Supa in Stockholm with Entombed A.D axeman Nico Elgstrand, who is also handling the production for the record – as he has for the last three Grand Magus albums. The drums were recorded at Top Floor Studios in Gothenburg, with Roberto Laghi (Entombed A.D, In Flames, Sonic Syndicate). Laghi is also mixing the album, and it is being mastered by Svante Forsbäck (Before The Dawn, Lost Society, Swallow The Sun).
And that's not all, we also have the track list for the album as well! Catch it below!
01. Freja's Choice
02. Varangian
03. Forged In Iron – Crowned In Steel
04. Born For Battle (Black Dog Of Brocéliande)
05. Master Of The Land
06. Last One To Fall
07. Frost And Fire
08. Hugr
09. Everyday There's A Battle To Fight
Bonus Tracks (digipak only)
10. In For The Kill
11. Stormbringer (Deep Purple Cover)
Pre-order now at the Nuclear Blast store! And in the meantime, bash some Hammer of the North!