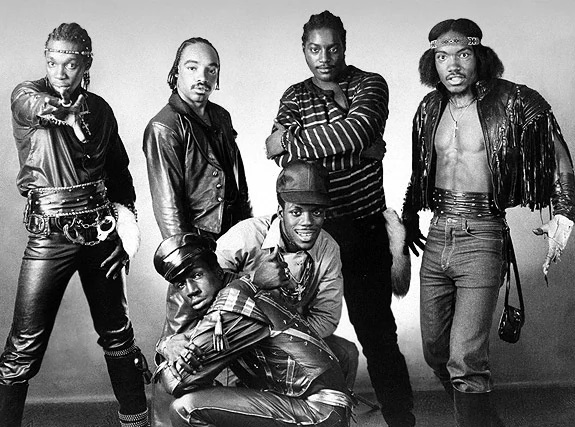 Grandmaster Flash, Melle Mel & The Furious Five: Sugarhill Adventures – The Collection, 9CD Box Set
10th June 2022
Dear reader, you're probably sitting there wondering why I'm reviewing a funk/hip hop/rap collection. It's quite simple.  Without Grandmaster Flash you'd have no Sid Wilson of Slipknot, you'd have no DJ Lethal of Limp Bizkit and definitely no DJ Pause in Mordred. Without Melle Mel and The Furious Five you'd certainly wouldn't have the Aerosmith and Run DMC crossover or even the Public Enemy and Anthrax collaboration.
This HUMUNGOUS 9 CD box contains their entire Sugarhill Records output of singles, including full length versions of the top 10 hits 'The Message', 'Step Off' and of course the classic 'White Lines' 
There is a lot to get through in this box and it proves that you can have too much of a good thing. Fortunately there is a double LP version of this release that just has the full length versions of 'The Message', 'White Lines' and 'Step Off' along with Scorpio', 'Message II (Survival)', and 'Jesse' The boxset is nice especially the booklet and new essay within, and if you want every version of the hits then this is the collection for you. If you just want the full length versions of the singles, get the double LP.
All in all no matter what version you chose to purchase, you won't be disappointed.
Score 6/10
DISC ONE
THE MESSAGE
1 She's Fresh
2 It's Nasty (Genius Of Love)
3 Scorpio
4 It's A Shame
5 Dreamin'
6 You Are
7 The Message
8 The Adventures Of Grandmaster Flash On The Wheels Of Steel
9 The Message (Instrumental)
10 The Message (7" Version)
11 The Message (7" Instrumental)
12 Scorpio (7" Mix)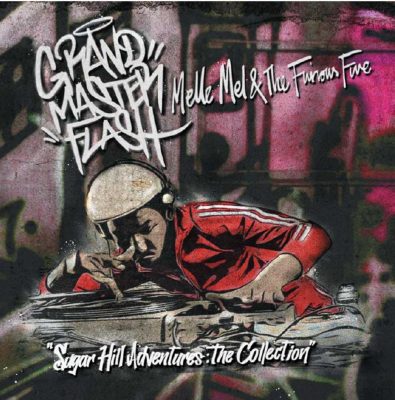 DISC TWO
WORK PARTY
1 Hustlers Convention
2 Yesterday
3 At The Party
4 White Lines (U.K. Mastermix)
5 We Don't Work For Free (Short Version)
6 The Truth
7 World War III
8 Can't Keep Runnin' Away
9 The New Adventures Of Grandmaster
10 White Lines (New Shameek Mix)
11 White Lines (Ben Liebrand Remix Edit)
DISC THREE
1 Superrappin'
2 Superrappin' Theme (Instrumental)
3 Super Rappin' No.2
4 Super Rappin' No.2 (Instrumental)
5 Freedom
6 Freedom (Instrumental)
7 Freedom (7" Version)
8 The Birthday Party
9 The Birthday Party (Instrumental)
10 The Birthday Party (7" Version)

DISC FOUR
1 It's Nasty (Genius Of Love) 2 It's Nasty (Genius Of Love) (Instrumental)
3 It's Nasty (Genius Of Love) (Part 1 7" Version)
4 It's Nasty (Genius Of Love) (Part II)
5 The Adventures Of Grandmaster Flash (7" Part I)
6 The Adventures Of Grandmaster Flash (7" Part II)
7 Flash To The Beat (Part 1) 8 Flash To The Beat (Part II)
9 Showdown (with The Sugarhill Gang)
10 Showdown (Instrumental)
DISC FIVE
1 Message II (Survival)
2 Message II (Survival) (Instrumental)
3 Message II (Survival) (7" Version)
4 Message II (7" Instrumental)
5 New York New York
6 New York New York (Instrumental)
7 New York New York (7" Part I)
8 New York New York (7" Instrumental)
9 Jesse
10 Jesse (Instrumental)
11 Jesse (7" Version)

DISC SIX
1 White Lines (Don't Do It)
2 White Lines (Don't Do It) (Bonus)
3 White Lines (Don't Do It) (Instrumental)
4 White Lines (Don't Do It) (Short Version)
5 White Lines (Don't Do It) (US Street Version)
6 White Lines (Don't Do It) Alternative 7" Version)
7 Melle Mel's Groove
8 Beat Street (12" Version)
9 Internationally Known
10 Internationally Known

DISC SEVEN
1 Step Off
2 Step Off (Instrumental)
3 Step Off (Part 1)
4 Step Off (Part 2)
5 Step Off (New UK Edit)
6 Step Off (Alternative 12" Mix)
7 Pump Me Up
8 Pump Me Up (Instrumental)
9 Pump Me Up (7" Version)
10 The Megamelle Mix
11 King Of The Streets
12 King Of The Streets (Instrumental)
13 King Of The Streets (7" Version)
DISC EIGHT
1 We Don't Work For Free (12" Version)
2 We Don't Work For Free (Instrumental)
3 World War III (Long Version)
4 World War III (7" Version)
5 Vice
6 Vice (Instrumental)
7 Vice (Edit)
8 Street Walker
9 Street Walker (Instrumental)
10 Street Walker (Edit)

DISC NINE
1 The Message (Cutting Edge's Old School Mix Edit)
2 The Message (Cutting Edge's Old School Mix)
3 The Message (Richie Rich Remix)
4 The Message (Untitled's Nothin' Touchin' The Original Mix)
5 Message II (Survival) (Richie Rich Remix)
6 White Lines (Don't Do It) (Cutmaster Swift & Pogo Mix)
7 White Lines (Don't Do It) (Davidson Ospina Club Mix)
8 White Lines (Don't Do It) (NYC Ospina's Dub)
9 White Lines (Don't Do It) (Kid Chris's Cyclone Remix)
10 White Lines (Don't Do It) (Back From The Dead Remix)
11 White Lines (Don't Do It)
Label – RobinX
Release – 24th June 2022
To purchase the CD or LP version, click HERE