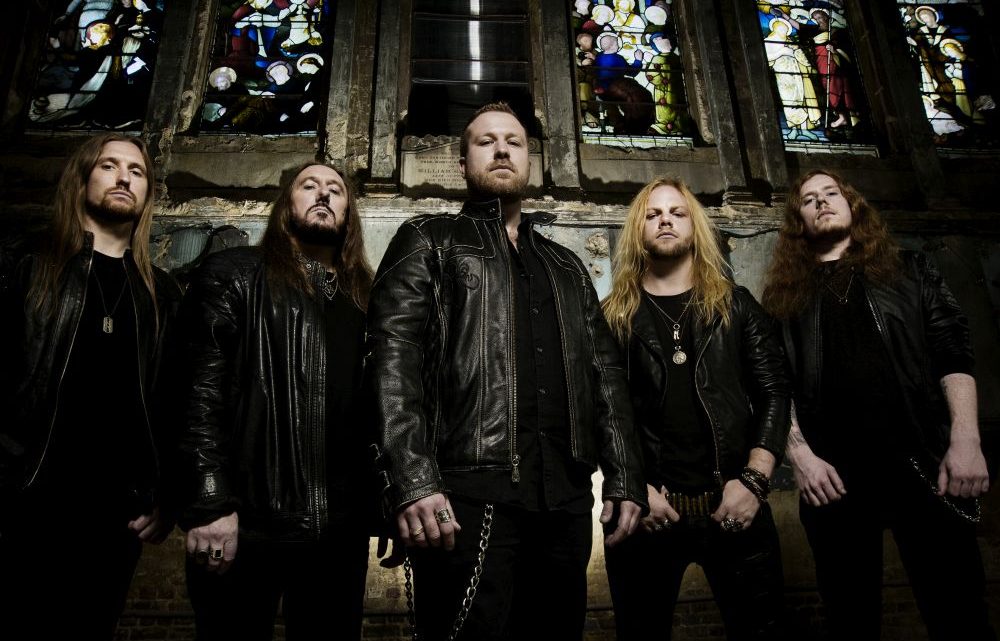 Guitarist Keiron Rochester Of Forged In Black Talks About Edie Van Halen
6th February 2021
0
By
John Deaux
UK Metal band Forged in Black are a force to be reckoned with unapologetic soaring vocals, massive melodies and can do a blistering version of Chris DeBurghs A Spaceman Came Travelling. We managed to grab guitarist Keiron for a chat during pre-production of their new album.
Apart from your good lady wife, who else keeps you company at home?
We have two pets: a cat, Dolly and a dog, Edie Van Halen. Dolly is adopted so we kept her name but Edie came along right after the death of Eddie so we thought her name would be a fitting tribute.
What is the weirdest either of them have done?
Just after Dolly came to us, she ate a rubber band. That incident involved me having to play an unfortunate game of pulling the proverbial sword from the stone when it passed to the other end. And unfortunately, Edie has acquired a habit for eating the cat's litter. Less weird more disgusting.
And I don't know if I've ever done anything too weird. I have used both of them as make shift guitars when I have the music blaring. That's pretty standard though, right?
I've had my animals play air keyboards, so totally standard. What is the best trick they can do?
Dolly has the unmatched talent of staying perfectly still for an inordinate amount of time. You don't even need to tell her to do it. And Edie is able to coerce treats from me and my wife with a single glance.
With 2020 being an unprecedented shit show and 2021 shaping up to be the same. How has having pets at home helped you through the current pandemic?
They've helped us a lot over lockdown. Whether we're enjoying TV with the cat on our laps or taking Edie on a walk in the countryside, being with those two definitely helps beat the lockdown blues.
Have you always been an animal lover?
My wife and I are huge animal lovers. As well as spending a lot of time with the pets, we enjoy visiting animal sanctuaries and gushing over videos of cute animals. We both hope to rescue more animals in the future.
Have you dressed any of them up?
No chance with Dolly but Edie has enjoyed a Christmas elf outfit and a graduation cap for successfully completing puppy training. Next on the list is that aforementioned battle jacket with a Forged In Black patch.
Do they like it when you practise at home or has your pet had any influence on your music? Do they seem to prefer any particular genre of music more than another?
Dolly likes to sit with me when I'm changing my guitar strings and we've actually managed to get Edie to chill out by putting on planet rock radio. I think they've both grown accustomed to rock and metal as well as my wife's Hanson CD. The latter has been difficult for all of us.
Nothing wrong with Mmmmmbop.
Who looks after your pet whilst you're away on tour/holiday?
My understanding wife keeps the pets entertained while we're gigging and we're lucky enough to have family looking after the pets when we're on holiday.
Speaking of practising, any new music in the pipeline? IF so when is it due and what can your audience expect?
We're currently in the pre production process for our new album which we're set to record in August. We were really happy with the writing process for this album so without giving too much away, it's safe to say that we're very excited to get this tracked.
Exciting times ahead in the Forged In Black camp then.
Have you anything you'd like to say to your fans/followers?
Keep your eyes on our social media for album updates and a few upcoming surprises. And of course head to www.forgedinblack.com for links to all our merch, streaming and download pages.
Thank you for your time Keiron. Stay safe!
For all things Forged In Black, click HERE
To purchase the albums, click HERE
How useful was this post?
Click on a thumb to rate it!
Average rating 4.3 / 5. Vote count: 815
No votes so far! Be the first to rate this post.
Related