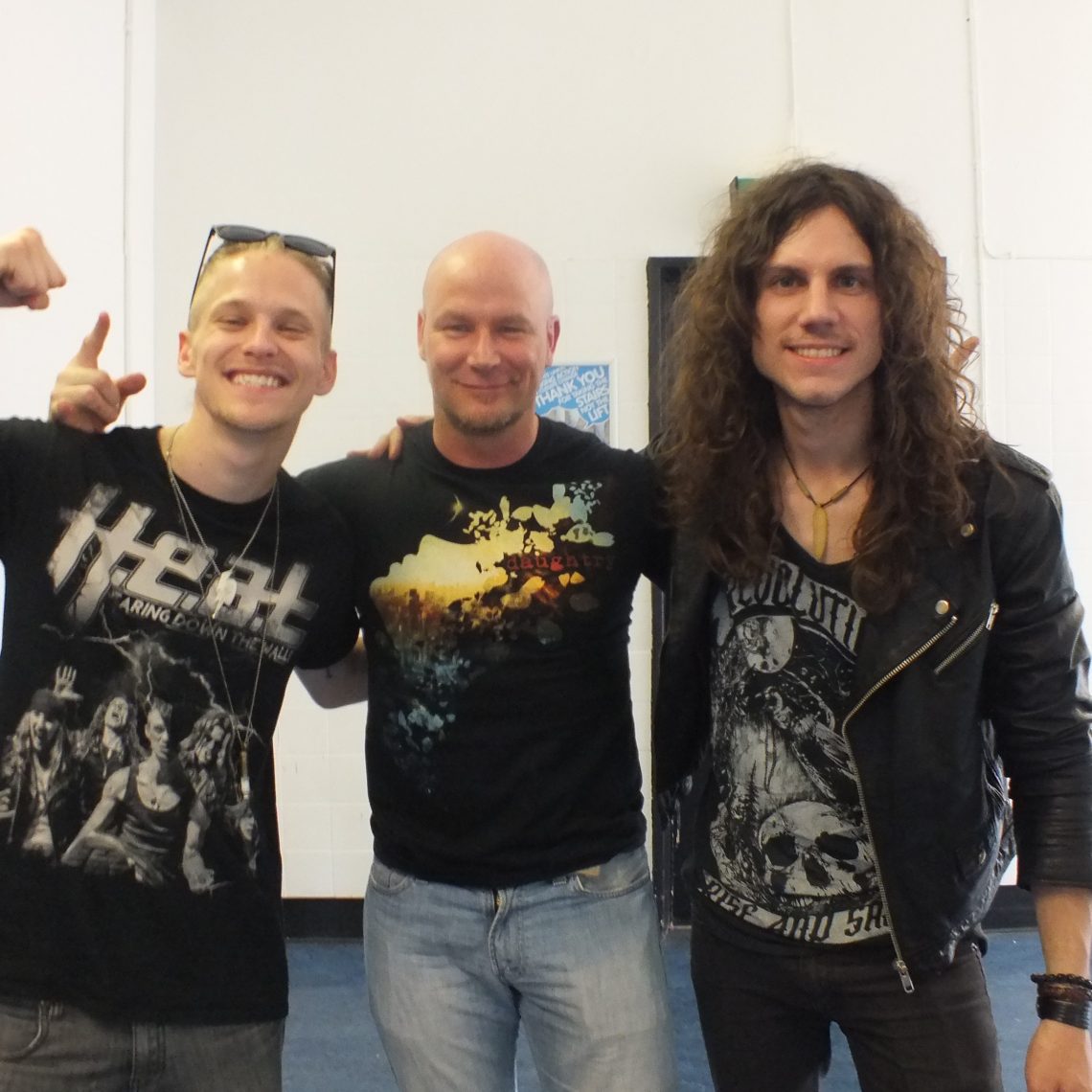 H.E.A.T. Interview – Tearing Down The Walls Tour
22nd May 2014
All About The Rock got the opportunity to catch up with H.E.A.T. vocalist Erik Gronwall and guitarist Eric Rivers on their recent tour to discuss what's happened since last years AOR festival and what's happening over the next twelve months……
AATR: So what have you guys been upto over the last time we saw you as well as doing the album?
Erik G: What have we been upto? Well we did the China tour and that was pretty…weird, lol, very intense, its pretty different in China, the food is different the culture is different and it's a big country so we travelled like 700 kilometers a day just flying and by train to get to the next city
Eric R: We had ten shows in eleven days so it was like no sleep at all
Erik G: Yeah it was like the first time we had to cancel a show, as I was so exhausted I physically couldn't sing
Eric R: Everyone was like surviving on two hours, it was just so big it was exhausting but is was fun at the same time
Erik G: So it was China and then recording the album in august, and we've been playing a lot of shows in Sweden
Eric R: Yeah we played with the Scorpions
AATR: And how did that go down?
Eric R: It was awesome, crazy, like 15,000 people in a bull ring arena, it was so crazy, Spanish people are so intense for their music and how they react to music, it was like Roooooarrrrr ( Screams )
Erik G: Yeah they have a lot of energy, we really enjoyed playing in Spain and the show was really good.
Eric R: It was really cool playing with the Scorpions
AATR: And how is this tour going so far for you?
Erik G: It's going really good, yeah we had a meeting just a few hours ago and its going really well, better than we expected, we've sold a lot of tickets
AATR: After seeing you guys live at AOR that was what promoted me to buy the album, I'd actually seen the reviews of Address The Nation and Freedom Rock but it was seeing you guys live that made me want to buy the album
Erik G: It's really good to hear that story, you saw us live, you bought a cd and now you're here again that's the ultimate compliment we can get
AATR:I have to say that for me personally you are the best new melodic rock band to surface in the last 20 years
Erik G: Wow, thank you so much – and we kept you waiting an hour and twenty minutes! Lol 😉
AATR: So going back to the album, I've seen the reviews where people feel it's a harder edge to the album, but it good the melodies remain and it seem's to be more stadium rock focused, did you specifically aim to deliver or achieve that?
Erik G: I guess we just started writing and we was like, how are we supposed to top Address The Nation, ( the last album) and we was like yeah, just by writing songs, yeah purely by writing new songs and I guess that at some point we realized that most of the songs were about the same subject, believing in yourself and ignore all the doubts, and that was not intentionally it just happened, so yeah I don't know the Tearing Down The Walls album kind of just happened and we just wrote songs in different locations and kept writing for a year and we put it together and realized that we have a thread here so yeah that's how it happened and when we came to the studio Tobias Lindell our producer said let's go heavier so we made the heavy songs heavier and the ballads more ballads
AATR: So it was more of a conscious decision to give it that harder edge?
Eric R: Yeah, we had all the songs but we didn't know at first how to present them on the album so it was like people come up to us and they say that we're a great live band and we wanted to put that on the album when people hear the album we want them to want to come and see us live, and I think this album represents how we are live, I think we finally found that sound on the album
AATR: So it was more of a natural progression, what was the first song that came about?
Erik G: I think it was Shot At Redemption that song was really early, I think we'd just released Address The Nation and then we came up with a Shot At Redemption, so then We Will Never Die, but that was actually written before Address The Nation and that was what Jona and Dave wrote, that was for Freedom Rock,
Eric R: It was wrote for the first album but then Jona picked it up again and dusted it off, and it sounded good with Eric
Erik G: So we changed the title ( laughs )
Eric R: Yeah we changed a lot but of course it was written seven years ago
AATR: Which are your favourite songs of the new album that you enjoy playing live?
Erik G: I always feel comfortable when we play Tearing Down The Walls, a lot of people sing along to that one, and it's a good vibe so I like that one actually
Eric R: I think for me Point Of No Return is one I enjoy the most playing live, I like the guitar riff and a lot of things are all happening in the song, I like the arrangements, like hard rock and melodic stuff, we tried a lot of new things like strings and its fun to play
AATR: I think there's definitely more dimensions to Tearing Down The Walls than Address The Nation but I don't think in a lot of ways they can be compared side by side, you can feel the new album is deeper
Erik G: Yeah that's good to hear, We've been working a lot on the lyrics and trying to get it a little bit deeper and more honest
Eric R: Yeah that's so Swedish!
AATR: From the melodic side of Rock there is a lot of bands that still sound disjointed and miss the mark, is that something conscious or is it as a group of five guys that it just flows?
Eric R: Pretty much actually, it is very difficult writing music, it's like when you sit down to write four times out of five you don't come up with something good but on the fifth you do, you just have to keep doing it, it's hit and miss but finally you get something good from it, I don't think that we get too serious about it when we are writing, we try to enjoy it more, it was like before we tried to write for what we thought people wanted to hear and now we just writ whatever comes to mind
AATR: And Erik does this as the second album with yourself feel more of a collaborative effort or did it always feel right from the start?
Erik G: It always felt right from the start but I feel more actually that I feel like I know the guys better and we can work so much better,
Eric R: Yeah I noticed that in the studio
Erik G: Like if they think my vocals are crap they'll tell me, so it's a faster process, it's not like, "Wow thanks for that I think we'll just put it in the suggestion box over here!"  Laughs
AATR: When I saw you guys on stage earlier at soundcheck what are you like as a team, Eric R – it was like you was just reserved, and chilled whilst watching what was going on whilst you Eric was joking and winding Jimmy (Jay, the bassist ) up?
Erik G: That's cause he was so drunk last night! yeah he feels really bad today, he's just been sleeping all day so that's why I was making fun of him,we don't always have fun, like laughing fun, sometimes we have discussions but mostly it's a good vibe in the band and we're always honest, if we have a problem we always talk about it, so that leaves more to the fun.
AATR: And who is there that you would like to tour with that you haven't toured with?
Eric R: Its hard to say, its hard to think, either with a business mind or with my heart,
Erik G: I would like to tour with AC/DC cause their up and coming! Laughs,
AATR: Yeah for thirty plus years!
Erik G: Exactly! ( smiles )
Eric R: I think Foo Fighters for me, they're a band I really love and you know their fans might enjoy our music too, I think when touring with a band you shouldn't exactly play the same style, something different, like our opening act Supercharger, they are an awesome band but they play a different kind of music and I think that's really good, so yeah Foo Fighters
AATR: What about anyone you'd like to collaborate with?
Eric R: Desmond Child ( Bon Jovi, Cher, Bonfire )
Erik G: Yeah definitely, to write a classic with him
Eric R: Or Steven Tyler would be cool
AATR: Yeah they play Download this year
Erik G: Yeah, they do we hope to be there next year,
Eric R:It a cool festival
AATR: So you guys have a break after today and then pick up again later in the year
Eric R: Yeah we have like show's every weekend in Sweden
AATR: Yeah I've seen that and then you're back over here in October for the last Firefest
Eric R: Yeah we are, we also do a lot of festivals in the summer, and we'll also do the states
AATR: How are the sales over in the states with you being a band that potentially the Americans would love
Eric R: We have released anything there yet
Erik G: No we haven't but I think that some people have heard, some stuff from Tearing Down The Walls and its growing
Eric R: Yeah it's like they get it from Spotify, and its' such a big market
Erik G: Yeah but we're gonna release Address The Nation and Tearing Down The Walls in the states,
Eric R: I think just going there to play will give us something at least
AATR: So what's the plans for next twelve months just promote the record?
Erik G: Yeah that's the plan, just play everywhere we can and possible, and it's good to do the festivals this summer as that attracts a lot of people, festivals are really good
Eric R: Yeah hopefully we'll do another tour in the fall
AATR: So are you keeping the setlist all the same on this tour?
Erik G: We're gonna change it after this tour, we've been talking about that actually, just a few small adjustments I think we have a real good setlist now
AATR: So for anyone that's never seen or heard of you what would you say to them to promote yourselves?
Erik G: I Think they should see us live actually cause most people say we are better live than on album so come see us live
Eric R: Yeah we bring a lot of energy, especially this guy
AATR: Yeah you do, are you still doing the boxing training? (a fact we found out back when AATR interviewed them last year)
Erik G: Oh yeah! I still do a bit but it gets in the way a little on tour ( laughs)
Eric R: It's actually his warm up before
Erik G: Yeah it is
AATR: So what do the rest of you guys do in your spare time on tour?
Eric R: Lol a lot of drugs ( laughs ) I can imagine people back in the day doing drugs cause it's like you're sat around all day, but we have laptops and stuff so we can play games, watch stuff and whatever,
Erik G: Yeah we get high on wi fi! I think rather than drugs sex and rock and roll, it's more masturbation, Wi Fi and Rock and Roll ( laughs )
AATR: But not at all at the same time? Lol
Erik G: Well yeah maybe ( laughs ) we need Wi Fi to masturbate
AATR: So you are the new Motley Crue! Lol
AATR: Well that's it guys thanks for the taking the time out for us,
Erik G: No worries cool interview man
AATR: So will you guys go relax now before the show?
Erik G: I don't know I might get my Wi Fi out and go masturbate! Lol
AATR: Just make sure you wash your hand before the show!
Erik G: Ah we have a rule, you must never masturbate before the show!
AATR: Ah cause you lose all your energy?
Erik G: Yeah Yeah exactly man!
AATR: Ah, so now I have to ask why are you so full of energy on stage and Eric why are you so chilled? Lol 😉
All (Laughter)
Erik G: Ah touché! Lol
Thanks again Guys…..