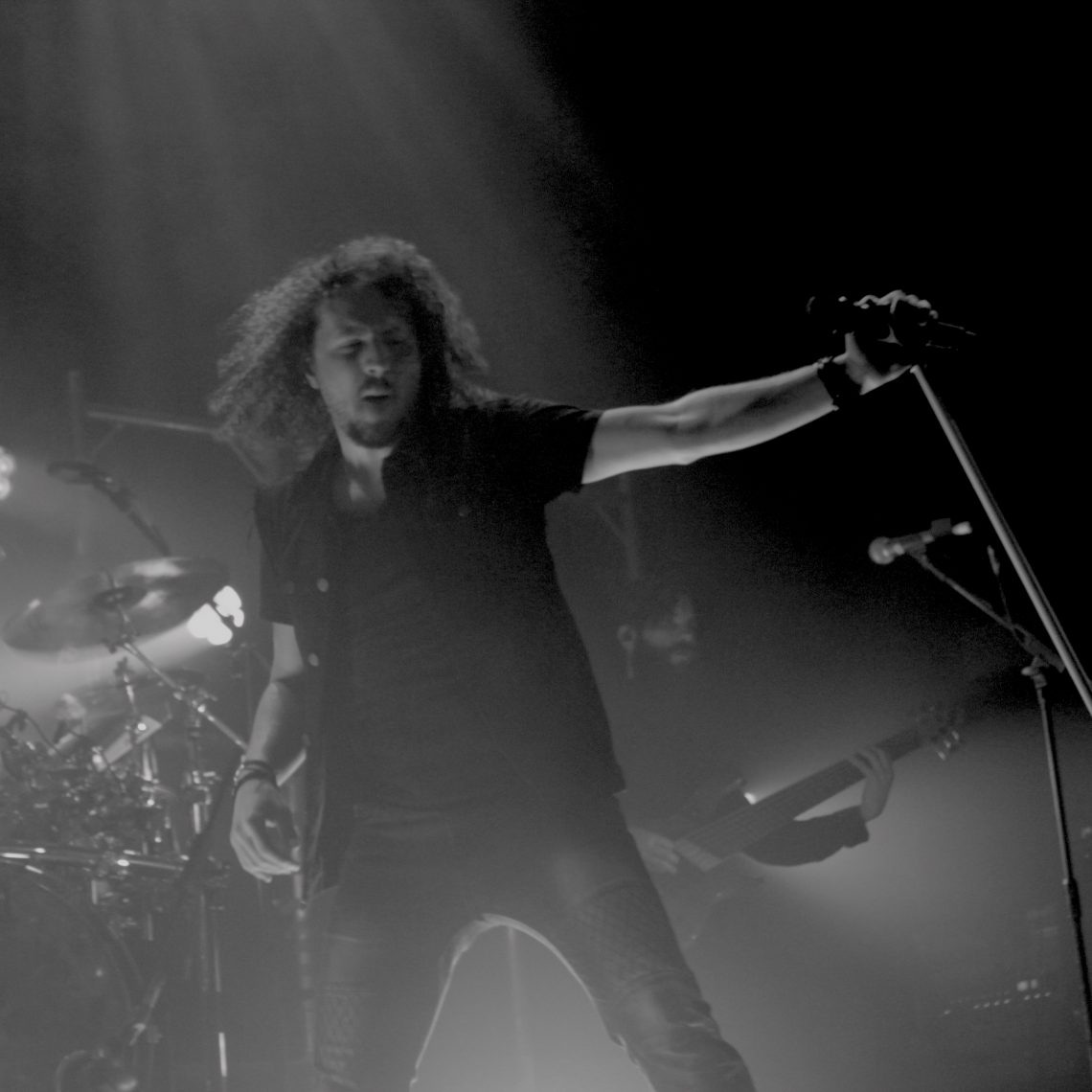 Haken- Islington Assembly Hall, London (16/03/19)
18th March 2019
0
By
Dan Peeke
As I'm pretty sure happens every single time I attempt to do any single thing ever, train delays meant I arrived at the Islington Assembly Hall as Vola wrapped up their heavy, synth-led set. Luckily, nothing ate into to the progressive masterclass that followed, courtesy of Haken.
The five instrumentalists took to the stage as 'Clear' rumbled in the background, complete with headless guitars and mountains of synths, Haken are the epitome of prog. However, when instrumentless vocalist Ross Jennings pranced out to explode into 'The Good Doctor', a whole new side of the band emerges. Typically, prog performances require a lot of concentration from every member (take the mechanical performance of Dream Theater's 'Dance Of Eternity', for example), but Jennings leaps around the stage; his hand gestures and mic-stand raises channel Dio or Axl Rose more than Mikael Akerfeldt. The energetic fun is exacerbated by a perfectly executed light show that matches every time signature, syncopation and mood change, with a sudden snippet of the Britney classic 'Hit Me Baby One More Time'. Interesting. When the catchy chorus of 'Falling Back To Earth' kicks in, the audience are captivated.
Jennings' vocal performance isn't as majestic as it is on record, and the a capella moments aren't a great choice. A lot of the more simple phrases are rife with intonation issues, but then some of the more soaring melodies are full of power. It doesn't make much sense, but doesn't really match the exceptionally tight instrumental performance from the rest of the band. The difference is shown in full when keyboard player Diego Tjeida kicks off the instrumental 'Nil By Mouth' like it's a rave, and the band explode through moments of sheer collaborative and individual virtuosity.
By this point, the set has been over saturated by material from Vector. While the critical reception was positive, it simply isn't as strong as their previous work. They avoid masterpieces like 'Cockroach King', and instead waste time on substandard works like 'Veil'. Before that, though, '1985' takes the party atmosphere up another notch. Jennings takes to the stage with pink, retro glasses and three-man entourage who seem to have phones attached to their heads. While he tosses blue glow sticks around the crowd and his band romp through magnificently complex music, I silently wonder what's actually going on. When Tjeida comes to the front of the stage grasping a keytar, I realise: they're just having loads of fun.
Prog is often associated with pretentious showing off, but Haken engage their audience with the feeling of a bouncy punk band. This feeling is contrasted by the bizarre knowledge that despite only having two songs left in the setlist, Haken have about 45 minutes left to kill. They do this through 'The Architect', where Jennings' delivers his best vocal of the night as the heavy screamed vocal style the band have now abandoned makes its only appearance; and 'Crystallised', arguably the band's masterpiece.
The 20 minute tune jumps from mind bending prog metal, to 5-part harmony, to baroque style neoclassicism. It really is quite wonderful.
While the audience was split between those desperately trying to headbang to compound time signatures and those laughing at those trying to headbang to complex time signatures while counting out bars of 11/8 on their fingers, everyone was absolutely enthralled for the full 90 minutes. Most of the prog shows I go to are 99% filled by people thrice my age, but Haken keep the flag flying for a younger generation, without pushing the original fans away.
Set List
(Intro Tape) William Tell Overture
Clear
The Good Doctor (With "Baby One More Time")
Puzzle Box
Falling Back to Earth
A Cell Divides
Nil by Mouth
1985
Veil
The Architect
Encore:
Crystallised
Africa(Toto cover) (With members of 'Bent Knee' and 'Vola')
How useful was this post?
Click on a thumb to rate it!
Average rating 0 / 5. Vote count: 0
No votes so far! Be the first to rate this post.
Related
About the author
I like classic rock like Led Zeppelin and Pink Floyd and Hendrix, Metal like Metallica and Slipknot, into more extreme stuff like Cannibal Corpse and Anaal Nathrakh. Other than rock, I love Bob Marley, blues legends like BB King, Rock n Roll like Chuck Berry, Jazz, Country and Bluegrass. I also like a bit of Elton John and Eminem every now and then (Sorry!). But overall my favourite bands are System of a Down, Five Finger Death Punch, Rush, Children of Bodom, Led Zeppelin, Pink Floyd and Anaal Nathrakh.