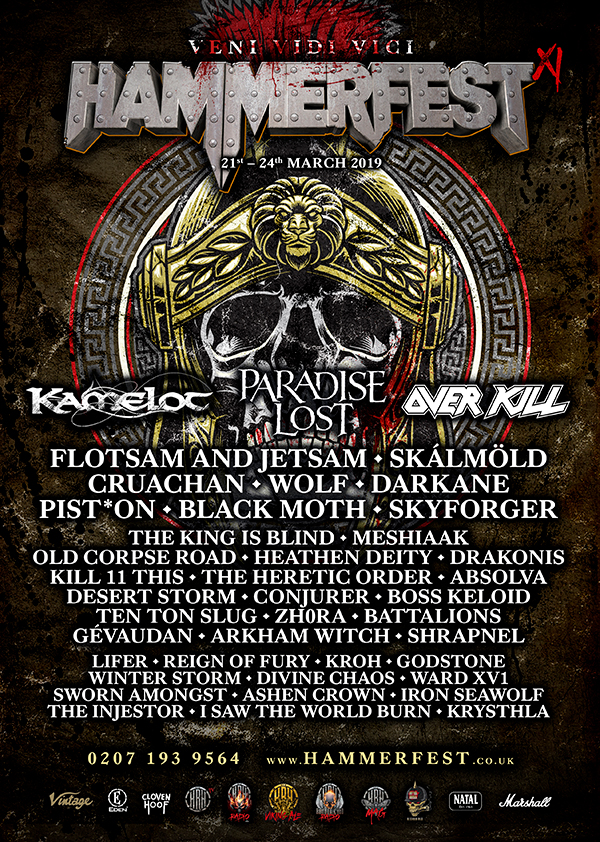 HAMMERFEST XI ANNOUNCES ITS SATURDAY HEADLINER PLUS ANOTHER 18 METAL MASTERS
26th April 2018
Arise, Oh Metal Maniacs! for the best in metal is on its way and the tribes that love it are gathering apace.
As promised, more bands are being been announced, joining the mighty Thursday night headliners Paradise Lost and Friday night's Overkill.
Hailing from Florida, Saturday's headliners Kamelot have long been acclaimed as one of the most esteemed and innovative acts in power rock and metal. The band has forged cutting-edge power metal, working together a brilliant alloy of melodic and symphonic metal, progressive influences, and sinister, soulful elements of gothic and doom metal. 
Kamelot's current line-up is made up of Tommy Karevik (vocals), Thomas Youngblood (guitars), Sean Tibbetts (bass), Oliver Palotai (keyboards), and Johan Nunez (drums). The band will be bringing their fabled sound and stagecraft to Hammerfest XI. 
Hammerfest also announce: Flotsam and Jetsam, SKÁLMÖLD, Cruachan, Wolf, Darkane, Black Moth, Skyforger, The King is Blind, Meshiaak,  Drakonis, The Heretic Order, Conjurer, zh0ra, Battalions, Shrapnel, Kroh, Godstone and Iron Seawolf
They join the 2019 line-up already announced Overkill and Paradise Lost; Pist*on, Reign of Fury, Sworn Amongst, Absolva, Kill II This, Desert Storm, Boss Keloid, Old Corpse Road, Divine Chaos, Arkham Witch, Lifer, Ten Ton Slug, Gevauden, Ward XV1, The Injester, I saw the World Burn, Ashen Crown, Winter Storm, Krysthla, and Heathen Deity. 
 "We're fielding a particularly strong line-up for Hammerfest XII," says CEO Jonni Davis, "We've worked hard to draw them together and put on a celebration of the best in the genres of  metal.  It'll be a fest to remember!" 
Hammerfest XI will take place between Thursday 21st March and Sunday, 24th, 2019, at Camp HRH, Pwllheli, in North Wales. Amidst the beauty of Snowden's landscape, on the Gwynedd coastline, the festival will descend upon the camp for music, fellowship and revels, and as it's Hammerfest, you won't be stomping though mud or cursing gig-nobbling weather gods. HF lives up to HRH's legendary standards: great bands, purpose-built staging arenas; quality gaffs with fully-equipped toilets, TV, fridges, heating and showers. Campervans can also be accommodated. And there's much, much more, especially Hammerfest's awesome camaraderie, fellowship, and merrymaking!
N.B. Hammerfest sells out FAST, so book early to avoid disappointment.
Call the pass hotline on 0207 193 1164 or 0203 287 6684, lest ye miss the chance to experience the magic that is Hammerfest XI!