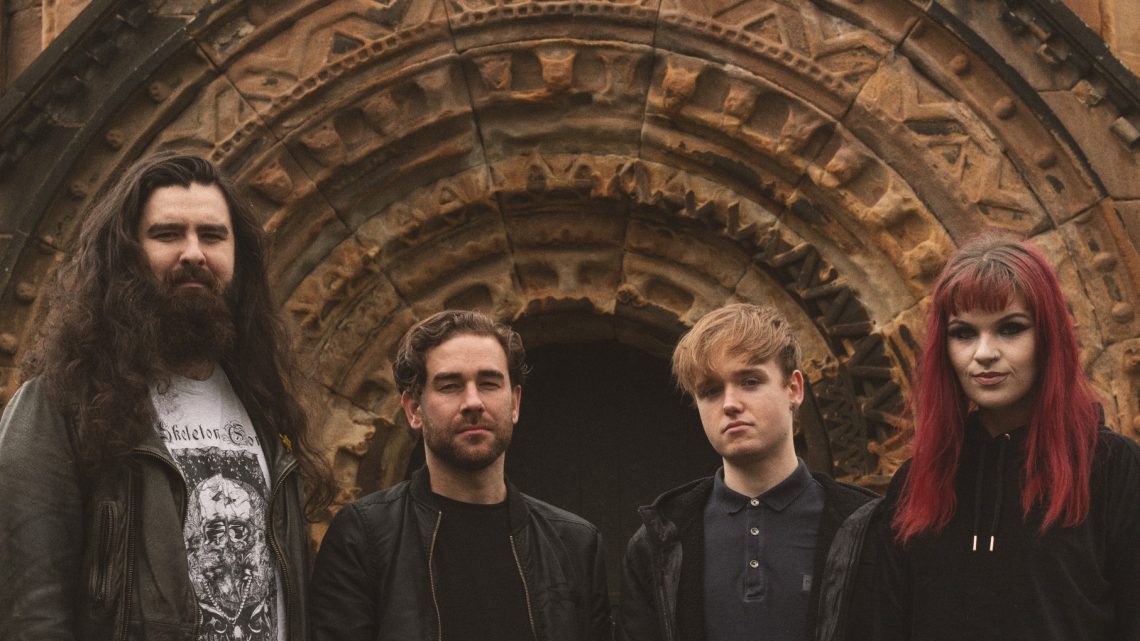 Hannah Jones Of The Rhubarb Joins AATR For A Wee Chat
29th January 2021
0
By
John Deaux
Glasgow based Stoner Doom band The Rhubarb spared joint vocalist Hannah for a chat about their pets.
Hello! How are we doing?
We're good. We've been looking forward to this interview as we've been informed you have a couple of pets. Tell us about them.
So excited about this interview so different and any excuse to talk about animals and our pets! I have two gorgeous pets: I have a dog called Brodie, he's 9 years old and my family got him from a rescue home in Glasgow.
Apparently he was found by the SPCA abandoned in the streets at a young age, so we took him home and give him love and care! We have had him for 8 years now, he's a rascal, full of energy and unconditional love, he hates postmen (sorry posties haha) and the cutest sleeper in the world, couldn't ask for a better well natured dog ever!
I also have a pet rabbit called Joey. He's a lionhead aged 6 grey, fat, moody but pretty wee boy. We also bought him at young age of 1 at a rescue home as the previous owner had moved away and continue to look after him. He was already called Joey and I loved that name because I'm a massive friends fan! He's well natured and loves hopping about to when I play music and he LOVES food. JOEY DOESN'T SHARE FOOD! See what I didn't there, Friends fans… haha! He's my best friend and I tell him everything. He wouldn't tell a soul…!
What is the weirdest thing your pets have done?
Haha good question, probably with Brodie my dad and I took him a walk next to duel carriage way near where we live, he got a bit to excited his collar slipped off, he ran on the carriage way chasing cars and nearly caused a massive pile up, no joke! Two vans were nearly crashed together but luckily nothing happened, nobody was hurt and Brodie was safe also. Safe to say a after that day we bought him a extra strong harness while walking haha. With Joey I often pretend he's Simba from the lion king, lift him up and sing 'THE CIRCLE OF LIFE!' Haha!
What is your best trick either of them can do?
 Joey is just a grumpy thing who doesn't really like do tricks other then hop about everywhere haha but Brodie is very clever at lying down and rolling over when you command him to do.
This past year has been pretty manic, have Joey and Brodie enjoyed you being at home or has it been driving them off their heads as they're not used to you being home all the time?
 The year has been crazy! Never would have thought all this would happen. Brodie and Joey have loved us being home, especially Brodie, he's loved going big walks and sleeping beside us on the sofa when we are chilling at night, he'll be shocked when we all go back to work haha! Joey is quite independent but loves me playing with him.
Have you always been an animal lover? Have you ever owned any exotic pets?
YES! 100%, I'm gonna be a crazy dog woman when I'm older haha! I've never owned far out animals before, when I was a toddler we had a fish tank with some fish. I would have every animal if I could!
Nothing wrong with being a crazy pet lady and we reckon you're one of those people that dresses them up too. 
Oh gosh I wish I was more of that person because I think it's hilarious! We did dress Brodie up one Halloween as James Bond with homemade tuxedo, it was quite cute! Joey would just chew his costume off haha.
Do they like it when you practice at home and do they seem to prefer a particular genre?
They enjoy it yeah. Sometimes Brodie and Joey will fall asleep if I'm singing or playing bass or guitar, like it's soothing to them. They don't care if it's doom metal or classical anything as long as it's rhythmic!
Who looks after your pets when your on tour/holiday?
I still stay with my parents so we all take turns looking after them. We are all very animal people. If only I could take them on your with me haha!
Speaking of practicing, any new music in the pipeline?
Well we do have a big announcement for something special coming next week, so keep your eyes peeled for that without giving too much away haha. Our fans are to expect and very tasty and hot hot hot creation
Have you anything you'd like to say to your fans and followers?
Yes! Would just like to say if you don't already have pet then definitely consider adopting a lifelong friend, because they will always love you no matter what. Also a big thank you to yourselves for the great interview, our fans and friends who have supported us all the way, we hope to see you soon, keep safe and keep rocking.
Thank you Hannah for taking the time out of Lockdown 3.0 for this chat. It's been an absolute gas
For all things The Rhubarb, click HERE and to purchase product, click HERE
How useful was this post?
Click on a thumb to rate it!
Average rating 0 / 5. Vote count: 0
No votes so far! Be the first to rate this post.
Related
About the author
Some say Yank My Doodle, It's A Dandy! is a biographical movie based on John. Some have even said that his favorite artist is Chesney Hawke! All we really know is he sleeps inside out and his hair tastes like candy floss.