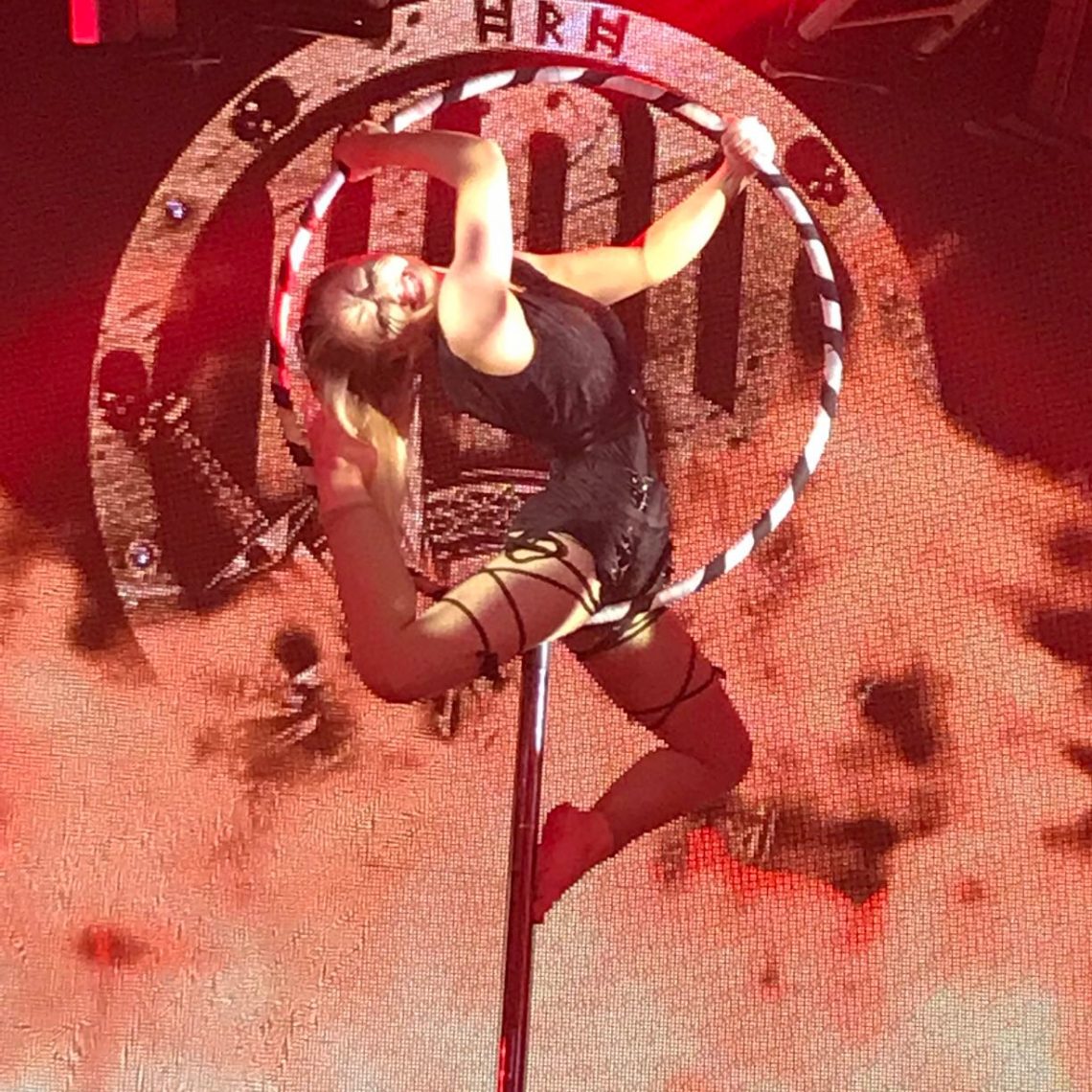 Hard Rock Hell XI – The Awards
14th November 2017
Another Hard Rock Hell weekend over and every morning I awoke without a sore bottom and still owning both my kidneys was a win.
There's every ounce of truth in the phrase 'To get hangovers, you have to stop drinking' (thanks Lemmy) as all those who had stopped drinking were nursing the mother of all hangovers every morning, until the 1st hair of the dog had been consumed.
I was lucky enough to be invited along the day before HRH officially started (Thursday 9th November 2017) to attend their very 1st Award Ceremony. The vision Jonni Davis had for this night certainly came to fruition as it was his way of saying thanks, not just to those who have attended over the years but also to people who have made HRH what it is today. 10 years on, 15 HRH events throughout the year and now HRH TV on Amazon, HRH Mag as well as Hard Rock Hell Radio. Nobody could ever have seen this coming. Jonni and the rest of the HRH team seemed to be truly humbled.
So, onto the awards themselves. Nestled in between Stone Broken and Massive Wagons, I noticed that in the center of the table was an ice bucket, surrounded by polystyrene skulls and black petals (incredibly rock n roll). Cuddled up in the ice bucket was a bottle of Cloven Hoof Rum and a bottle of Jagermesiter. Of course, being a bit of a Rum hound, the bottle didn't last long. 
Award 1 – Angels of Rock
Nominees: 
Girlschool,  Tequila Mockingbyrd,  Rock Goddess,  JOANovARC
WINNER
GIRLSCHOOL – Accepted by Jackie Chambers and Enid Williams. 
Award 2 – HRH Brothers in Arms (Best Label)
Nominees: 
Nuclear Blast, Frontiers, Spinefarm, Napalm Records
WINNER
Nuclear Blast – Accepted by Nuclear Blast
Award 3 – HRH Rising Stars
Nominees: 
Evil Scarecrow, Massive Wagons, The Vintage Caravan, The Amorettes
WINNER
Massive Wagons – Accepted by all members of Massive Wagons
Time for an award break and we were treated to a performance from Idlewar. New signings to Off Yer Rocka Records. 
Award 4 – HRH Axeman 
Nominees:
Michael Schenker,  Zakk Wylde,  Bernie Marsden,   Tracii Guns
WINNER
Michael Schenker – Accepted by Michael Schenker

Award 5 – HRH Young Blood
Nominees: 
Stone Broken,  Ryders Creed,  Bad Touch,  Dead Man's Whiskey
WINNER
Stone Broken – Accepted by Stone Broken
Award 6 – HRH Metal Maniacs
Nominees: 
Anthrax,  Skindred,  Saxon,  Black Label Society
WINNER
Skindred – Accepted by Skindred
A quick breather from the awards came with a cool performance from Killcode
Award 7 – HRH Global Heroes
Nominees:
Airbourne, Twisted Sister,  Helloween,  Nightranger
WINNER
Airbourne – Accepted on behalf of Spinefarm Records head of UK A&R Dante Bonutto (although Airbourne were headlining the Friday night, they weren't yet in the UK)

Award 8 – HRH Live ( Best Live venue)
This was a HRH special award given by Hard Rock Hell and Chic Festivals and was awarded to the O2 in Sheffield which has played host to HRH Sleeze.
Steve Richardson of the O2 in Sheffield accepted the award.
Award 9 – HRH Summer Solstice (Best Summer Festival)
Nominees: 
Sweden Rock Festival,  Download Festival,  Hellfest,  Wacken Open Air
WINNER
Download – Accepted by Benji Webb (Skindred)
This was the biggest surprise of the night.
Black Aces was the musical interlude before kicking off the final awards of the night.
Award 10 – HRH Mjolnir ( Industry Special Achievement Award)
Awarded to Steve Strange from Fastway. A massive supporter of HRH from day one.
The final award of the night was for HRH Legend. Who else could this go to but Dee Snider, who said to Jonni at the very first Hard Rock Hell that he was onto something special. Turns out Dee was right.
Dee took the mic & here is what he said:
'Now, some of you may know that last week my 85year old mom was hit by a car and nearly killed and she's been day-to-day everyday since then. Brain damage, this woman was so vibrant, so amazing and right now, she's a vegetable and it's FUCKIN' awful. We've been by her bedside day after day, night after night and some people ask me why I'm going out still doing my shows and I'd like to tell you it's because she'd want me to do that, although she's not really a fan, never been a big fan. Her happiest day was when Celine Dion recorded a Christmas song that I wrote for my wife and don't say a fuckin' bad word against Saint Celine. 14 million albums sold and it paid for my fuckin house. 
I'm here because, I don't know about you, but when I was sad or angry or depressed or anxious or just mad at the fuckin world, I could always turn to heavy metal to lift me up, and right now with my mother, I mean it's bad, it's real bad guys I need to be fuckin' lifted up so I flew here to Wales to rock with you motherfuckers tomorrow night. So whether she'd be proud of this or not, this is for my mom. Get well soon'
There wasn't a dry eye in the house. 
Massive Wagons followed Dee as the last band of the night and what a set to close with before Area 51 took to the stage once more to start the after party shenanigans.
It was a star-studded line up. Each band were amazing. Idlewar for me was the highlight set.
But the star of the night was of course Hard Rock Hell. What an amazing event. Probably the best Rock and Metal festival in the UK. 
Congratulations to Jonni & of course the entire HRH Team. Thank you for inviting AATR down to the awards. Looking forward to next year already.
If you haven't been to a Hard Rock Hell event, trust me when I tell you this, it's the most fun you can have for 3 days with your clothes ON.
Click HERE to book now for next year to avoid disappointment