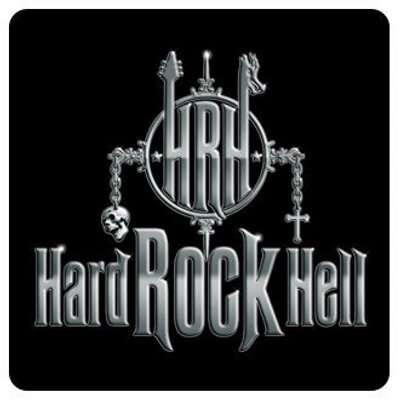 Hard Rock Hell XII 7th – 11th November Overview
14th November 2018
Hard Rock Hell was in its 12th year and the final event in Pwllheli North Wales before it's move to Great Yarmouth.
What a weekend it was too. Starting off with the 2nd award ceremony which saw the likes of Phil Campbell (Motorhead /Phil Campbell and The Bastard Sons) pick up the award for HRH Axe Slinger, Saxon pick up 2 awards (Nigel Glocker for Tub Thumper and Saxon for HRH Metal Maniacs) and Dave Brock of Hawkwind pick up the much coveted MJOLNIR award.
After an extreme night of partying with the winners, I awoke in the morning, scraped the crust off the undercrackers, checked that I still had both kidneys (which I did have as they were hurting from the copious amounts of Burnt Out Wreck Whiskey and Fireball Cinnamon Whiskey). I'll be honest I'm not a whiskey drinker, however these 2 were so easily drinkable, that it was almost rude not to imbibe. Thankfully Thursdays antics didn't start til 6pm with Edens Curse who were a nice gentle aperitif before ex Skin/Jagged Edge guitarist Myke Gray took to the stage and blasted out original material as well as Skin classics, House Of Love, Shine Your Light and Take Me Down To The River. 
Rock Goddess had the unenviable task of following Myke Gray. I'd caught Rock Goddess before at a previous HRH and I was looking forward to see if they had improved any, sadly the answer was no. It was then the turn of Phil Campbell and The Bastard Sons. Although not my bag baby, they put on a great show and the Motorhead classics of The Game and Born To Raise Hell got the most attention of the audience.
The headliners Schenkerfest featuring previous members of Michael Schenkers band, Gary Barden, Robin McCauley, Doogie White and Graham Bonnett taking turns of vocal duties. Although not exciting to watch (due to vocalists staying on stage with arms crossed waiting for their turn) and Michael bitching about his brother Rudolf Schenker (Scorpions), it was an OK performance and nothing to write home about.
Friday rolls around and most of the time was spent on the 2nd stage to check out the new talent, of which there was plenty (Voodoo Blood, Dust Coda and City Of Thieves to name a few.)
After leaving headliners Saxon (who were fantastic, as were Girlschool before them), Snew were just finishing. Once again not my cup of tea (I'm more of a coffee drinker) they were really good at what they do which is proper American hard rock.
Everyday Heroes took to the stage at 00:30 by which point the crowd that had gathered were well oiled (myself included). What I had been told over the previous few months hadn't prepared me for an oral assault. Simply outstanding Blues Rock. These boys from Newport actually give me hope of the next generation of this genre. Whilst friends of mine partied well into the small hours, sleep beckoned (yes I know I'm old).
Waking up Saturday I have to say I'd slept in. I wanted to make it down for The Bad Flowers (who I'd seen before and really enjoyed) but I'm happy to say I caught Renegade Twelve. Having seen these boys back in June supporting Tequila Mockingbyrd, they had improved exponentially. Vocalist Sam. drew the crowd in with stage banter and the camaraderie between the band members was infectious. You couldn't help but chuckle along with them.
Heading over to the main stage after Renegade Twelve to catch Kaleb McKane, who again, I'd heard a lot about, I had no idea what to expect. Although not fond of his live vocal, the musicianship certainly made up for it. Undoubtedly he's a fine guitarist, but his mix of Gary Moore and Pink Floyd style tunes made for a refreshing change from the Hard Rock and Metal that had dominated the last couple of days. Kaleb McKane is the artist you put on your HiFi on a Sunday just to relax before hitting the grind hard on Monday. (yeah, like anyone really works hard on a Monday).
The final day was splattered with some incredible acts, John Coglans Quo (exactly what it says on the tin), The Dukes Of Bordello, and Smoking Martha. There was also disappointments (Femme Fatale which begged the question as to why they were on the main stage). But the headline set of The Dead Daisies put the bad bands behind us and blasted out tune after tune of amazing rock n roll.
I've caught the double D's numerous times and have NEVER been disappointed by them. Of course they're legends and have well over 100 years of combined  accomplished careers behind them, so they've had plenty of time to hone their individual crafts, but they never fail to impress. They quite blatantly have so much fun on stage and enjoy playing with one another (ooer missus) that once again, you cannot help but have a good time and behave like no-one is looking. You'll always come out grinning like a Cheshire cat from seeing them.
Apart from the massive hangovers the weekend brought as well as the laughter, the catching up with friends who you may only see once a year but feel like family and of course the tears. This was an emotional weekend. As I previously stated this was the last Hard Rock Hell in North Wales. Hafan y Môr Holiday Park has felt like a 2nd home to a lot of people and the sudden realization of the impending move is daunting to quite a few of the regulars (myself included).
However, it's on to pastures new to make new memories at the Vauxhall Holiday Park in Great Yarmouth.
On a personal note I would like to thank all the staff at Hafan for being amazing over the years. You guys fucking ROCK and you'll be missed by many.
ALL HAIL HARD ROCK HELL
If you want an amazing weekend in 2019, check out the line up below and get your skates on to book tickets HERE