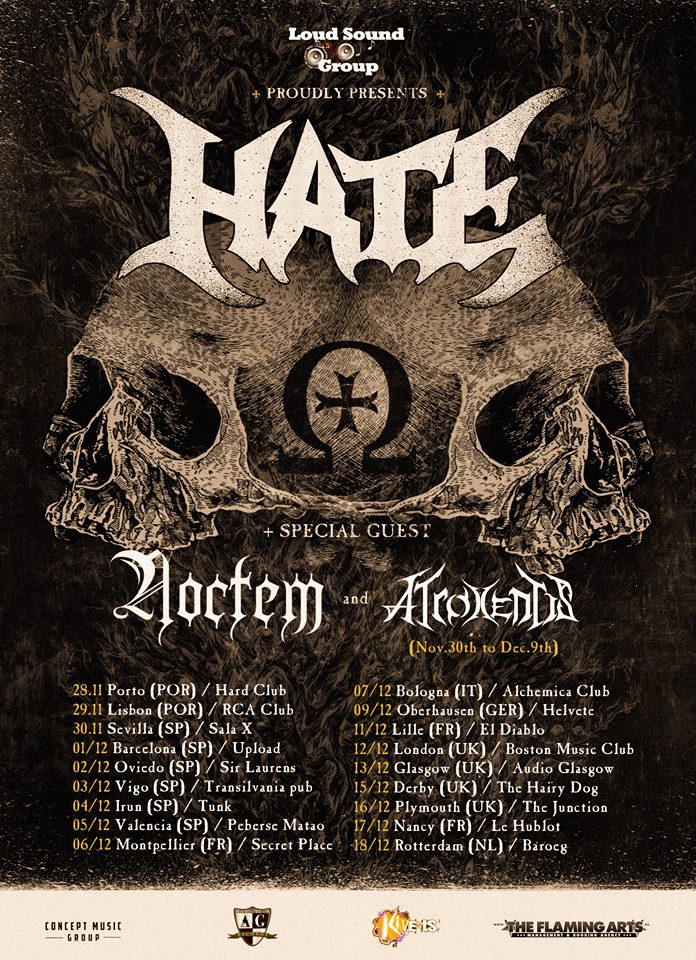 Hate & Noctem Live, Audio, Glasgow
15th December 2016
0
By
Fraser
This was a tour I've been excited about since it was announced back in September. Following my chat with Hate frontman ATF Sinner (Adam Buszko) back in the summer, and the release of Noctem's newest opus Haeresis, I have been itching to catch both bands live. And what better venue in Glasgow for these bands than Audio – with an intimate atmosphere, crystal clear sound and a lenient attitude for the use of e-cigarettes inside, Audio is one of Glasgow's best venues for sure.
The biggest disappoint about the show was the attendance. Midweek shows can be hit or miss at the best of times, but with it being less than two weeks until Christmas and death metal legends Possessed playing in Glasgow the night before, it's hard to be surprised that the venue wasn't crammed to the rafters. Disappointed, certainly, but not surprised.
I missed the opening band, Warhead, due to their set clashing with an interview with ATF Sinner. However, from what I heard from outside the venue, I didn't miss out on much. Spanish extreme up-and-comers Noctem [8 out of 10] took to the stage after a short break, and, simply, crushed it. The band oozed energy for their entire set. The new material from Haeresis sounds absolutely incredible live. Noctem are certainly a band every extreme metal fan should be keeping on their radar for 2017.
Headlining the night's lessons in evil were Hate [9 out 10]. Much like the rest of the Polish extreme metal scene – with the obvious exceptions of Behemoth, Vader and Decapitated – Hate are criminally under-rated. Mixing the unrelenting brutality of death metal with a sinister, black metal atmosphere and heavily NWOBHM influenced solos and lead breaks, both on record and in a live setting Hate deliver a brand of aural evisceration deserving of far more popularity than they currently enjoy.
Though ATF is largely rooted to his spot at centre stage, his lack of movement does not mean a lack of energy. His vocal delivery was world class, and his stage presence commanding. Banter between the band and the crowd was kept to minimum, with Hate opting to wisely let their music speak for itself. Session guitarist Domin (Dominik Prykiel, Extinct Gods) had more than enough movement to raise the energy level of the band as a whole, and his playing was simply masterful. Pavulon (Paweł Jaroszewicz, Lost Soul, Vader, Decapitated live) is an absolute monster behind the kit – his blast beats and double bass work rattled my ribcage more than a few times.
Hate's setlist was crafted perfectly: a good mix of old and new tracks, including the two singles from 2015's Crusade:Zero – Valley of Darkness and Leviathan  – and a new track from their upcoming tenth opus Tremendum.Throughout their set, they provided a masterclass in tightness. If the new track is anything to go by, Tremendum is set to be a game changer! Keep your eyes out for information on Tremendum, due in April through Napalm Records.
How useful was this post?
Click on a thumb to rate it!
Average rating 0 / 5. Vote count: 0
No votes so far! Be the first to rate this post.
Related
About the author
This bearded wildman from North of the wall survives the harsh ever-present winter of Scotland on a healthy diet of thrash, death metal and beer.