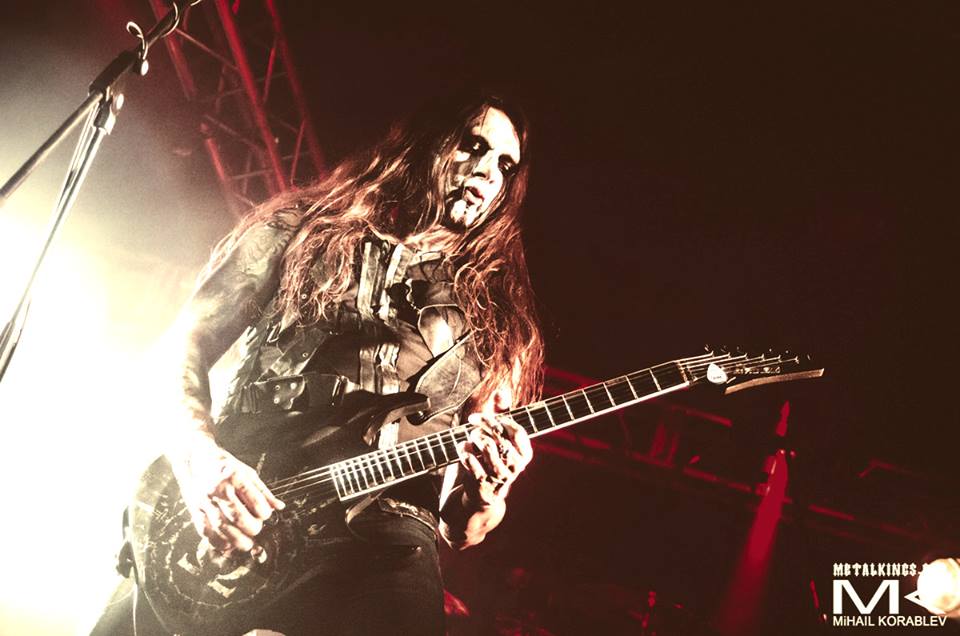 Hate: ATF Sinner Interview
5th July 2016
1
By
Fraser
Last week, I had the absolute pleasure of catching up with the main-man behind Polish death metal heroes Hate, Adam Buszko  (also known by his stage name, ATF Sinner). We had a chat about their previous album, Crusade:Zero, new material, and the turmoil the band has been through over the last few years – among other things.
All About The Rock: Hey Adam! How are you doing today?
ATF Sinner: Hey man, I'm doing well! How are you?
AATR: I'm excellent, thanks for asking! So you're just back from Mexico, how was that?
ATF: It was pretty exotic, wild and satisfactory! We did four shows this time, and it was much better organised than our previous visit to Mexico a few years ago. So yeah I would say it was a really great tour, with a lot of fun and satisfaction involved. Some people had been waiting there for us for years and it was great meeting them again!
AATR: Awh fantastic! Have you got any cool tour stories? Or was it business as usual?
ATF: Well, there were stories… but let me keep them to myself! It was a short tour, so we didn't have much time for sight-seeing or partying. We were there mainly for our fans and followers.
AATR: Excellent! I'm glad it went well! Have you got any other tour plans in the works at the moment? Possibly a trip back to the UK soon?
ATF: We don't have many plans just now, as we are focussed on creating a new material. We've been working on it for almost a year now, and in September we enter the studio to get it recorded. This is our priority right now. September and October are when we'll be in the studio. We plan to finish it all in November and have it released on Napalm in the early spring – March or April. I know we are possibly going on a European tour in late November this year, but it hasn't been confirmed yet. I'm not sure if the UK is on the schedule, but I wouldn't rule it out as we're going to do something like twenty shows.
AATR: Oh fantastic! I don't suppose you have any details you can announce with us for the new album? Album title, track list, anything like that?
ATF: Well what I can tell you is that we took a new direction; we want to renew the whole sound of the band and we have a different approach to writing songs – we are doing it all to the last detail in our rehearsal room. Nothing is created on a computer this time.  So, when it comes to composing, we are kind of back to the roots. We also changed the studio; it will not be Hertz any more, but Custom 34 in Gdańsk, Poland, where we will be working  with Arek 'Malta" Malczewski behind the console. We have now twelve songs finished, and a few more in the works. It's a lot of material, but we need to limit ourselves as we won't be able to record all of it during the upcoming session. I think we'll probably do nine or ten tracks in the end. It all sounds very fresh, very dynamic and we are back to truly extreme and dark music, which makes me feel great! There are some ethnic vibes in the songs as well as strong industrial-like elements. I plan to write a few lyrics in Polish for the first time as well. There will definitely be some choruses in Polish, so that'll be quite a change too.
AATR: Wow, that's all sounding amazing! Really excited to get my hands on that! I heard last year you were planning on re-issuing some of your older material through Listenable Records. Has there been any progression with that, or is it still in the pipeline?
ATF: We are actually now working with a graphic designer to kind of update the old album covers. In September or October, we will have two old albums re-released! The first in Lord Is Avenger, from 1998, the other is Cain's Way, combined with an EP, Victims, which was only five songs released in 1999 on Metal Mind Productions in Poland – it's not very well known! So we're planning on releasing these on vinyl and CD, as well as on cassette, on Witching Hour Productions. I'm really excited for it, it's going to be like reviving an older world! It's a great thing for me, and I think we're going to put some of these older songs in our set-list. I'm not sure which ones yet, but we're definitely going to try to include some!
AATR: Wow, again, really excited for this! There's a lot of really cool things happening for you guys at the moment! So it's been about a year and a half since Crusade:Zero was released. How has the album cycle been for you? How has the response been, what's it been like playing the tracks live?
ATF: We've been quite active since the album was released; we've done quite a lot of tours in support of it and the reactions to the record were mostly very good. The song Valley of Darkness has become one of our hymns and people expect us to play it on every show now. However, I'd like to let you know the album was recorded under difficult circumstances – at the time, our guitarist, Destroyer (guitar), was leaving the band actually, and Pavulon (drummer) was new to the band. But due to our contract with Napalm, we were obliged to do the record and we couldn't really delay it. After recording Crusade:Zero, we felt a thirst. We were not 100% satisfied as we knew the potential was so much bigger. Now, it's a very different situation. After two years of constant playing together with Pavulon (drums), both rehearsals and shows and a new guitarist on board, we have  like a new phenomenon. The line-up is stable now and we can work with each other more effectively. There is a great energy within the band.  I can see and hear the potential we have in the pre-production we are doing now for the new album.
AATR: With a lot of extreme metal, symbolism is very important in the image – you guys use the Omega symbol a lot in your artwork, for example. What symbols to you draw influence from, and what do they mean to you?
ATF: The omega sign symbolises the energy of the Cosmos, the energy that permeates everything, every human, all living and non-living things. This is the driving force, both creative and destructive. On an individual level, it means consciousness of "higher-self. Your own energy or spirit. It stands for transending basic insincts and unity with the powers of Cosmos. Most symbols we use are connected with non-dogmatic spirituality. Rejection of dogmas, religions and all systems that supress human powers. It's all about spiritual awarness as opposed to spiritual blindness.
AATR: I appreciate this may still be a raw subject for you, so we won't dwell on it any longer than you feel comfortable. But after Mortifer's tragic passing in 2013, was there any question within the band of not continuing?
ATF: It was a very tough moment for us, and we yes were considering the end of the band for a short while. It's one of those moments when you realise how fragile life is, how important and valuable it should be to you. Within a few years after this tragedy, the entire line-up has changed except myself. So, it definitely had a big impact on us at the time and later. It was kind of a delayed effect actually. Juat a few months after it happened, we were on stage playing big festivals such as Hellfest and Summer Breeze for example, but I think that everybody in the band had dark thoughts. Especially the drummer, Hexen, who was a really good friend of Mortifer's. It was obviously really difficult for him to get on stage and perform, and he was the first to leave the band after a few months. Then later on, our guitarist, Destroyer changed prioroties in his life and also decided to leave. So yeah, this tragic event did destroy the old line-up. But I was able to rebuild, and I'm happy to be here with the new line-up, this new Hate.
AATR: Thank you for being so open. Moving onto lyrics, what to you enjoy writing about, what influences your concepts and ideas for songs? And what kind of concepts can we expect on the new record?
ATF: I would not like to talk much about that at this stage. However, I can say I draw a lot of inspiration [for the new record's lyrics] from Rudolf Otto, a German philosopher of religion, and Rudolf Steiner, an Austrian philosopher and mystic. Their works inspire me a lot. It's a vast concept, especially with Stainer, who was a founder of Antroposophy – an approach that postulates existence of spiritual world accessible by direct experience. I especially like Steiner's concept of a human. I got down to writing lyrics not long ago, but it is qoing pretty fast now that I have most of the music done. So I can tell you that the working title of the album is Tremendum. The word means terror, demonic dread or awe in the presence of the absolute.
If you ask me about my inspirations in general,  there were different ones for different albums, but what inspires me most is the powers of nature that exist in the world and everyone of us and the duality – creation versus destruction. You might say there's an everlasting rivalry between the two. One of the fundamental problems of existence. You can look at this from different perspectives, so it is like a limitless source of inspiration.
AATR: Definitely, definitely man! So the Polish extreme metal scene, from what I can see, is frankly fucking awesome! We have bands like yourselves, Behemoth, Vader, Decapitated, Lost Soul. There's so many amazing Polish bands. What is the underground scene like, in your opinion?
ATF: There's new bands coming out all the time, and it's very hard to keep track of. The bands that you listed, we've all known each other for many years. It's like a small community that comes to about 30 people who have been creating extreme metal for years, and everyone in that community is an inspiration to everyone I believe. It's true, we have an amazing metal scene. I've been asked a few times why Poland has so many extreme metal bands that play to such a high standard. I think, perhaps, one explanation is that Poland has a very bad history and a very tragic history. We have been brought up with it. It's hard to express it in English! There is a vibe, a spirit, in the air of the tragic events of the Second World War. We get to know a lot about the Polish martyrology. I think, it is deep in subconsciousness and influences everything we do. Also, Poland was under a communist regime for almost 60 years, but at the same time it has been a very traditional Catholic country. It's a strange system to live in. It makes you rebel, it makes you want to break the system. I think it is a rebellion of young people, and you grow with it, you create.
AATR: Hate have been a band for about 26 years, with yourself as the main creating driving force with different musicians coming and going. What are some of your career highlight?
ATF: I think that the album that was a breakthrough for us was Anaclasis in 2005, when we came up with a new sound. It was extreme metal with a very distinct industrial sound as an integral part of the music. It was quite innovative at the time. That was when we were noticed by the big festivals over Europe, and we started touring in 2005, 2006. That is when things really started for us in terms of an international career. When you ask for specific highlights, I think that it's hard to pinpoint those events; it's one continuous, everlasting crusade, spreading our message and our metal across the globe. It's a journey and I love it, I cherish it, I still feel like the journey has just begun – especially when I've got new material like the one I'm working on now. So I'm hungry for more, and I'm sure there will be a lot of exciting moments to come following the release of this album. So this 26 years it's a great experience, but I don't look back often, I'd rather look forward. That's my attitude with life, and I just can't wait to get more of it.
AATR: A moment ago you mentioned the newer bands breaking out in the Polish metal scene. Are there any you're particularly enjoying at the moment?
ATF: Absolutely! I like Obscure Sphinx, they're a mixture of extreme music and alternative, dark rock, I'm not sure if you've heard of them. Another  one is Mgła –  a truly great black metal band. We have known with them for some  years, so I've been observing their efforts. I really have a lot of respect for the guy (Mikołaj the leader of Mgła), I can see how he and the drummer have been building their own sound. They built a studio, actually, to get the right sound. They are a great example of how creativity and the right approach can give great things.
AATR: Brilliant, I'll go check all these bands out! Before I let you crack on with your day, have you any parting messages for our readers?
ATF: Observe Hate's actions, and keep an eye on our websites because there is a lot to come! Not just the new music. We are rebuilding Hate!
AATR: Awesome! Thanks very much for your time today, take care!
ATF: Cheers!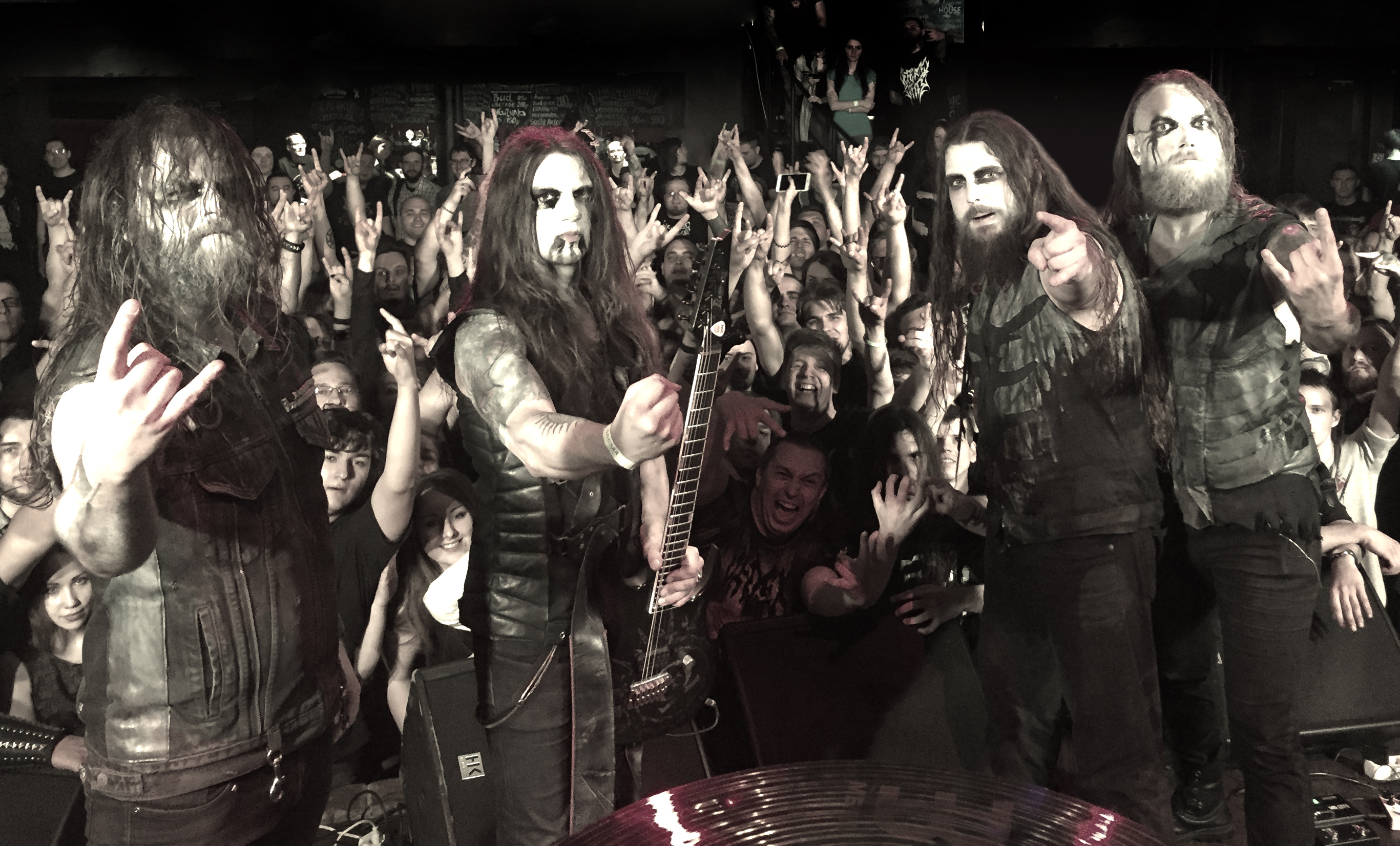 How useful was this post?
Click on a thumb to rate it!
Average rating 5 / 5. Vote count: 2
No votes so far! Be the first to rate this post.
Related
About the author
This bearded wildman from North of the wall survives the harsh ever-present winter of Scotland on a healthy diet of thrash, death metal and beer.