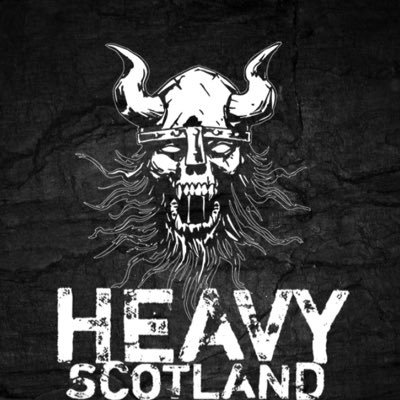 Heavy Scotland – Review
7th April 2017
All About The Rock were fortunate enough to attend the first ever Heavy Scotland metal festival, which took place at the Edinburgh Corn Exchange on the 1st and 2nd April.  With 17 bands playing over the course of the two days, our intrepid reporters, Rich Dodgin and Dave Maxwell, had spent the previous few weeks doing strenuous head-banging exercises in preparation, and arrived on site ready to rock !!
SATURDAY 1ST APRIL
Centrilla
Scottish metallers Centrilla kicked things off with an impressive set of heavy as fuck thrash/death, with subtle nods to Soulfly.  These guys were recently nominated for this year's Scottish Alternative Music Awards, and for those who had turned up in time to catch them it was easy to see why, with riffs to die for, a decent stage presence despite the low crowd numbers, and great use of atmospheric samples leading into the tracks.  The crowd seemed to really get into it, with a fair amount of head-banging, and cheers of approval at what they'd heard. A great start to the festival  8/10
Sodomized Cadaver
Sodomized Cadaver are three very nice blokes from Wales who played a great set of death metal and grind core. It sounded like bits of Cannibal Corpse, Carcass, Napalm Death, and something more doomy all thrown in the baptism bowl and mixed with a food blender… and with song titles like 'Cannibal Butcher', 'Martyrdom', and 'Rapid Gutteral Disfigurement' the crowd weren't disappointed. Charlie, the singer, interacted frequently with the crowd and seemed to love delivering his humour as much as the songs. Highlights included a cover of Napalm Death's one second classic, 'You Suffer', and a crowd sing along to 'Raped By Ebola'. Definitely a band to check out  9/10
Dyscarnate
This 3 piece provided a full on sonic assault of brutal metal. It was so heavy that it sounded like they must have had extra ten band members hidden behind the screens. Listening to the relentless attack was exhausting, and we much preferred their more recent material which slowed things down just a fraction and introduced more groove metal elements. Having two vocalists worked perfectly, with the difference in styles (black metal vs death metal) playing nicely off each other. Highlights included 'Traitor in the Palace' and 'In the face of Armageddon'. Heavy as fuck  7/10
Warbringer
With the crowd now truly warmed up, it was the turn of Warbringer to take things up a notch. Did they succeed? Well, within 60 seconds they had the days first full-scale mosh pit underway… so yes! Any lingering cobwebs were quickly blasted into oblivion. Sometimes it's a gamble when bands open with a brand new song which many of the audience may not recognise, and with their new album only being released the day before it was doubtful many were familiar with it. Did it matter? Not from where we stood!! Not only did the pit ram energy in every direction, the rest of the crowd seemed genuinely interested in the set. Warbringer's material is incredibly catchy and it was simply impossible to remain stationary! With a wall of death accompanying their last two songs, their set was rounded off as it began – relentless. These guys impressed and are going to be huge. Dave's band of the day 10/10
Havok
Rich had been lucky enough to interview Nick Schendzielos (bass) and Reece Scruggs (lead guitar) earlier in the day, and we were really looking forward to seeing these guys live. Sounding like the bastard offspring of mid-era Megadeth, Sacred Reich and Death Angel the thrash metal Havoc play is fast and furious, and the crowd went crazy, with an impressive moshpit and the first crowd surfing of the day! And with the odd funky bass-line thrown into the mix, it was great to see a band that isn't afraid to try and do something a little different. Seriously impressive stuff. Rich's band of the day  10/10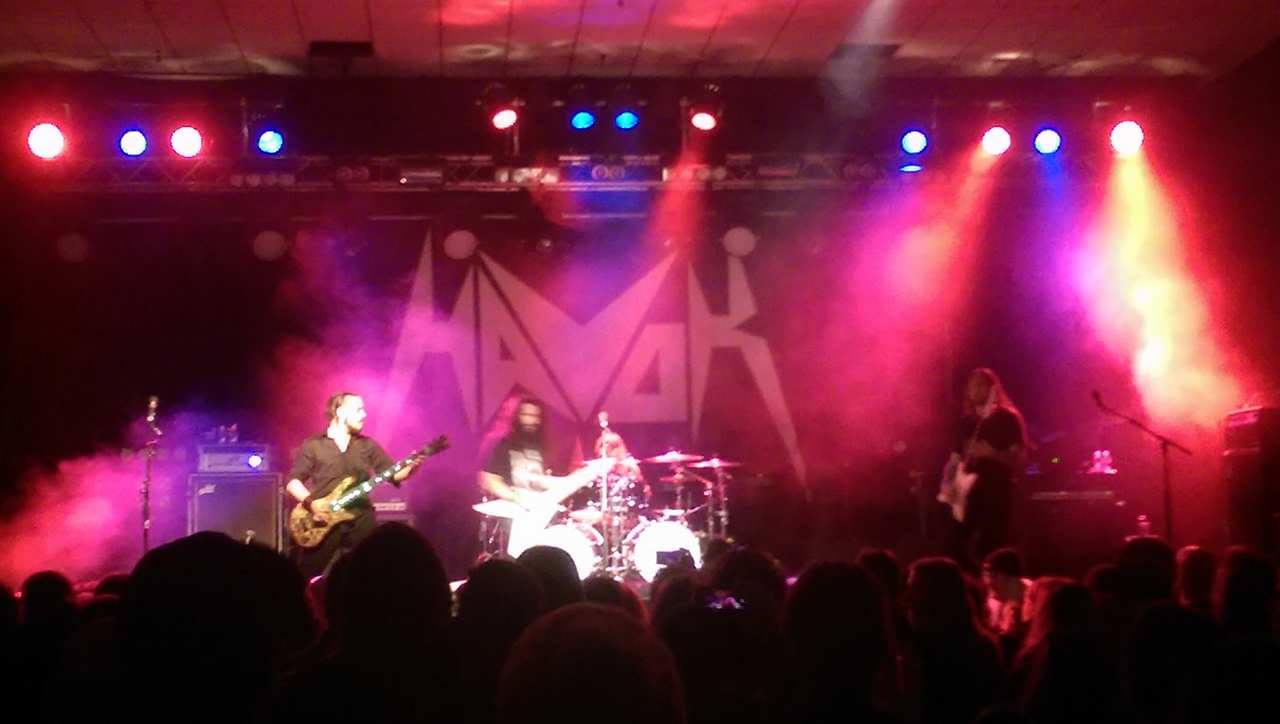 Fleshgod Apocalypse
Operatic death metal? The band dressed in historical costumes? Yep. Fleshgod Apocalypse are certainly doing something a little different. It wasn't really our thing, but the audience were lapping it up, and seemed to really enjoy the skilful blending of heaviness and operatic elements. They were our mate Alan's band of the day – he said "A mix between phantom of the opera and death metal….doesn't sound like it should work, but it does. This band is brutal and powerful, yet beautiful and emotional. In the space of one song they had me nearly in tears, gave me goose bumps and made me want to mosh!"  Oh, and much respect to the drummer who played despite his broken foot! Incredible… if this is your thing  7/10
Grave
Old school death metal from one of the legends of the genre. They were musically as tight as hell, and played hard-hitting full-on death metal that switched between fast paced stuff and slow sludgy stuff.  Sadly, they played a shortened set which seemed to be the result of technical issues during the soundcheck. Definitely a band we'd check out again. Classic old school  8.5/10 
Behemoth
The headliners for the first day of Heavy Scotland played a blinding set that combined the heavy and the theatrical, with religious imagery and symbolism providing breaks between the audio assaults of their blackened death metal. We have to admit that we didn't really get it, but we couldn't help but admire the talented musicianship and the fact that the crowd were spellbound. Impressive  7.5/10
SUNDAY 2nd APRIL
Lucifers Corpus
The human ear contains three bones -the malleus,incus and stapes. These are otherwise known as the anvil, stirrup and hammer. Thanks to Lucifer's Corpus, our ears now suffer from a condition known as "fucked". It was only 1 p.m. on a Sunday afternoon when these guys started playing. Don't expect to watch this band and gradually wake up, mulling over whether to have toast or cereal! 20 seconds in and we were both fully awake, blasted by a wall of noise. These guys are heavy. Musically they were as tight as hell and their set was a damn good one – it was easy to see why this band had recently won the M.I.N.D. (Metal Is Not Dead) competition. Definitely one to watch  8/10
Disposable
Edinburgh thrashers Disposable never fail to deliver, and their Heavy Scotland set was no different, with a relentless full-speed sonic attack from start to finish, driven by 100 mile an hour riffs and an intense sense of aggression that had the crowd moshing like mental. Highlights from the set included 'Disposable', 'Into The Water', and final song 'Now It Ends' which saw guitarist Andrew Anderson smashing the hell out of his guitar! These guys should be huge, and we're eagerly awaiting their next album. Our band of the weekend 10/10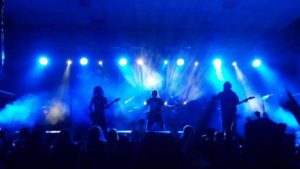 Shiraz Lane
Sounding like a cross between Guns N' Roses and Aerosmith, it did at first feel like these guys had arrived 30 years too late and were out of touch with what Heavy Scotland was about… but their well played tunes were a welcome break from the heavy distortion of the other bands. It worked brilliantly and their set was really enjoyable. We were impressed with the amount of energy the frontman had, and the way he won the crowd over. Highlights included 'Mama's Boy' and 'Money Talks.' Entertaining, good times rock n roll  7/10
Evil Invaders
These guys sounded like combination of Venom, Maiden, and Overkill – playing music that is best described as good old fashioned NWOBM meets thrash metal. The band had a great sense of fun about them, and it didn't take the audience long to get into it, head banging like crazy to the very fast guitar solos. Highlights included 'Fight For Your Life' and 'Stairway to Insanity'. Definitely a band to check out  8/10
Blaze Bayley
Metal legend Blaze Bayley played an awesome set of prog metal meets Maiden, treating us to tracks from his latest album, 'Endure and Survive', as well as some of his older solo material, and 'Man On The Edge' from his days with Maiden. You could tell he and the band were enjoying every second of it, and Blaze did a fantastic job of energising the crowd. The impressive set of metal with catchy riffs and soaring melodies, combined with Blaze's friendly and humble attitude, won him over a lot of fans – evidenced by the sheer number of people queuing up to meet and greet him after their set had finished. Metal legend  9/10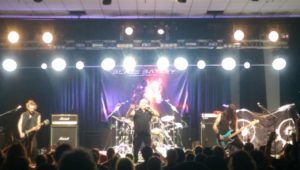 Ingested
Proper heavy, old school death metal / grind core from Manchester. Ingested were heavy, fast, loud and downright aggressive. In your face, up your nose and ripping your brain out. Their set had one of the most brutal pits of the weekend, with one particular dude doing the whole spin kicking whirling dervish thing, as everyone else around him slammed into each other. Brutal  7/10
Destruction
Destruction played a set of perfectly executed thrash meets hardcore, and it was easy to see why these guys are referred to as German thrash gods. The band were clearly having a blast, and their rapport with the audience helped make their set one of the most engaging ones of the day. On the strength of their set, we will definitely be checking out some of their back catalogue. Very impressive – they could easily have been headlining. Metal gods  10/10
Finntroll
A typical Monday morning. You wake up groggy, feeling rough after drinking too much beer at the music festival. Trying to piece together the night before. Did it really happen? Were there really men on stage dressed as trolls? Yes!!!! You start dozing off again but then from somewhere comes another flash of recall. The troll band playing folk music? Yes!! With black metal? Yes!!! A crowd going crazy to it? Yes!!! So it did happen. It was unbelievable. It was very good. The best way we can describe them is Rammstein with some folk and black metal thrown in. With lyrics in Swedish (not Finnish as you might expect). If we're being honest, we looked at the band for their first song and wondered why on earth they were the main support act of the day. Two songs in and we knew why. A band you simply have to see 10/10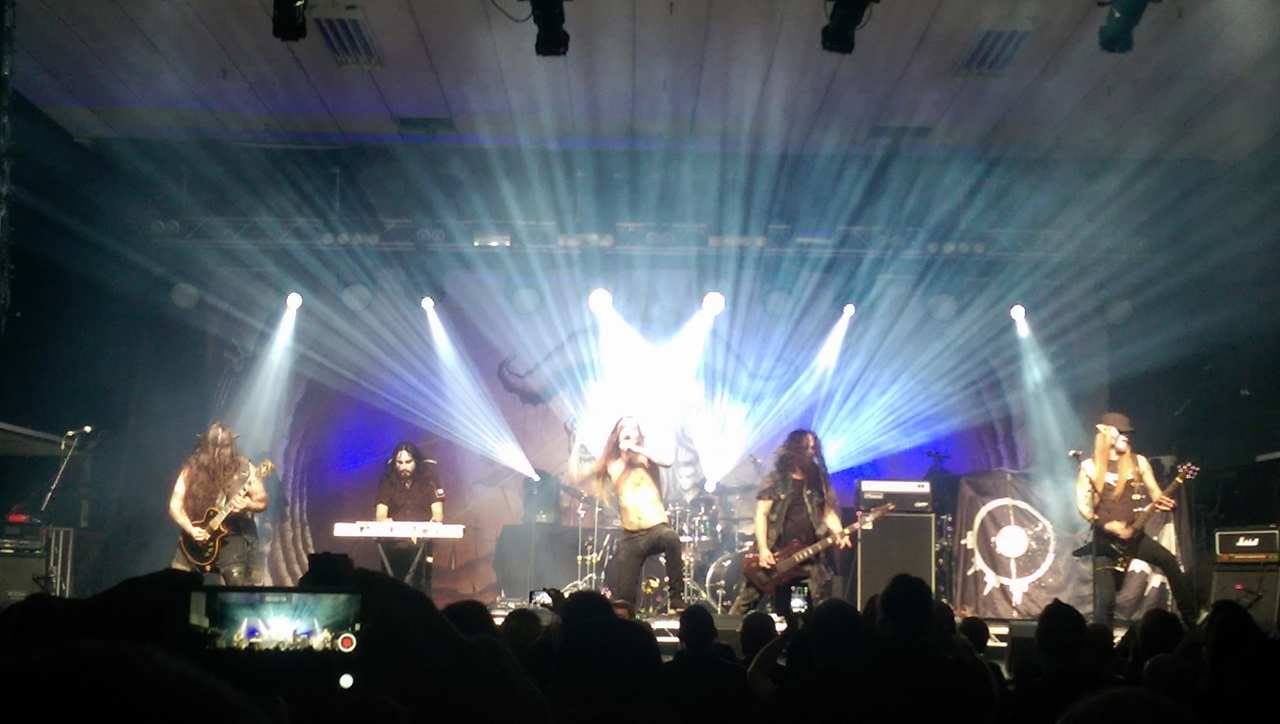 Arch Enemy
Headliners Arch Enemy delivered an epic performance from start to finish, and it was easy to see why these guys were top of the bill. Singer Alissa White-Gluz had the crowd eating out of her hand as she prowled the stage, and guitarist Jeff Loomis shredded like a maniac. They played a mix of old and new tunes, and highlights included 'As The Pages Burn', 'You will Know My Name', and 'We Will Rise'. We were all mesmerised by Alissa, and at one point or another everyone was moshing along to the incredible riffs. This was one of those shows were you walk away afterwards in a daze because it was just so damn good. Fantastic 10/10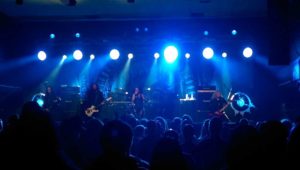 So there you have it. Two days of awesome metal, with a fantastic line up that had something for everyone.  Not only that, but everything was incredibly well organised and well thought out. The venue was perfect, and the sound was first class both days. There was a great selection of beer and cider and a beer garden to sit out in, and food wise there were burgers, hot dogs and burritos to eat. There were band signings, there was a t-shirt and merchandising stall, and there were the additional finishing touches like the free can of energy drink as you left the premises at the end of the day, and the introductory uber code that saved us the cost of a taxi home.
Heavy Scotland was a fantastic experience, and every single person we spoke to said they would be returning for Heavy Scotland 2018.  All About The Rock will definitely be there next year – so should you!!
A big shout out to Caitlin Elliott for organising such an amazing event, and to Matt Benton from Hold Tight! PR for all his assistance on both days \m/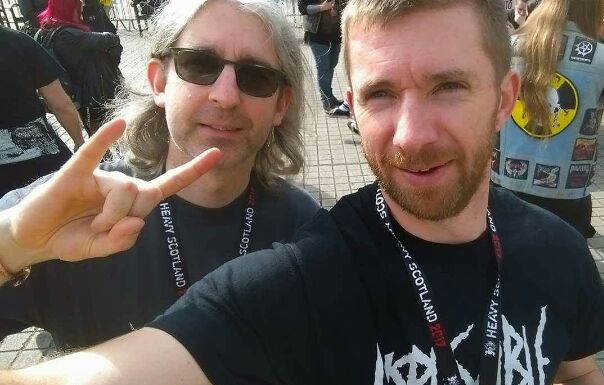 How useful was this post?
Click on a thumb to rate it!
Average rating / 5. Vote count: