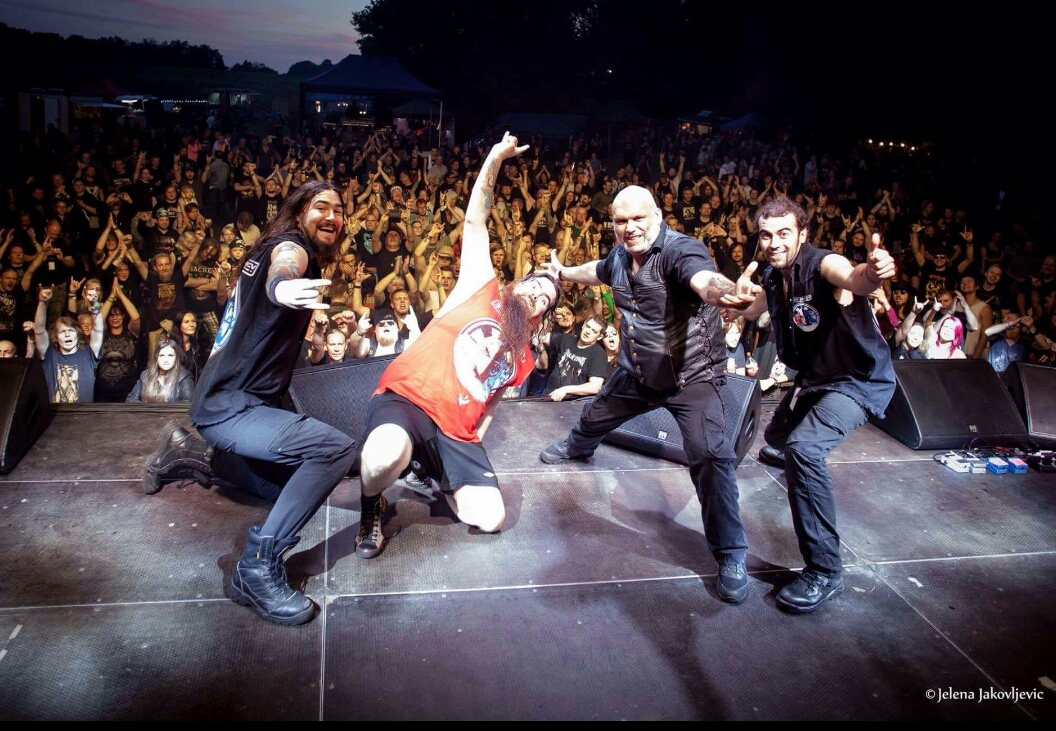 Interview with Blaze Bayley
7th April 2017
Prior to his awesome set at Heavy Scotland, we were lucky enough to catch up with metal legend Blaze Bayley !!
Interview with Blaze Bayley, by Rich Dodgin – Sun 2nd April 2017
First of all, Blaze Bayley, thank you so much for giving us your time today.
My pleasure.
So, Heavy Scotland. How'd you feel about being here?
Well, for me, it's so cool to have been asked to be part of the first Heavy Scotland, because I'm totally independent – we're not really part of the mainstream music business. I have my own small label and my own small team that books my shows and everything, so to be asked to come on to a mainstream metal event and to be part of the first one is really really cool – and it's a great bill as well with some really great bands on it. It's good. And I've always had Scotland on my tour, ever since the very early days with Wolfsbane, so it's always had a special place in my metal heart – the Scottish fans have been really loyal and supportive for all of the bands I've been in. So it's really nice to be hear and be part of it. The stage looks great and all the equipment and the sound is really really good. It feels good.
That's great to hear. I was thrilled when I saw your name on the bill.
So, this is part of a tour… ?
I'm on a 75 show European tour that started back in February in Malta, and has included dates in the UK, including Glasgow here in Scotland, and finishes in the middle of June. And it supports my new album, Endure and Survive, which is part 2 of my trilogy – the trilogy is all based on a science fiction novel that I'm writing. The first part of the trilogy, Infinite Entanglement, came out on the 1st March last year. The new album Endure and Survive came out on the 3rd March this year, and the third part will come out around the 1st March next year. So I'm touring this trilogy. Which is a massive story about a man who at the start does not know if he is human, and in part one he's at the start of a thousand year journey to get to a planet discovered by the keplar telescope, and on that journey he discovers that he actually has a machine body and his consciousness has been downloaded into it, and it's an identity crisis. How do you define yourself as a person? Are you human because you are flesh and blood, or because of the way that you think and because of your beliefs and your moral code. What is it to be human? So that's the story of the first album. And there's a darkness to the second album because he has endured and survived this journey of a thousand years and the things that happen in that time are absolutely terrible and he realises in this second part of the story that he has been living a lie – he was lied to and he was tricked into having his consciousness downloaded, and he has a terrible and awful part.
Wow. That sounds incredible.
I'm very lucky that my fans have really taken it to their hearts. After part one they all said they couldn't wait for part two, and now they're all saying they can't wait for part three.
So the reception has been really good?
It's been fantastic. It's been unbelievable. Especially since I'm totally independent, I can only make the album if the fans pre-order it. So I tell them I've got this huge concept for a trilogy, and they're pre-ordering the albums from my own web shop without hearing anything from them.
That's amazing.
So, have you written the whole trilogy already, or is it a work in progress?
We started, and it was going to be one album, but as we were going I started to think it was too big to do on one album, and it became a story in three parts. And so some of the songs that we wrote, that we originally thought we were going to be a single album, are now going to appear on the second or third album in the trilogy. But I've got the freedom to do that, because I'm totally independent.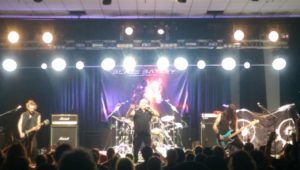 So, your new business model, for want of a better description, really works for you?
Oh yes. Before I got my first record deal, when we were unsigned, we would play to a couple of hundred people. And all through the years later, I've always thought about those days, and thought, well if we could do it then, and just go to the fans, why can't we do that now? My trust is completely in the fans – that they know what good music is, and that if you have intelligent music and lyrics and genuine emotion, they will say "this is good" – they will feel it.
The fans mean everything to me. Every headline Blaze Bayley show has a free meet and greet afterwards. Well, it's a thank you really. So people can bring anything along, be it from my Wolfsbane, or Iron Maiden days, or from my earlier solo albums, and I can sign them and they can have photos, and it's just a thank you. And I do that all round the world. Sometimes it's five hundred people and I stay there and meet the fans, unless I've got a plane to catch or something.
Wow. That is incredible. And you do all this without a record label, on your own terms, using social media and so on to enable the fans to keep in touch?
Exactly. I had a fan who got in touch, via my official Facebook, asking "why don't you come to Finland?" And I said, well nobody will book me in Finland. If you can find someone who will pay the flights to get me to Finland, I'll come to Finland. So he went to his local pub and talked to the gaffer and went to another one and talked to them, and I went to Finland and played two acoustic shows and it's a small town with about 4000 inhabitants, and I've been every year since as a point of honour because I have nothing else going on in Finland, and I stay at that guys house when I go there. And it's the same in Poland where no one would book me, so I play every year in a small place there, because they booked me when no one else was interested.
I don't grow food or heal the sick, I'm just a singer in a band, but I do something with passion to the best of my ability, and a few thousand people around the world love it, and I'm connected to those people. My dream was always to be a singer in a metal band, on tour – and that's exactly what I'm doing. I'm living my dream. I'm independent, I have a great small team around me, and I'm able to tour, record my albums and then sell them on iTunes and so on, so I'm really happy.
That's fantastic.
And if we play a venue, and the sound's great and they treat the fans with respect, we say we'd like to come back. So there are 75 shows on this tour, but we already have 15 lined up for the next tour because people asked us to come back. It's a different way of doing things, but it means I directly connect with the fans. It's a partnership.
That is so cool. So going back to today's show, what can we expect?
Well, it's a short set, because obviously I'm not headlining. I want to show people my new material from the Infinite Entanglement trilogy, but I've done nine solo albums so I'll choose a few songs from the older albums too. The beauty of playing a festival is that it gives me an opportunity to play to people who may not have much of my solo stuff before. And then if they like what they hear, they might come along and check out a headline show where we play for two hours and there's a bit of Maiden and Wolfsbane in it as well as my solo stuff. But today I want to play the new material so people can hear what I'm doing now.
I'm really glad to hear that – I can't wait to see the show!
Thanks so much for your time today Blaze, I really appreciate it.
No problem. Cheers.
Read the full Heavy Scotland review, including Blaze Bayley's set, here