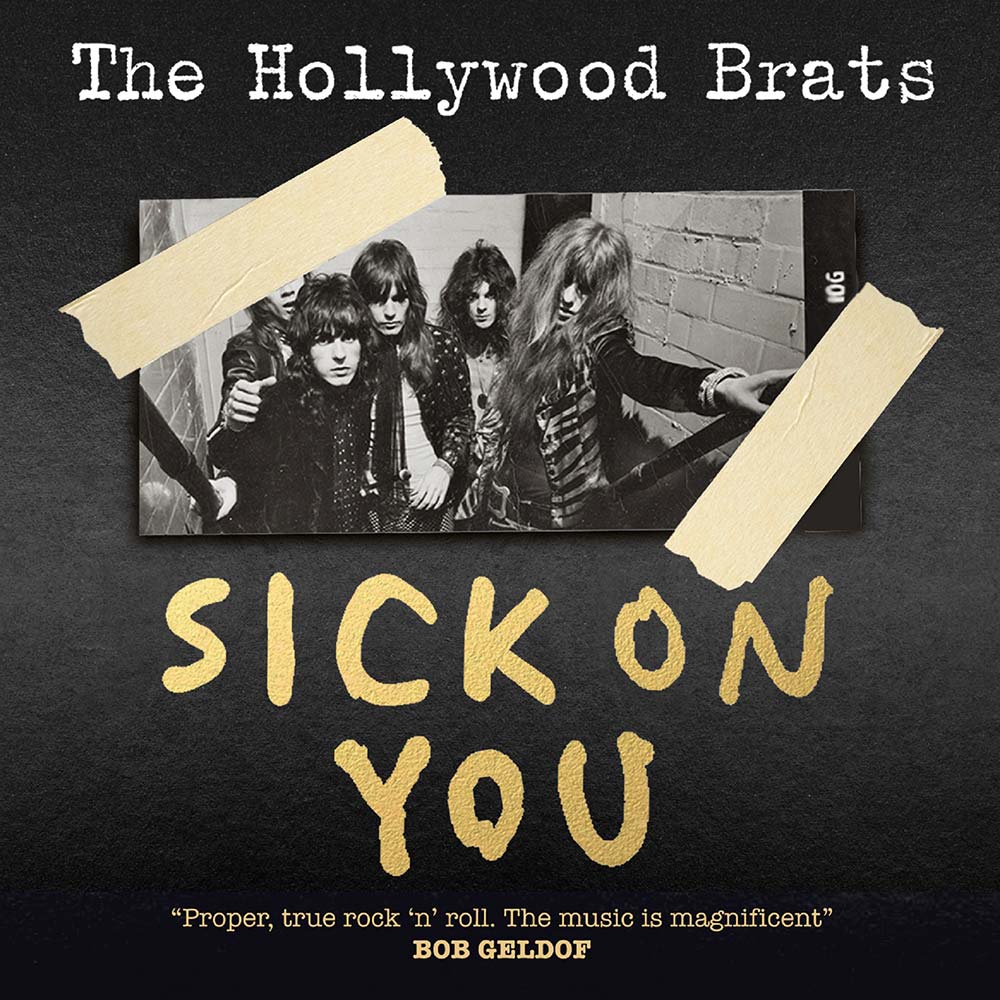 The Hollywood Brats – Sick On You – CD Review
1st July 2016
Londons answer to The New York Dolls, The Hollywood Brats debut album, Sick On You, is finally being re-released, remastered & expanded.
Recorded way back in 1973 & originally released back in 1980 by Cherry Red Records, the band had already been split up for 6 years.
Despite being championed by none other than Keith Moon, the band never gained commercial success. But now they've gone down as legends, & as important in the history of punk as the suffragette movement is to women's rights.
With the recent resurgence in punk this is the perfect time for people to discover The Hollywood Brats & this album is a perfect slice of that era.
The album sounds phenomenal & the added bonus of a second disc with 15 tracks is just tremendous as the main album has the listener screaming out for more.
Sick On You still sounds as fresh as a daisy & as raw as carpet burns.

The cover version of Then He kissed Me is genius.

Disc 2 is littered with cover versions, as well as original tracks that showcases, not only the influences of the band, but they could've been so much more. Everything from Willie Dixon to The Kinks is represented as well as a long forgotten live version of Sweet Little Sixteen which was captured by a hand-held cassette recorder. You can clearly hear the boos & a couple of hand claps.  The band was infamous for being booed off stage. Funny how things change after a band split up & people suddenly 'get it'.
The entire Sick On You album along with A Brats Miscellany are both brilliant.  The booklet that accompanies the cds is nicely put together with liner notes with a track by track for the 2nd disc & lyrics for the main album.
It's a no brainer purchase & will be available from all good & bad retailers on the 8th July. Pre-Order from Cherry Red Records here
Keep a look out for the Hollywood Brats book. It's going to be the greates rock n roll story you've never heard.
DISC ONE: SICK ON YOU

1. CHEZ MAXIMES
2. ANOTHER SCHOOL DAY
3. NIGHTMARE
4. EMPTY BOTTLES
5. COURTESAN
6. THEN HE KISSED ME
7. TUMBLE WITH ME
8. ZURICH 17
9. SOUTHERN BELLES
10. DROWNING SORROWS
11. SICK ON YOU

DISC TWO: A BRATS MISCELLANY

1. I NEED YOU
2. LITTLE OL' WINE DRINKER
3. SON OF THE WIZARD
4. RED LEATHER
5. SWEET LITTLE SIXTEEN (LIVE)
6. BORGIA STREET
7. I AIN'T GOT YOU
8. SHE GOT CLASS
9. HOOTCHIE COOTCHIE MAN
10. TRUCKER'S LAMENT
11. ST LOUIS BLUES
12. MIC MAC BLUES
13. OH WHAT A SHOW
14. SUCKIN' ON SUZIE
15. IT'S NOT FUNNY
Score 9.5/10