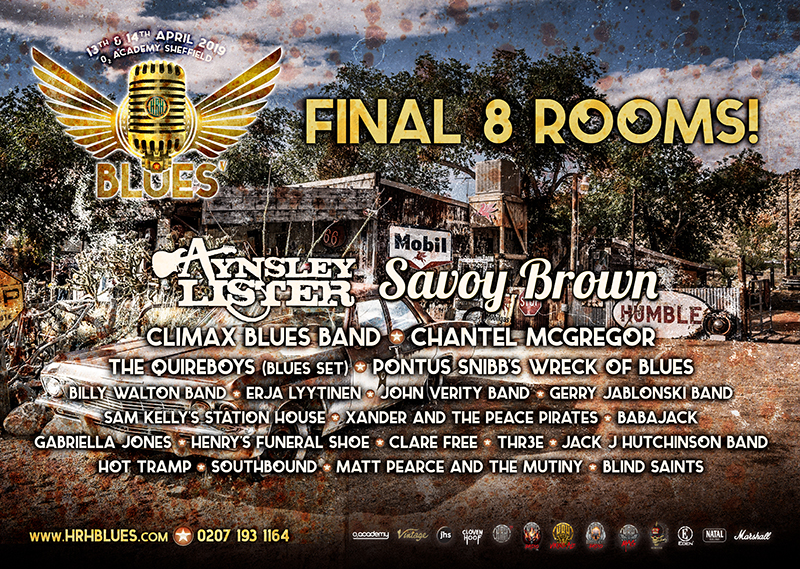 HRH Announce Savoy Brown to Headline the Sunday night at HRH Blues 5
7th June 2018
Savoy Brown formed back in 1965 and have become a Blues/Rock institution. ​First formed as the Savoy Brown Blues Band, in South West London's Battersea, the band formed part of the late Sixties' Blues/Rock movement. The band went on to achieve success, especially in the USA, by touring non-stop to promote their albums. One nugget of trivia about the band is that they contributed the song "A Man Alone" for the soundtrack to the movie "Kickboxer 2"!
There's something for every fan of the Blues and Blues/Rock in this line-up and the celebration of the genre will hit town at the O2 Academy in Sheffield, running between 13th April and 14th April, 2019.
Other great bands announced include:
Climax Blues Band, Chantel McGregor, The Quireboys (Blues Set), Pontus Snibb's Wreck Of Blues, Billy Walton Band,  Erja Lyytinen, John Verity Band,  Gerry Jablonski & The Electric Band, Sam Kelly's Station House,  Xander and the Peace Pirates, Babajack, Gabriella Jones, Henry's Funeral Shoe,  Clare Free, Thr3e,  Jack J Hutchinson Band, Hot Tramp, Southbound, Matt Pearce and the Mutiny, Blind Saints.
Like all HRH events, HRH Blues will be a close-knit, kickass, shenanigans-rich community experience, where fans of the Blues and Blues/Rock get to meet up, quench their thirst for great live music, and party with friends old and new. Quality acts, chosen by the fans. Top notch accommodation, with hotels on the doorstep for your convenience and to keep the community buzz alive and intact. HRH Blues 5 will be a two-day event, with hotels and breakfast included, as well as entrance over the weekend.
So sign up for HRH Blues 5, and immerse yourself in the Blues!
For further info, including details of the passes and packages, check out the website at https://www.hrhblues.com.
Call 0207 193 1164