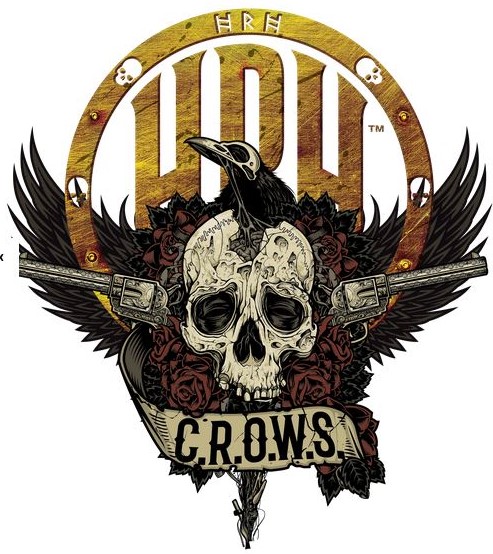 HRH C.R.O.W.S. ADDS MORE HAND-PICKED TALENT TO ITS DEBUT LINE-UP
21st February 2018
HRH have added a new string to their bow: HRH C.R.O.W.S. – Country Rock, Outlaw, Western & Southern Rock. It'll bring whole new areas of music into the tribes of the HRH nation, and five more bands have been added to the line-up for the festival's debut weekend at the O2 Academy in Sheffield, on the 8th & 9th September 2018.
"HRH has always listened to its fans and community. Always!" explains head honcho Jonni Davis, "It was kind of a surprise to be asked to extend the HRH experience into Country, but we listened, looked into it, and have put together what our music-loving posse wants: a potent brew of cool Country Rock, Outlaw, Western & Southern Rock, banded together as HRH C.R.O.W.S!"
"It's a hand-picked line-up," Jonni adds, "Can't stress that enough, and as you'd expect, the HRH community has been involved in picking and voting for the talent they want to hear, all along the way. So what you're going to get is a great range of bands over an awesome weekend, delivered by Europe's leading residential festival provider."
Five more bands have been added to the line-up, all chosen for musical talent and live showmanship:
The Fargo Railroad Co: a 4-piece Southern Rock, Alt Country and Americana band from Sheffield, with a well-deserved rep for hard work and excellent live shows. Stonewire: a female-fronted heavy Blues-Rock band, known for British Rock with a dirty Southern twist. Gorilla Riot: purveyors of no holds barred, bluesy, grimy, beer drinking music. Case Hardin: fronted by Pete Gow and praised by UK Americana as "the UK's best live band"!  Journey Home: a multi-award-nominated Country Rock band from Oxfordshire.
These five will join the handpicked artists already announced, including headliners Devon Allman (blues-rocking son of the legendary Greg Allman) and Dan Baird & Homemade Sin (pioneer and leading light in cowpunk and alt-country music).
Also already announced are Jared James Nichols, Jo Harman, Zack Logan, Broken Witt Rebels, Elles Bailey, Rebecca Downes, Federal Charm, Wille and the Bandits, Scarlette Fever, Buffalo Summer, Western Sand, Thirteen Stars, The Outlaw Orchestra, Dawson Smith and the Dissenters, Cellar Door Moon Crow, and The Nile Deltas
As with all HRH events, C.R.O.W.S. will provide quality accommodation: 4 HRH Hotels on the venue's doorstep, with one designated as Royalty (a package that includes passes to the upstairs balcony with private lounge, bar, toilets, security and seating).
At the event itself, there'll be FOUR living, breathing, roof-raising strands of country-influenced Rock n Roll, chosen by fans and woven together with HRH's expertise and flair, plus the usual fun, shenanigans and fellowship!
For further information, check out the website https://www.hrhcrows.com/ or contact our ticket hotline on 0207 193 1164.