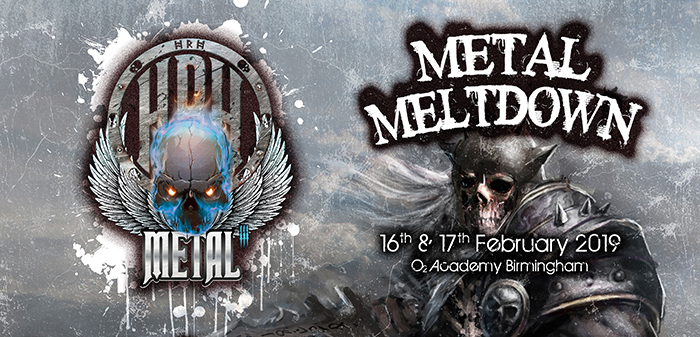 HRH METAL III SUMMONS THE FAITHFUL FOR A STORMING CELEBRATION OF METAL!
15th July 2018
0
By
John Deaux
HRH Metal II blew the roof off of Birmingham 02 Academy, it was rammed and with the HRH Wall of Sound n some cracking bands we were out for a true Metal Meltdown as 4000 people descended on Brum for the first gig of 2018. As you know it Sold Out 6 months in advance and now were launching HRH Metal III for DC n Veterans with an amazing offer to reward your continued loyalty.
HRH Metal III will take place on the 16th & 17th February 2019, marking the calendar as the Metal kick-starter for 2019. Bands were voted by yourselves and the full line up n press release is attached below to hopefully blow yer face off, its a mental line up, but then again it should be, for you lot voted for it.
This special offer is only available to people who have attended recent HRH events and it goes on sale Monday 16th July @ 10.00 GMT and is all subject to availability, so get in quick, it expires on Sunday 22nd July at the stroke of midnight.
As you know all tickets are normally 40 GBP including Booking Fee and 70 GBP for Royalty (VIP) with all the extras and trimmings, seated up stairs balcony, private bar etc. The Killer DC N Vet deal HRH is as follows from when we go on sale Monday
Standard Tickets will be 20 GBP (no booking fee) per person plus another Free Event.
Royalty (VIP) Tickets will be 40 GBP (no booking fee) per person plus another Free Event on top.
HRH Hotel packages include the ticket and have 30% off
Now this is a cracking deal and whats more you can choose a free event from one of the two events below:
HRH Doom vs HRH Stoner 3 (www.hrhdoom.com) or HRH C.R.O.W.S (www.hrhcrows.com), both held at Sheffield this September at the O2 Academy.
That's it in a nut shell, if you book before midnight 22nd July this year, you get two events worth over 100 quid for a 20 quid & no booking fee, friggin bargain, plus 30% of the hotels if you move fast. It's our way of saying thank you for making every HRH event over the past 12 years Sold Out events.
As it's for HRH DC n Vets, use your secret link below where you go straight through to the prices quoted above and you don't have to use a coupon code, its there for you guys, no one else (obviously your friends and family who you are bringing with you enjoy the same rates, just add onto your booking)
To claim the second event simply check your purchase receipt that is emailed to you and then go onto the site for whatever free event you choose as part of the deal (HRH Doom vs HRH Stoner or HRH CROWS) and add your ticket for free.
We're expecting a huge demand pre event and during the week & we really expect this to fly, so make sure you secure yours and enjoy the ride.
This year was amazing, next will be killer.
Please note this offer applies only until midnight 22nd July 2018 when the big black bell strikes 12, everything reverts to full price. Little bit like Easyjet, so grab 'em while you can!
This Amazing offer goes on Sale Monday 16th July 2018 @ 10.00 GMT, www.hrhmetal.com, any issues Ring Kelly on 0203 287 1625
ONCE MORE UNTO THE BRUM, METAL FANS!
HRH METAL III SUMMONS THE FAITHFUL FOR A STORMING CELEBRATION OF METAL!
Heed the call, brothers and sisters! HRH Metal III announces line-up and will explode into life at the O2 Academy in Birmingham, between Saturday 16th & Sunday 17th Feb, 2019: music thundering out across state-of the-art stages and arenas, with the venue and hotels awash with HRH's longstanding comradeship, right-raucous fun and shenanigans.
"We've forged something special for this third outing," says HRH boss Jonni Davis, "The fans have chosen, we've brought their choices together and are going to field the best HRH Metal yet!"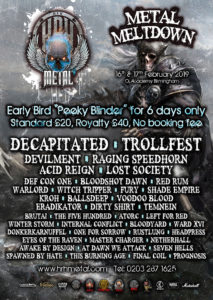 Headlining these fan-chosen favourites will be Decapitated: a Polish death metal band formed in Krosno in 1996. The band has gained acclaim as one of the genre's most widely-respected outfits and are seen as some of the world's finest exponents of technical death metal. Also headlining are Norwegian folk metal band Trollfest. Most of Trollfest's lyrics are written in the fictional Trollspråk, a language invented by the band: a unique mixture of Norwegian and German. The band is also famed for their use of saxophones and accordions.
Other great bands announced include: Devilment, Raging Speedhorn, Acid Reign, Lost Society, Fury, Def Con One, Red Rum, Bloodshot Dawn, Warlord, Witch Tripper, Shade Empire, Ballsdeep, Voodoo Blood, Kroh, Eradikator, Dirty Shirt, Temnein, Brutai, The Five Hundred, Atorc, Left For Red, Winter Storm, Internal Conflict, Bloodyard, Donkerkarnuffel, One for Sorrow, Ward XVI, Eyes of the Raven, Headpress, Netherhall, Seven Hells, Rustlung, Awake by Design, Master Charger, At Dawn We Attack, Spawned by Hate, Final Coil, Prognosis, and This Burning Age!
N.B. As it's an HRH event, HRH Metal will be a close-knit community experience, where fans with deep-felt passion for the genre meet up, rock out to some incredible bands and sets, and of course enjoy revels and shenanigans with old friends and new.  Built on expertise forged at the legendary Camp HRH in North Wales, HRH Metal III is part of HRH's City Experience, which means a festival that brings to Brum the same high standards of thunderous rock, quality gaffs, close-knit kindred spirit community, and much malarkey at the O2 Academy site and our nearby specially-selected hotels.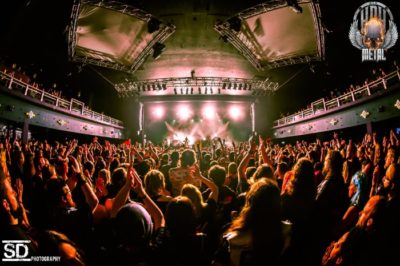 Lastly, oh men and women of metal: a timely warning and extra-special offer. HRH events sell out FAST. Book early to avoid disappointment and woe!
What's more for just 6 days, we're offering an Early Bird Peeky Blinder special deal: 20 GBP for standard or 40 GBP Royalty (VIP), with no booking fee! This super-special deal starts Monday 16th July and finishes at midnight on Sun 22nd. Check out this and other offers on the website.
So, what in Odin's name are you waiting for? Sign up for HRH Metal, either online at www.hrhmetal.com or ring Kelly on 0203 287 1625.
How useful was this post?
Click on a thumb to rate it!
Average rating 0 / 5. Vote count: 0
No votes so far! Be the first to rate this post.
Related
About the author
Some say Yank My Doodle, It's A Dandy! is a biographical movie based on John. Some have even said that his favorite artist is Chesney Hawke! All we really know is he sleeps inside out and his hair tastes like candy floss.