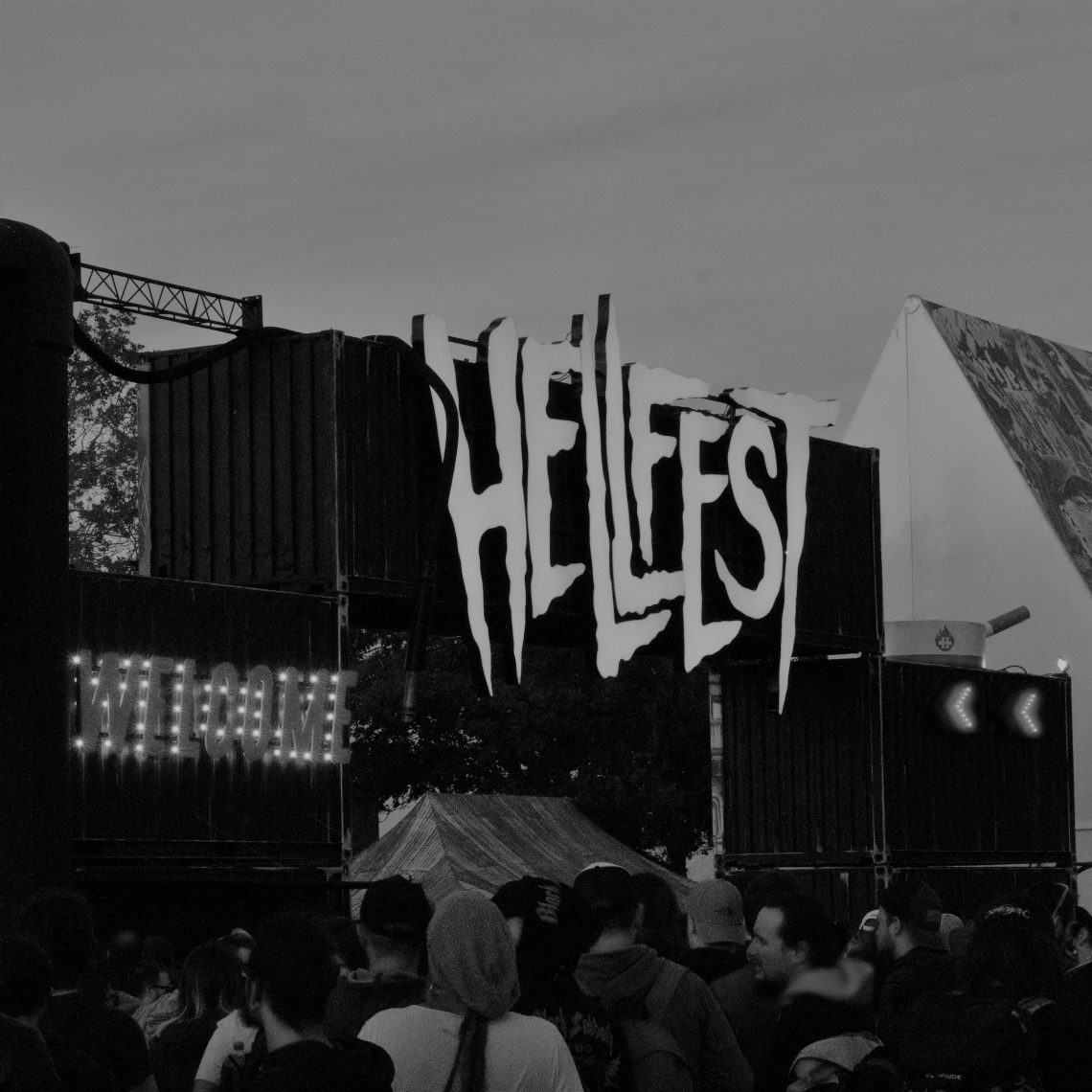 HELLFEST 2018
14th July 2018
0
By
Donk
When setting off at 3.30am on Thursday the 21st of June little did I know what a roller-coaster ride this weekend was going to be! Unfortunately, the other guy I was travelling with cancelled at short notice which was too late for us to get another name on the list for Hellfest. We tried but the system that links everything together had been finalised a few days before and couldn't be changed. It made it a solo trip all the way from Leeds in Yorkshire, nearly 700 miles, uncountable cups of coffee, Snicker bars and water, so, wanna find out how it went?
            Well let's do it!
            To be fair the drive to Dover was a doddle, my van holding steady on the speed limiter for some 300 miles and I made it with almost two hours to spare for my allotted ferry time. I had originally thought I would be able to pull up and have a snooze before the port but as I guided in to Dover town there was no-where to stop so I kept going. Next thing I know, I am at the kiosk with the man behind the screen saying there is a small chance I could get on the 9.10 ferry. I drove round to my lane and waited as truck after truck after camper van made its way up the ramp to the ferry. Then, the directing staff pointed at me and told me to get on, bonus!
            The ferry ride was smooth as silk and this is when the nerves started to set in. I had almost 400 miles to do, across France on the wrong side of the road and I was alone. Now, don't get me wrong, I would consider myself an okay driver but you hear so many horror stories about how the people drive and accidents where the local has just sped off etc. so I was a tad nervous. However I shouldn't have been. The French drivers, albeit a little pushy, were pretty courteous to my little van and its English plates. The drive went better than I could have hoped for and even though it was a little over 6hrs I finally made it to Hellfest! And the drive was most definitely the easiest bit of the day!
            Trying to find a parking spot on the other hand was not fun or easy! You can't imagine the amount of people who come to this festival unless you've been and the pictures and videos do not prepare you for it! However after a little toing and froing I got parked by the side of the road and made the 20 minute walk to pick up my pass. So after the stress of parking I was hoping for an easier time, wait for it. For a few moments there was utter grief as my name wasn't on the list!I joined a rather long que and started to panic, what if they turn me away? What do I do? All this was running through my head and I was franticly messaging John at AATR towers! It was all good though. The lady behind the table checked over the emails and found that I had been listed under 'Donk Clark!' That's right people! It's official! My nickname has superseded my real name! So proud! Anyway we got sorted and to be honest all I wanted to do right then was go lie down! I made the walk back to the van and had to make a choice, either load all my gear up and drag it to the arena campsite, or find a nice quiet spot to park the van and set the tent up next to it. Sod carting all my gear up to the campsite when everyone I was parked near just camped where they were so I followed suit and decided to make the 20 minute walk to the arena every day. The spot I got was also perfect for a fast get away Monday which I needed for sure as my ferry was at 12.40 local time! Another 4am start.
            Anyway after getting pitched up and enjoying a warm tin of cider I decided to head back to the arena, it was 10pm local time so there was a few hours in me still. I met a lovely couple from Germany and we got talking about bands to see and after we parted at the guitar I made my way in to the arena. The giant guitar is outside Hellfest at the entrance and if you've never seen it it's pretty spectacular, covered in stickers, signatures and quotes it denotes you've finally arrived at the festival site.
            Now, I've been to many festivals, nine Downloads, several Sonispheres, Bloodstock and then smaller local ones, but this place blew my mind within seconds of crossing the line! Laughter, smiles, beer, cider, food. Music. Wrestling. Wrestling and music together! The Rock'N'Roll Wrestling Bash was on the Hellstage, which was set up in Hellcity Square and it was awesome! The band was shredding as the two guys went at it in the ring. Amazing stuff. Body-slams and blast beats blew my mind. After an hour soaking in all that I could, I started to shut down. I needed some sleep! So I headed back to the van and clambered into bed, shut my eyes and was out for the count.
            Friday; 9am; France; Best get some work done then!! I got my gear together, made a brew and shambled my way to the festival site. I floundered around near the entrance trying to figure out where to go first and after a brief chat with a security guard I stumbled in to the press area which is in the VIP lounge, and wow. Just WOW! The VIP area is insane. There are waterfalls, fountains of blood and the bar is outstanding all decked out in skulls and bones! It was kind of free for all in the press area. It was okay for me as I brought my own laptop and there are empty desks for that kind of thing but some of the other press were stood around waiting for a desk. So, anyway, back to it, I was blown away by the VIP area but that was only until I moved into the main arena. Holy shit! Unreal. Now I said I'd been to festivals before right? Well I am telling you right now, this festival is leaps and miles ahead of anything, ANYTHING in the UK. If Download or Bloodstock could pull off something like this then the UK metal scene would be tremendously grateful. Seriously, organisers, get your arses out here and witness how it's done, and if you've seen it, and it's your goal then make it happen!
            The sound on the main stage was pretty incredible. I managed to catch the end of BUKOWSKI's set and it was crystal clear from as far back as the main bar in the centre of the arena. I was still on my initial walk around and found myself entering the Valley tent were I caught the end of Sons Of Otis. When I walked in I was hit by a heavy, intense band giving it a hundred percent in front of a super enthusiastic crowd for the time of day.
            When Otis left the stage, the first band that I was really looking forward too were starting to get set up. Dopethrone. I've been listening to these for a while and even though I wouldn't say I'm super clued up on them, I was interested in seeing how they performed on stage. They very rarely come to the UK (even though the UK was part of their tour after the festival) so when I saw them billed for Hellfest I was excited to be able to catch them. Despite there being some technical difficulties Vince came out all guns blazing and the guys fired on all cylinders. The crowd was loving it and by the end of the set if anyone in that tent wasn't a fan of Dopethrone, they were when they left.
            After Dopethrone it was time to get some food and make my way to the main stage for my next act, Converge. Again it's not a band I am overly familiar with but one I've heard of and one that a lot of my friends have recommended to be seen live so in the baking, mid-day heat I stood at the front of the stage waiting for the band to come on. One thing I loved about the main stages were the screens. Picture, if you will, a main stage. Then next to it another main stage. Sandwiched between them is a screen almost the same size of the stage itself and another one on either end. Another point some UK festivals could take on, yes the outlay may be slightly larger but the customer experience and satisfaction would be worth it. Not only is having three screens and two main stages more accommodating to the punter but you only had a few minutes to wait between acts on the stages, with no clashes! While one-act is performing, the other stage is being set for the following act and so on. So while I am waiting for Converge, I get to watch Rose Tattoo on the other stage giving it everything, fantastic.
            Converge put on a cracking show and I was blown away by a few things. Their stage presence was massive! For a four piece hardcore band they dominated the stage, and the crowd. Crowd surfers started to rain over head, a giant circle pit erupted behind me and like a moth to a flame I got sucked in to it. Not my most worst idea of the weekend. Before I knew it the set was over and baring a few new scratches and almost losing my GoPro it was a successful pit, everyone got up and nothing was broken, result.
            Without a doubt the next band was top of the pile for me. I had the chance to go and see them in the UK a few years ago and didn't end up going. The rest of my old band did and they got to meet them after and I was pretty jealous at the time, so when it came to seeing them at Hellfest I was 100% getting front and centre. I pretty much sprinted to the tent after Converge and managed to get front, almost centre and had almost an hour to kill before they were due on.
            As I stood there the stage hands started to bring gear on stage and then the banner went up behind the drum kit, Crowbar. Now I started to get excited. They were here and setting up. Then Kirk walked out and I started to smile from ear to ear. Sometimes when it comes to a band your excited to see live, it can be a bit of an anti-climax. Not so with Crowbar's set. It was a highlight of my gigging year so far. They came out hitting classics and new stuff alike. Tracks like 'All I Have (I Gave)' and 'I Am The Storm' sounding outstanding live and when the guys kicked in 'Planets Collide' the whole tent erupted! I was not expecting Planets to be in the set and was beyond pumped when it dropped. When I left the tent I grabbed a beer to compose myself and headed around the Extreme Market to have a little break from the late afternoon Sun. As I was wondering through the stalls I thought there would be very little that could top how I was feeling after that performance. How wrong I was.
            Hellcity Square is where the market and other shopping vendors hang out. The likes of ESP Guitars, Dr. Martens Boots and many other independent traders set up in this area of the festival which is also on the main route from the camp site to the arena. After a visit to the ESP booth I headed back to the VIP media area to put some charge back in my phone and have a look at the few pictures I managed to capture. After 20 minutes or so I packed up my gear and started to make my way back to the arena but on exiting the media tent I literally bumped straight in to Kirk from Crowbar, I had to stop myself from squealing like a teenager but instead adopted a manly voice and congratulated him on a belting set but after only a few moments he was being whisked off to an interview with someone else. I was locked on the spot as not only had I just seen these guys tear the Valley tent a new one but I also got to say hello, albeit too briefly to the man himself. Could this festival get any better?!
            Looking at my timetable I saw that Hollywood Vampires were on the main stage and I was keen to see how they worked, I've heard Johnny Depp was a killer guitarist so would be good to catch them live, however it was not to be, but for very good reasons. As I made my way out of the VIP area you have to cross in front of both Valley and Temple and I was stopped in my tracks by Sólstafir. I'd never heard of them before but holy shit they were awesome. Thick heavy tone, crunchy vocals and stage presence for days! Thoroughly enjoyed their set and a band I will be following for when they hit the UK. Sorry Mr Depp, maybe next time.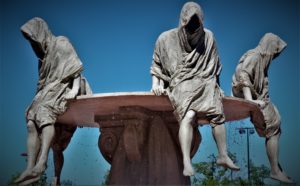 My last band for the day was coming up, EyeHateGod, another sludge driven band that I've listened to plenty but not really sat down and taken full notice of. I knew I needed to be at the front though as when everyone back home is saying "dude you need to see these guys live!" then you have to listen. I was in the tent early and got a spot next to the barrier and snuggled in for a 45 minute wait. It was at this point I got chatting to a guy from Belgium who had travelled to the festival just for this band and I started to get pumped for the show. Anyway, he called the mobile bar staff over and produced his Hellfest mug from a pocket, it was at this very moment that I realised not only were these cups collectible but also chargeable! I had only had a few drinks up until this point and was wondering why it was costing me £6 a pint! It was because they were charging me for a new cup each time! I explained this to my new Belgium buddy and the bar man who both broke down in tears of laughter, the bar man magicked a pint pot from the beer keg strapped to his back and in broken English said, "This is on me so don't lose it!" Well my beer dispensing friend that cup stayed with me the whole weekend and is now nestled among my Bourbon bottles on top of the fridge, thanks dude!
             EyeHateGod came on and me and my new friend, whose name I never caught, headbanged and grooved our way through the set and had a manly embrace when everything was done and dusted. I hope he had a safe journey home that night, it was a long way to travel for the day but I guess that's what music does to us. If we love it that much we make sacrifices and choices that enable us to do what we love. Every time I hear EyeHateGod I'll be reminded of that short, intoxicated Belgium man and smile at how much I enjoyed the set in his company. With that done I decided it was time to head back. In the eyes of Hellfest it was still early at nearly 11pm, after the day I had before, I just wanted to sit in a comfy seat with a can of cider and reflect on the amazing day I had, which is exactly what I did.
            Saturday morning came around pretty quick even though it sounded like Judas Priest were performing their set just outside my tent while I was trying to get some much-needed shut-eye! The sound travels pretty far in the country side and especially when driven by the sound system Hellfests main stage has! So I was up pretty early and made my way to the arena entrance. On route I bumped into an awesome couple of people again. I was wearing my Parkway Drive hoody and they asked me if I was looking forward to the set later that night, but in French! I had no idea what was said and when I explained I was English, in my abysmal broken French, they laughed at me and we chatted on the short walk to the arena. I told them if I make it to see Parkway at 1am it would be a miracle, they asked why and I explained to them I was working. You see working a festival and attending one are way different experiences. Yes, we get to see the bands, but then we have to take pictures, watch our alcohol intake, try not to nap in the grass in case we miss a band that would make a great addition (I didn't do this, honest!), make notes, walk the site while making notes and such. Added to that the challenging 14hrs of travel alone, yeah making it to see Parkway would be a miracle and I truly wish it had come off after reading the reviews and watching the set after I got home, it looked insane.
            While I'm not a massive fan of their new stuff, IRE and Reverence, what they did play live sounded huge. However, it was their older stuff that hammered home how much I love this fucking band. Dedicated, Idols and Anchors, Karma and Wild Eyes. These were the songs that made them huge in my eyes. I see why they are going in different directions musically and I tip my hat to them, and as far as the set goes not only did they keep fans from the past happy but new fans as well.
            So first up was a band I'd not really heard much of but their name had been mentioned to me a few times, Monolord. Again the Valley tent was calling and seeing it was already almost 20 degrees outside at 11am, I was more than happy to spend an hour or so in here before heading back out to the arena main. It seems that most of the bands I wanted to see were of the doom and sludge variety and were mostly in the same tent so I got to know a few of the security staff at the front. Most were quite friendly and would let me stick my camera bag on their little steps on the other side of the barrier, a few were not so friendly. More on that later. So as I was waiting and Monolord were getting set up when one of the friendly guys passed me a small bottle of water, with the lid still on! This is a big deal! Why? I hear you ask. You can buy bottles of water in the arena, however they keep the lids for whatever reason so getting a bottle with a lid on was a lifeline. It meant I could fill this with water and keep my beer cup free for, er, well, beer! Result!
            Monolord came on and crushed it. Even though I wasn't overly familiar with their work the set was solid, the sound was huge and above all the guys looked like they really enjoyed themselves on stage. The tent, including myself, certainly did. It was getting towards lunch time so I went for a mooch around the food stalls. Brazilian steakhouse, Pastries, Pasta, you name it, they have it! There was even a deli counter serving cured meats! But one food stalls stood out from the crowd for me this lunch time and it was the pie stall! I really fancied some tasty chips and everyone walking away from this place had sweet potato fries with a fresh coriander mayo served with their pie of choice. So I indulged myself and for 9euros, it was well worth it. A fresh Caesar side salad, steak and ale pie and chips. I was in heaven.
            Next up was a band I had discovered just by going through the line up on the Hellfest page, 1000MODS. I had given them a listen on Spotify and was really interested to see how they got such a huge sound. It may have been the 6 full guitar stacks, 7 valve heads from Orange and Solar and 2 8×10 bass cabs that would do it! The sound was tremendous! They could have easily turned the PA off and you would have heard everything at the back of the Valley tent. I was lucky enough to be up front again and the air these speakers were moving on stage was something else. You could literally see the smoke from the smoke machine get blown toward the crowd as it went passed the stacks. Impressive.
            After 1000MODS it was time to have another wander around the festival and take in some more sights. The waterfalls in the centre of the arena behind the main bar were a great touch. Not only did they provide a feature but also the water was so cold and refreshing if you walked through it, not advisable with a bag full of camera gear though. But it was definitely worth risking leaving the bag on the ground for a few minutes to cool off from the French heat. Not far away from the waterfalls was the fun fare. It had a few rides but the centre piece was a giant Ferris wheel. I would imagine the view from the top was pretty insane. Further back behind the small fare ground was the Warzone which was littered with half destroyed helicopters, trucks and a giant statue in memory of the great Lemmy Kilmister.
            I was walking back from the Warzone to the media tent to put some much-needed charge in my phone when I was stopped in my tracks outside the Alter! It was a band called HEILUNG and my god was it a show! They call themselves Neo Folk Tribal and it sounds like they came out of the ice age! Chanting, drums, spears! A word that is used to describe a lot of bands these days and one that is banded about willy nilly is epic! But after catching the last 30 minutes of this set I can say hand on heart that this performance was indeed of epic proportions! It is something that once you witness live then you'll understand it. Listening to it on Spotify gives you a sense of how mind-blowing it is, but until you see it live, you will never quite fully understand. It certainly spoke to me and my inner Viking and is now a firm favourite for those times you need to get away from the modern world and retreat into a world of mystery and wonder.
            Once I had suitably rearranged my mind after the awesomeness of HEILUNG I got some charge in my phone and then headed back to my favourite tent, Valley, and awaited another of the bands I've been craving to see for a while, Orange Goblin! Ever since I heard 'Beginners Guide To Suicide' I've loved this band. That track has everything that I love about rock, metal and blues rolled into one. I was fortunate enough to grab the new album 'The Wolf Bites Back' a few weeks before the festival and gave it a good listen. They came straight out of the blocks with 'Sons Of Salem' which was a belting track to open on. The rest of the set was varied between the new album and a few older tracks even back to the first album with 'Saruman's Wish' and then the title track from the new album. Unfortunately there was no 'Beginners Guide' but I wouldn't expect that from a 45 minute set seeing as the track is over 8 minutes long! Maybe next time! What I wasn't expecting was a wall of death half way through the set! The French crowds are insane and I loved every bit of it.
            Oh I nearly forgot, remember I was saying there were some nice security and some not so nice? Well during this set I got a 'not so nice' guy and about halfway through the set Ben pointed out to the crowd with a bottle of beer in his hand, his eyes fixed on me, nodded his head and gently flicked the bottle at me, which I caught like a pro by the way, then he grabbed another and raised it at me and we drank together, I was so buzzing it was unreal! After I finished the beer I thought it would make a great bit of memorabilia to go with my other stuff at home, nope! Mr 'Not So Nice' stepped in and took the empty bottle off me and threw it away! It was because you're not allowed glass in the arena, I tried to explain I was press and would take it back to the media tent and put it in my rucksack but he wasn't having none of it. Not impressed. But rules are rules and to share that moment with someone in a band I have the utmost respect for was something I'll remember for a long time.
            Next up was another band I had been craving to see for a very long time. I think they played a Download festival I was at one year but that was when I was young and stupid so I was either too drunk to remember or asleep, ah the good old days! There was no way in Hell (see what I did there) that I was getting to the front for Deftones, they started 20 minutes after Goblin finished so I had to bite the bullet and stand on the hill and watch from the screens, which wasn't an issue at all as the screens are so clear and the sound so brutal! Barring a few tech difficulties at the very beginning the set was great. 'My Own Summer', 'Change', 'Diamond Eye's', 'Nosebleed' and so many more. Chinos  crowd interaction was on another level, at one point he climbed in to the crowd to chat with a fella from Japan and let the guy scream out the vocal on 'Around The Fur'. A truly great performance and one I will be able to recall at last!
            Last up for me was Limp Bizkit. I've seen Bizkit so many times and if I'm brutally honest the set didn't blow me away. It was OK. I was a bit torn on a few things, they did a lot of covers and a medley of some Metallica tunes etc. which is not what I really wanted from the set. Don't get me wrong they played the hits like 'Rollin" and 'Break Stuff' as well as others but it didn't have any of the more obscure tracks like 'Boiler' or 'I'm Broke' but I guess that's just me. Anyway I headed back to the van after the set and looked back at another awesome day and wondered what was coming 'My Way' (see what I did there too?) on the Sunday.
            I decided to have a bit of a lie in on Sunday and didn't rise until about 11am. I needed it, that's for sure! I headed to the arena straight away and made my way to the ESP booth. They had a stunning B204 hanging up that I needed to have a blast on! Unfortunately when I got there someone was literally taking it down to try to I had to get to the main stage soonish to catch Shinedown, instead I headed to the Extreme Market and had a wander. Some of the stuff on sale was pretty immense. Baby outfits, posters, guitar pick ups, guitars! Vinyl, CDs and clothes. You've never seen anything like it at a festival. In fact, like I mentioned at the start, Hellfest is unlike anything I've ever been to. The Cashless system is pretty good on all accounts. I had heard a few stories of vendors adding extras on but the Hellfest organisers said it was isolated and the person behind the counter escorted off site. A few said their Cashless chips stopped working but again I think these were dealt with quite swiftly by the staff and topping them up couldn't be easier due to amount of WiFi hotspots around the site. It would have been nice if these were a littler stronger in signal or been a little closer so you could have kept the WiFi active all the time but that's just a little criticism.
            For the most part the amenities around the arena were spot on. I couldn't quote on the campsite as I never went in there, but the arena loos were always clean and there were more than enough water points throughout that if you ever felt the heat you could cool off with a jug of water of the head! Or top up your water bottle etc.
            Being a first timer at the festival I was so unprepared it was unreal. I used to be a god when it came to festival preparation but I think I failed on a few points this weekend. The first point, not brushing up on ANY French, that was a rookie mistake! One I won't be making again, while most of the vendors and also attendees spoke a little English, I could have most certainly made my weekend a little better and easier by speaking even a little more French. Second point, from a media guy point of view, would be to bring a really lightweight fold flat stool! I did so much sitting on the ground next to barriers so that I could get the best experience and semi-decent pictures, that a stool would have been a real ass-saver. Third would be to make a few more friends before the festival. I found the UK Hellfest Chapter on Facebook but this was on the Saturday afternoon when I was feeling particularly lonely and the wife back home told me about it. Next time I'll make sure that, a, I've spoken to the group more and hopefully meet a few beforehand and, b, take someone who won't let me down at the last moment meaning I need to do the trip solo.
            One thing I would like to mention is, I want to say a massive thank you to John Deaux, my editor, for doing all he could at short notice to help me get a replacement and also keep my spirits up. Cheers dude, you helped me more than you know.
            After a good walk around the market I started to make my way to the main stage and as I was passing the Alter I heard a little bit of thrash emanating from the tent. I made my way inside and managed to catch the last few songs of Crisix set! Holy shit balls! These guys are freakishly good! Some belting thrash tracks and then during their last track 'Ultra Trash' there was a little bit of a drum solo and the vocalist, Juli Bazooka (amazing name!), jumped down and took to the crowd, then both guitarist followed him and the bassist. All four of them headed to the pit and started a circle, which grew and grew and grew and culminated in the band finishing the track mid circle pit! Bravo! What an awesome sight and much respect to the guys for that because it's not something you see, ever! In fact if you head over to their Facebook page you can them doing this at Download Madrid, awesome!
            So I headbanged my way out of Alter and down to the main stage, Primal Fear were on the Main One which meant the front was pretty clear for Shinedown on Main Two and I got settled in a few people from the front. I could see a stage hand rush over to my side of the stage and start talking to the cameraman who had set up right on the edge of the stage out-of-the-way, or so he thought. I could see the stage hand pointing to a set of steps saying 'He will be going down there, so make sure you move'. Awesome I thought, Brent will be coming down the front so I can take some cool pictures. Well he did, but not too near where we were stood so I couldn't get any decent snaps, however props to the guy. I know there is big political edge to their performance but it was nice to be reminded that it doesn't matter where we come from or the colour of our skin, we should be able to turn to our right and shake hands with a stranger and say hello without fear or worry or prejudice. Anyway the band played a blinder with quite a few songs I can remember from a few years ago when I was quite into them, 'Sound Of Madness' 'Cut The Cord' and 'Diamond Eyes' all belting tracks and I really enjoyed the set.
            I didn't have much left on my list so went in search of shade and the bar! Lunch was provided by what can only be described as the best All Day Breakfast sandwich I've ever seen! It consisted of a huge crusty bread cake about the size of a Honeydew melon, the best melon by the way, which had been hollowed out and re-baked for a short while. It was then filled with baked beans, scrambled egg, bacon and sausage! My word! It was godly! Worth the 12 Euros? All Day long (I must stop it with these puns!)
            I headed back to Main One to get ready for some proper, old school heavy metal in the form of Iced Earth! This band has been going around a long time and while the line up may have changed over the years they can still smash them out! I had the pleasure to chat to one of the guys about his solo acoustic EP, Luke Appleton, a fellow bassist and he was proper nice and down to earth and we have kept in touch so it was nice to see him smash it on stage with the rest of the band. Tracks like 'Burning Times' and 'Seven Headed Whore' got the crowd moving and surfers rained overhead but it was 'The Hunter' that really hyped everyone up! Such a beast of a track!
            Soon the set was over and it was time to do a little more wondering and then get back to the Valley for a band I've been desperate to see for a while. I was totally oblivious to the news that their drummer had to rush home and the band were going to perform an acoustic. While I was sat with my back to the barrier, making notes from Iced Earth and what not, I didn't pay much attention to the acoustic guitar strumming away as I know Baroness have used them on many a track but when a second guitar struck and then a vocal kicked in my curiosity was tweaked. I stood up to see the stage set for an acoustic set and the hair on my arms tingled. I had a feeling I was about to witness something special and I was right. John Baizley came right out from the off apologising for the last-minute change, stating that he felt he owed an explanation but little did he know what they were about to do was exactly what the crowd wanted.
            John and Gina mainly played the entire set as a duo and it was plain to see on their faces, as well as ours, the love and compassion that was being projected both to and from the band. It was something I will never, ever forget. Everyone openly wept during 'If I Have To Wake Up' which was dedicated to Mark and the other members of Baroness who sadly passed away several years ago. Every song was breathtaking and I'm even getting a little choked up now as the memories come flooding back. After the set the round of applause was astonishing. We craved more from these supremely talented and wonderful people but unfortunately that was it for time.
            I was so emotionally spent that I went back to the VIP, grabbed a beer and sat with my back against a wall and pondered over just how mind-blowing that set was. The journey that band had been through was portrayed to us all in that set. The pain, the love and the passion. Thank You Baroness.
            With that my festival was done. It was about 9.30 and I was up at 3 in the morning to travel the six hours back to Calais. I would have stopped to watch Iron Maiden, but I've seen them a fair few times and sleep was oh so more important! I was humming to myself as I made my way along the road back to the campsite and felt a mix of sadness and pride, the festival was over but my journey had just begun. This had been a massive step for me. I've gone from reviewing a few EPs from up and coming bands in the UK a few months before Xmas, to heading to one of the worlds leading metal festivals as a reviewer for All About The Rock, and in all honest felt I smashed it despite the low points and stress. I made it here. I survived the weekend and would hopefully make it back home to my amazingly supportive wife like The Trooper I am (last one I promise!)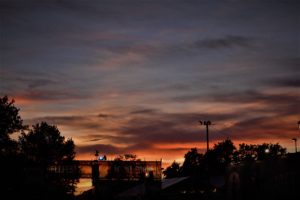 I did make it home in one piece. My van did me proud and even though it took me almost a week to recover from the travelling and almost another week to compile everything, edit my photos and write this review, I can hand on heart say it was so, so worth it!
            Cheers, Donk.
How useful was this post?
Click on a thumb to rate it!
Average rating 5 / 5. Vote count: 1
No votes so far! Be the first to rate this post.
Related