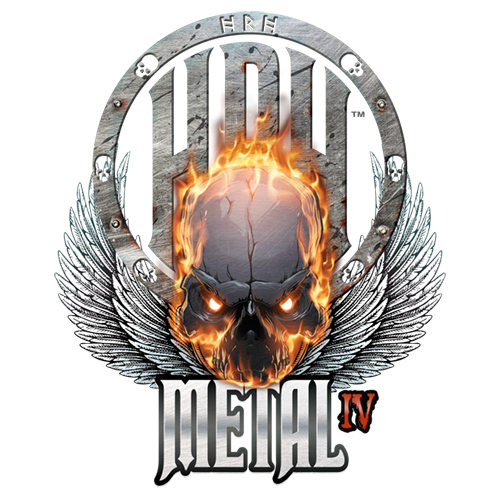 HRH Metal IV Killer Deal
12th February 2019
0
By
John Deaux
Hail HRH Metalheadz!
HRH Metal III is going to blow the roof off of Birmingham 02 Academy this weekend!  It's rammed to the rafters and with the HRH Wall of Sound and some cracking bands we're out for a true Metal Meltdown as 4000 people descend on Brum for the first HRH gig of 2019. As you know we sold out in advance to our legions of metalheadz and now we're launching HRH Metal 4 with an amazing offer to reward their continued loyalty. There were over 2000 of you taking up the "Killer Early Bird Deal" last year and we're going to make it even more crazy this year so you get your diary laced with metal at the cheapest price possible for next year.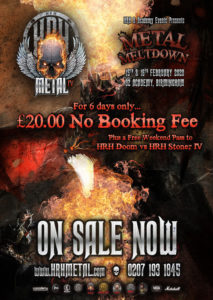 HRH Metal 4 will take place on the 15th & 16th February 2020, marking the 2020 calendar as the years Metal kick-starter. Bands have been voted by yourselves and will be announced shortly. They are simply amazing!
This special offer is on sale
NOW
and is subject to availability, so get in quick, it expires on the Sunday after HRH Metal III at the stroke of midnight on the 17th Feb.
As you know all tickets are 40 GBP plus Booking Fee this year and 70 GBP for Royalty with all the extras and trimmings, seated up stairs balcony, private bar etc. The Killer Deal is as follows :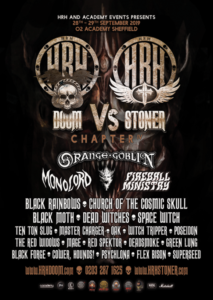 Standard Tickets will be 20 GBP (with no booking fee) per person plus a free weekend Pass to HRH Doom vs HRH Stoner IV
Royalty Tickets will be 40 GBP (no booking fee) per person plus a free Royalty weekend Pass to HRH Doom vs HRH Stoner IV
HRH Royalty Hotel packages include the HRH Metal IV ticket and have 15% off early bird rates plus a free Royalty Weekend Pass to HRH Doom vs HRH Stoner IV
This will be the last HRH Doom vs HRH Stoner we are doing in Sheffield and with this line up, it will be a cracker, so the fact you're getting it free with your 20 GBP Metal ticket is bonkers! Go Royalty and you get Royalty to HRH DvS too.
That's it in a nut shell. If you book before midnight on 17th February this year, you get two events worth over 100 quid for 20 Quid & no booking fee, what a bargain! Plus 15% off the Royalty hotels if you move fast! It's our way of saying thank you for making this another sold out event.
How useful was this post?
Click on a thumb to rate it!
Average rating 0 / 5. Vote count: 0
No votes so far! Be the first to rate this post.
Related
About the author
Some say Yank My Doodle, It's A Dandy! is a biographical movie based on John. Some have even said that his favorite artist is Chesney Hawke! All we really know is he sleeps inside out and his hair tastes like candy floss.