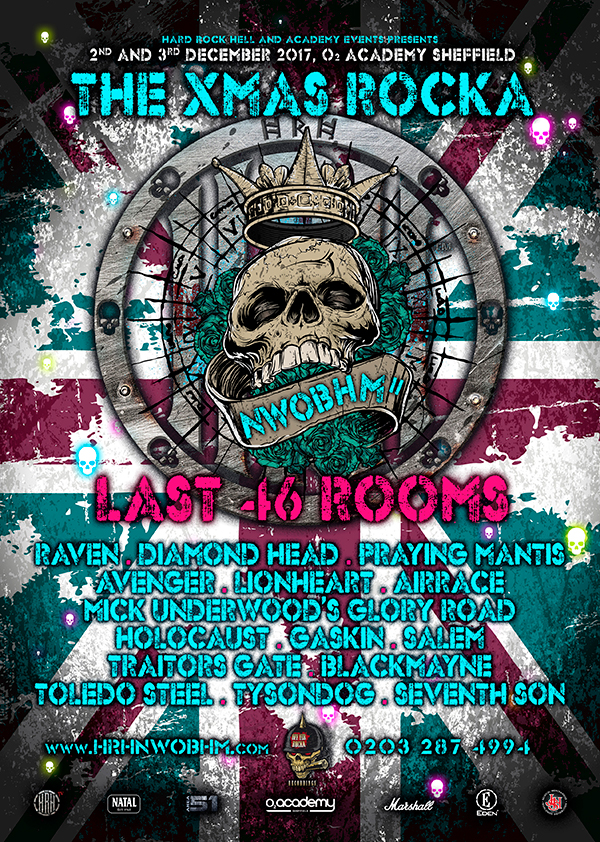 HRH – NWOBHM Returns 2017
3rd December 2016
HRH are proud to announce that HRH NWOBHM will make its thunderous, triumphant return in 2017.
Yes, the groundbreaking, but for a time seemingly forgotten, musical movement of New Wave of British Heavy Metal is inspiring fans anew, with thousands making pilgrimages to Sheffield, the City of Steel: British Steel, British Rock, and British Metal! Apt doesn't even begin to cover it!
Already, 2017's event has almost sold out, and that comes just as HRH NWOBHM II announces the first wave of acts: a sure testimony to the loyalty of HRH fans, and the power of the brand as well as the bands.
Headline acts amidst this powerhouse crucible of metal and energy include Raven, whose hugely energetic 'athletic rock' fuses speed and power into a unique alloy, their style strongly influencing the genres of speed/thrash metal and power metal.
Diamond Head were also pioneers in NWOBHM. This band is recognised as one of the leading members of the movement and have been acknowledged as an important early influence by thrash metal giants like Metallica and Megadeth
Melodic hard rockers Praying Mantis are another long-established band who spearheaded the NWOBHM movement.
To check out Raven click here – https://www.youtube.com/watch?v=AlwqOOszr-M
To Check out Diamond Head click here  https://www.youtube.com/watch?v=mbgv587ooNM
To check out Praying Mantis click here https://www.youtube.com/watch?v=ZPeG00fSz94
Other class acts announced include: Avenger; Lionheart; Airrace; Mick Underwood's Glory Road; Holocaust; Gaskin; Salem; Traitors Gate; Blackmayne; Toledo Steel; Tysondog and Seventh Son
Over a two-day event at the O2 Academy Sheffield (2nd and 3rd December 2017), this cranked-to-the-max, genre-led event offers fans awesome acts, pulse-pounding music, fun and HRH's trademark shenanigans, all suffused with HRH's legendary community spirit.
Day passes are now released, but be warned: as this goes to press, we are down to the last 46 rooms. 
Sing it strong and sing it proud: the wave's a-surging. And it is loud!
To reserve one of these precious tickets, either book online @ http://www.hrhnwobhm.com/ or ring Harri on 0203 287 4994