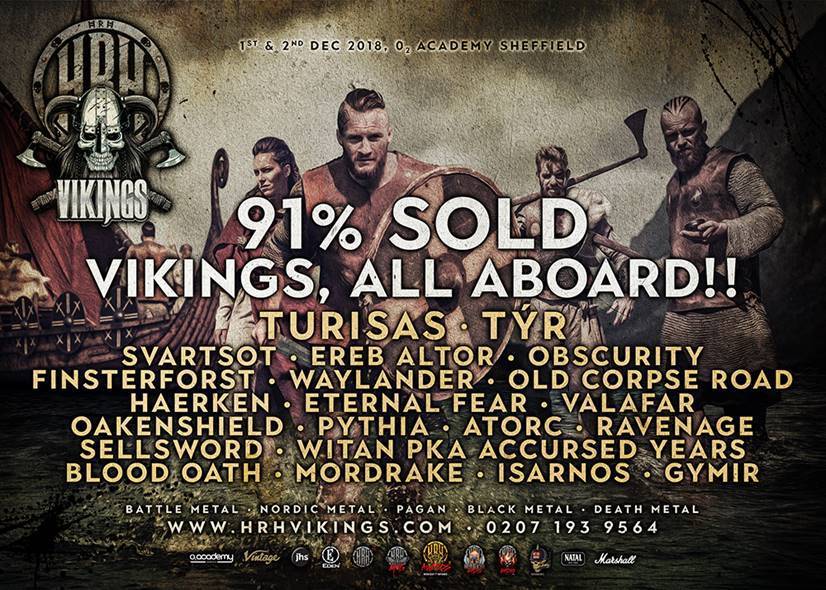 HRH VIKINGS ADDS A NORSE GOD AND MORE HEROES TO ITS MIGHTY METAL ADVENTURE
15th December 2017
All hail! HRH VIKINGS are proud to announce that the mighty TYR will be making a rare appearance and headlining the Sunday night at the 2-day, 2-Arena Adventure, which will unfold at the O2 Academy in Sheffield on 1st & 2nd December 2018.
TYR are a metal band established back in 1998 A.D. Named after the Norse god of war, law and justice, the band hails from the Faroe Islands (one of the Nordic countries). Their music blends all the new heavy metal styles and weaves in old Nordic folklore, drawing on rich veins of history and myth as well as ancient texts and melodies. What sets TYR apart from most other bands of the Viking metal genre are the authentic roots of their music. Vocalist/guitarist Joenesen explains "Traditional music dating back to the Vikings (that is not preserved anywhere else in the world, not even in Iceland) is passes on in an oral tradition here and it is still alive and well. This is what we build our music on and draw great inspiration from."
Also making the voyage to Sheffield will be heavy metal warriors Pythia. The band quickly established their own blend of thrash, power and gothic metal, with epic symphonic keys and soaring female soprano vocals. They believe that the art of music is a hallowed path, only to be undertaken by the strong-willed and the dedicated.
And that's not all! Prepare yourselves for Atorc: the battle-hardened folk metal warriors of East Anglia! Their sound combines clean and harsh vocals, roaring guitar riffs, booming bass lines, harmonic keyboards, leg-slapping violins and fist-pounding drum beats. Atorc promise they'll land in Sheffield, ready for battle and glory!
The Runes have been cast, the HRH Oathsworn have been summoned, so heed the call, brothers and sisters in rock! Grab your garb (and any chosen Hero or Valkyrie, if fortune so favours you) and make the voyage to Sheffield for what will surely live in legend as one of the rousing and raucous HRH events to date.
Line-up:
Turisas
TYR
Svartsot
Ereb Altor
Obscurity
Finsterforst
Waylander
Old Corpse Road
Haerken
Oakenshield
Pythia.
Atorc
Ravenage
Sellsword
Witan
PKA
Accursed Years
Blood Oath
Mordrake
Isarnos
Gymir
Already 91% sold so get your tickets quickly here www.hrhvikings.com or phone on 0207 193 9564