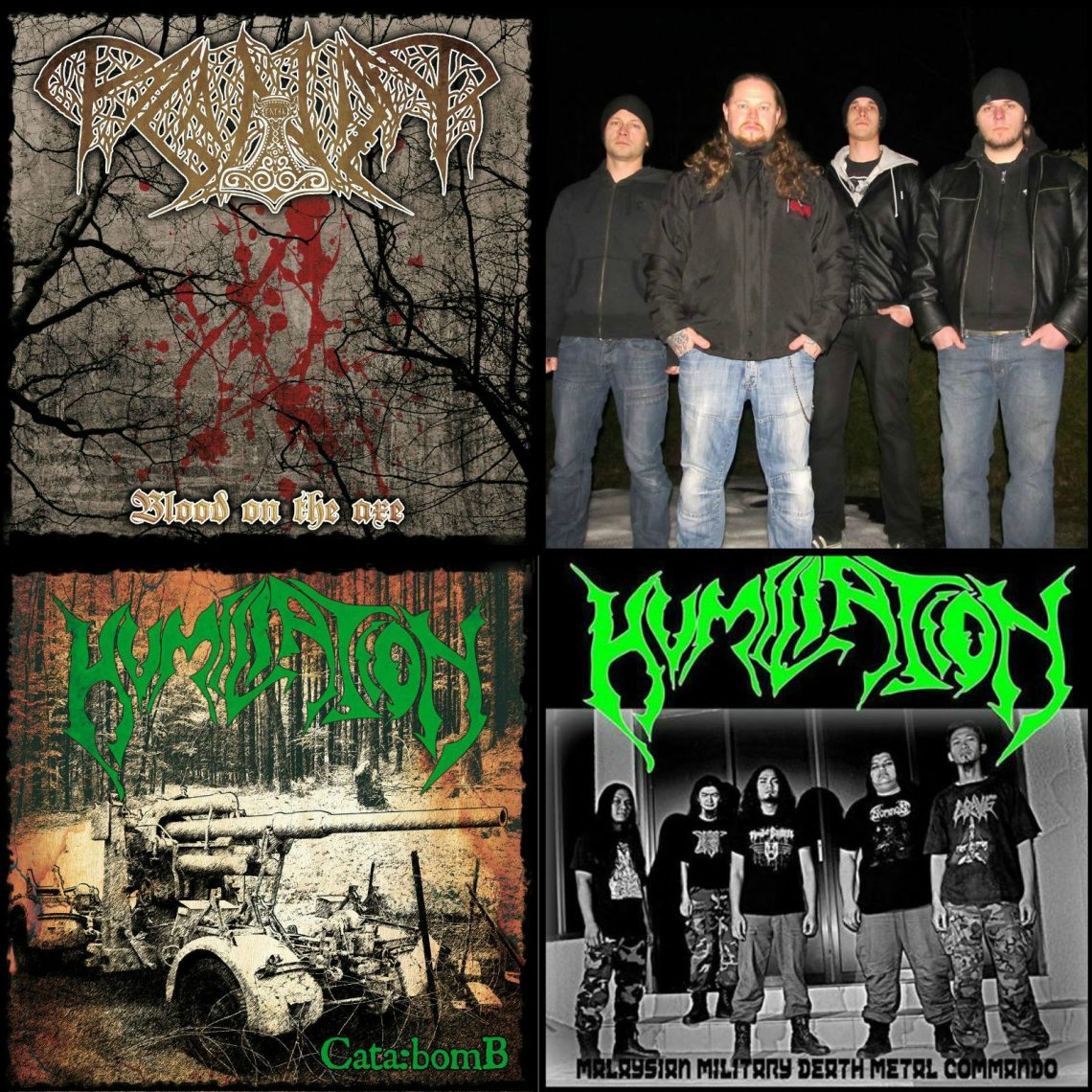 Humiliation / Paganizer split EP
12th September 2014
There are some fantastic independent record labels out there, and one of my personal favourites is Brutal Art Records from Germany, an underground label specialising in death and black metal who have released a number of awesome vinyl EPs in the last few years.
Their latest offering (co-released with the Dead Beat Media label) is a split EP featuring Malaysian death metallers Humiliation (one of my personal favourites) and Swedish death metallers Paganizer.
Side A of the EP gives us Cata:bomB by Humiliation, fans of the band will know what to expect – two tracks of pulverising war-obsessed death metal with chugging guitars, rasping vocals, and a subtle nod to Bolt Thrower.
I'm a huge fan of Humiliation and these 2 tracks are as good as anything they've released.  I really hope that at some point in the future the band decide to re-release all of their EP releases on a single album, because otherwise a lot of folks are going to miss out on quality releases like this one.
Side B of the EP gives us Blood on the Axe by Paganizer – a band I've not heard previously, but here have produced two heavy and evil as fuck tracks, 'Viking Hammer' and 'Blood on the Axe'.  Their music is brutal and haunting, and on the basis of this EP I will definitely be keeping an eye out on what these guys do next – awesome stuff!
The musical production on all four tracks on this split EP is first class.  The EP, as ever with Brutal Art Records, is beautifully packaged with colour covers and full lyrics.  Not only that, but the vinyl comes in one of three fantastic colours – grey, beige, or olive!
It's still not too late to get yourself a copy of this before they sell out – so check out the links below !
Score: 9 out of 10
ALBUM INFO
Tracklist
Side A Humiliation – Cata:bomB
1. Into the Bunker
2. Kanang
Side B Paganizer – Blood on the Axe
3. Viking Hammer
4. Blood on the Axe
Record Label
Brutal Art Records / Dead Beat Media
Release Date
September 2014
Links
https://www.facebook.com/brutalartrecords?fref=ts
https://www.facebook.com/deadbeatmedia?fref=ts
http://www.facebook.com/HumiliationMalaysiaDeathMetal
http://www.facebook.com/paganizersweden