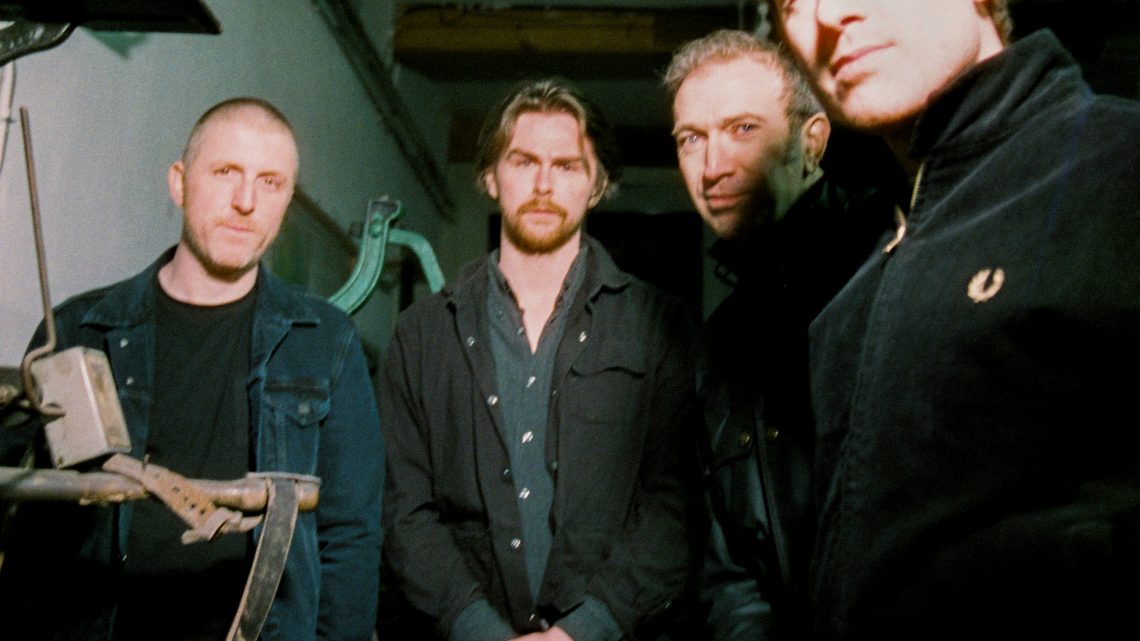 IMPERIAL WAX RELEASE NEW SINGLE AND VIDEO 'LESS I NEED' FROM THEIR NEW ALBUM
20th November 2023
Imperial Wax play a visceral, expressive fusion of garage rock and post-punk. 
Forming in 2018 – Guitarist Pete Greenway, drummer Keiron Melling, and bassist Dave Spurr, formerly known as the last and longest-serving lineup of The Fall, were invited by Damo Sazuki to join him as "Sound Carriers" for a one-off performance at the White hotel in Salford. Rekindling their necessity for music, they set about searching for a vocalist. After a chance encounter at a pub in Colne and a lengthy conversation about the future of Imperial Wax, they decided to team up with Sam Curran, guitarist and vocalist from Leeds-based punk band Black Pudding. Once Dave decided to leave the band in 2019 the obvious choice was to recruit another former black puddinger Shane Standrill on Bass
'Less I Need' is the first single from Imperial Wax's forthcoming second album 'Tranquilliser'. It's a 4-minute post-punk garage barrage, constantly changing keys and charging up into a furious Krautrock barnstormer.
"Less I Need was the first song written for the new album," explains guitarist and vocalist Sam Curran. "The initial intention for the song was to simplify our writing format and concentrate more on one solid foundational groove and build upon that, rather than overloading the song with different parts, which in the end evidently went out the window. It was (drummer) Keiron's idea to constantly change keys, which worked really well. It gave the song much more drive and purpose. The key changes were not planned out and probably technically incorrect to a trained musical ear. Wherever the hand landed on the guitar neck was where the key change went, which helped create that jarring unpredictable nature to the song. 
"The actual chorus and eventual title of the song came as a total accident. I couldn't come up with anything good for the chorus, so while playing a song with the band I just sang gobbledygook whenever it got to that part. That gobbledygook eventually refined itself and started sounding like words but was never anything proper. When recording the demos and listening back someone asked 'what do you say during the chorus? Is it less I need?' I said, It is now."
As the pandemic ground the country to a halt, Keiron and Sam set about brewing the beginnings of the follow-up to their 2019 debut, 'Gastwerk Saboteurs'. In stark contrast to the writing style of their debut, where the songs were created together, written, and recorded on the same day. The bare skeleton of 'Tranquilliser' was written mainly as a two-piece amidst the lockdown. Pete and Dave eventually added their own parts later but overall allowing the band much more time to craft the songs into a cohesive, well-rehearsed, studio budget-friendly collection of tracks.
The forced contemplation of excess time gave an approach that was totally unfamiliar to what they were used to and naturally cultivated a more complex style of song, meaning more parts, more changes, and less playing off of other band members. After Dave's departure, former Black Pudding bass player Shane Standrill stepped up to the oche, bringing with him a different playing style and thus changing the sound of the band even further.
Dave had already laid the groundwork for the whole album, but after the failed first lot of recordings at their own practice space in Lancashire and with Shane's new take on Dave's parts, the band decided to go and re-record the whole thing properly at HOHM Studios in Bradford.
Sam found himself working in a chateau in the south of France, which was also in the midst of a lockdown. Allowing him a plethora of time and solitude to begin writing lyrics. There wasn't much else to do in the evenings except read and write. Not many opportunities can provide such an uninterrupted environment to immerse yourself in the writing process, which was something Sam took full advantage of. Inspired by the works of Joseph Conrad, William Burroughs, Herni Cherrier, Mashima, Olga Tokarschuk, and many more.
The main problem for any small band always boils down to money and that was certainly the case with Imperial Wax, so after a few failed label offers the band looked into releasing the album themselves. Upon realizing the potential of having total control over your own release, the only problem was that no one had a clue what they were doing, hence the name Guesswork Records. It was a venture Keiron had long been keen on since his time in the Fall, after he and Mark had planned their own label which ultimately never came into fruition with MES's untimely demise.
Another unexpected blow was finding out that Pete had contracted the dreaded long COVID-19. The band held out for a long time hoping that Pete would start showing signs of improvement which unfortunately never came and is still up in the air to this day. No doubt he will be back in the saddle eventually but for now Imperial Wax has enlisted former Cabbage guitarist Joe Martin. After the fairly public collapse of cabbage along with his own personal struggles it was a case of right place and right time when Keiron bumped into Joe in Colne. They needed a guitarist and Joe filled that requirement. Along with the very recent addition of former Fall/PJ Harvey bassist Ding, who has taken up the role of synth, Imperial Wax is armed to take on many more years' future musical ventures.
FOLLOW IMPERIAL WAX
SPOTIFY | BANDCAMP | INSTAGRAM | FACEBOOK