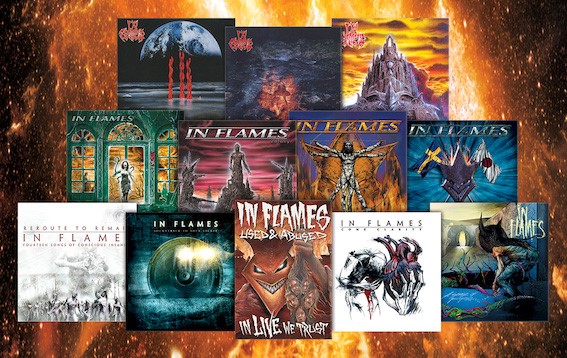 IN FLAMES Enter worldwide partnership with Nuclear Blast for iconic back catalogue
10th March 2020
0
By
John Deaux
Celebrating their 30th anniversary as a band, Sweden's influential and long revered heavy metal giants IN FLAMES have entered a worldwide partnership with Nuclear Blast for the band's celebrated back catalogue which features 13 groundbreaking fan-favourite records like 'Colony' 1999), 'Whoracle' (1997) and 'Clayman' (2000). Having released the previous two albums 'Battles' and 'I, The Mask' with Nuclear Blast in Europe only, this marks the first time IN FLAMES has worked with Nuclear Blast worldwide since the release of 'Soundtrack to Your Escape' (2004).
IN FLAMES vocalist Anders Fridén states:
"We've been working with Nuclear Blast for our entire career in some sort of capacity, so it was only fitting to sign with them worldwide when we could. We're excited for our future together which adds to a successful past." 
 
Nuclear Blast states:
"Nuclear Blast and IN FLAMES have something in common: both powerhouses met in the early days, became successful together and then went separate ways. Now, in 2020, the entire legacy of IN FLAMES returns home and we couldn't be more thrilled at the prospect of an extensive campaign and most importantly, a rekindled relationship with one of our favourite bands of all time, the mighty IN FLAMES!"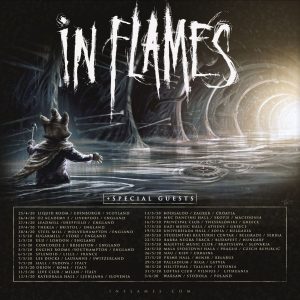 IN FLAMES live:
09.03.              RUS      Moscow – Adrenaline Stadium
10.03.              RUS      St. Petersburg – A2 Green Concert
 
15.03.              NZ        Auckland – The Powerstation
18.03.              AUS      Adelaide – HQ Complex
20.03.              AUS      Melbourne – Download Festival Australia
21.03.              AUS      Sydney – Download Festival Australia
23.03.              AUS      Brisbane – The Triffid
 
29.03.              J           Chiba – Download Festival Japan
25.04.              UK        Edinburgh – Liquid Room
26.04.              UK        Liverpool – O2 Academy 2
27.04.              UK        Sheffield – Leadmill
29.04.              UK        Bristol – Thekla
30.04.              UK        Wolverhampton – Steel Mill
01.05.              UK        Stoke – Sugarmill
02.05.              UK        London – Ulu
03.05.              UK        Brighton – Concorde 2
05.05.              UK        Southhampton – Engine Rooms
06.05.              FR        Lille – Splendid
07.05.              FR        Lausanne – Les Docks
09.05.              IT         Padova – Hall
10.05.              IT         Rome – Orion
11.05.              IT         Milan – Live Club
12.05.              SL         Ljubijana – Katadrala Hall
13.05.              CR       Zagreb – Boogaloo
15.05.              MC      Skopje – MKC Dancing Hall
16.05.              GR       Thessaloniki – Principal Club
17.05.              GR       Athens – Gazi Music Hall
19.05.              BL        Sofia – Universiada Hall
20.05.              SR        Belgrade – SKC
22.05.              HU       Budapest – Barba Negra Track
23.05.              SL         Bratislava – MMC
24.05.              CZ        Prague – Mala Sportovni Hala
26.05.              UA       Kiev – Nau
27.05.              BY        Minsk – Prime Hall
29.05.              LT        Riga – Palladium
30.05.              ET        Tallinn – Helitehas
03.06.              PL        Warsaw – Stodola
05.06.              S          Sölvesborg – Sweden Rock Festival
05.09.              S          Rättvik – Dalhalla Brinner
More on IN FLAMES:
Order the band's latest album 'I, The Mask' here:  http://nblast.de/InFlamesITheMask
www.inflames.com
www.facebook.com/inflames
www.nuclearblast.de/inflames
www.twitter.com/inflames_swe
www.instagram.com/inflames
How useful was this post?
Click on a thumb to rate it!
Average rating 0 / 5. Vote count: 0
No votes so far! Be the first to rate this post.
Related
About the author
Some say Yank My Doodle, It's A Dandy! is a biographical movie based on John. Some have even said that his favorite artist is Chesney Hawke! All we really know is he sleeps inside out and his hair tastes like candy floss.