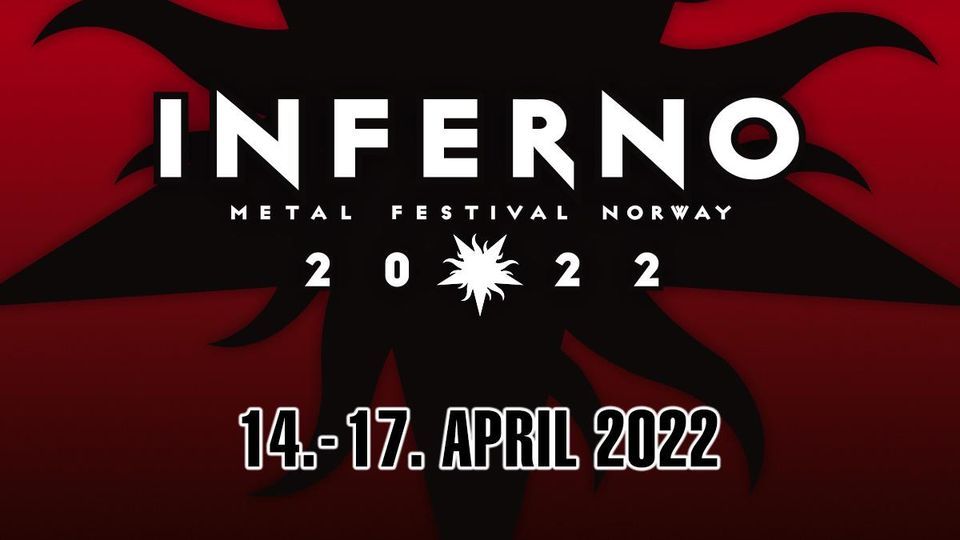 Inferno Metal Festival 2022- Day Three Review
25th April 2022
0
By
Queen Nikki
Day three of Inferno Metal Festival 2022 was off to a relaxing start and today, we were adulting. A morning of Lavish hotel breakfast food and making good use of the Clarion Hotel's sauna's and pool to cure any leftover hangover.
Inferno Festival always has loads of extra activities to do in Oslo with many discounts for attendees. This yea down at the fjord you can attend Salt, sweat it out in Norways largest Sauna, then jump into an ice cold barrel bath or straight into the fjord if you dare. Feeling adventurous? Join one of Inferno's Hiking tours to see some of the best views of the city. Need some Culture? Join the Edvard Munch tour and learn about his life in Norway. Let's not forget the Inferno Film screenings with incredible movie programs to offer.
In the Bar of the Clarion hotel today it's the Inferno Metal Auction, a long standing tradition of the festival and a metal collectors dream. Auctioning off some of the rarest items from the past, previously owned by some of Metal's finest royalty. In this years auction we saw an original newspaper from the murder of Østein Aarseth of Mayhem go for £300 and a 1992 Burzum vinyl which went for £700! I managed to score a pretty great 1985 Interview with Venom picture disc for a good price so I was very happy. 
Opening the festival on this lovely Saturday on the Rockefeller stage is Germany's Dark Fortress. It's not a huge turnout but the horns that are there, are held high as they obliterate their way through The Silver Gate. Keen to finally play some of the songs from their new 2020 album 'Spectres from the Old World', for one of the first times, since the pandemic, Inferno are happy to be used as test subjects. Although the new music is well received, they close with one of their darker songs Baphomet.
Next to the main stage and hailing since the late 80's are Death metal war-horses Asphyx. Humble before they even begin, they shake each others hands and give pats on the back for a good show. Frontman Martin van Drunen (Pestilence) announces "This one is for Vladimir Putin the bastard may you die a …Death the Brutal way", which causes a strong surge in the mosh pit, hair and arms are flying all over the place. He dedicates Deathhammer to all the volunteers, workers and organisers of the festival and warns the crowd "This one's a bit of a Neck-Breaker", as they head bang their way through Molten Black Earth. They perform for forty-five merciless minutes, keep us keen the entire way though and after many thanks, send us off with Last one on Earth.
Loud sirens and smoke explosions signal the start of Norways Black metal foursome, Vreid for their first show back at Inferno in over a decade. Taking off with Wild North West from their 2021 album of the same name. Vreid's mix of clean vocal harmonies and traditional Black metal styles have really given them their own unique sound which they execute and own perfectly on stage. They take us back to the 60's to put their own heavy, darker twist on a cover of Paint it Black by The Rolling Stones and now, Inferno is moving and shaking. Sparks fly as they bring out the flamethrowers for Speak Godammit. In 2004, following the death of their vocalist, there was Windir, then Vreid came to fruition not long after. We are treated today as they give us a fragment of the past and carry through an incredible rendition of Windir's The Spiritlord. Their final song of the evening, Pitch Black from their 2006 album 'Pitch Black Brigade' had the place roaring much like all the flames from their pyro kit. 
Spending most of our time at the main stage today as well as stuck in the Inferno time vortex at the rooftop bar listening to the many fantastic Dj's. We thought we'd peer over the railing at Swedish Blasphemers, Marduk. As they open with Werwolf, the lights beam down on the crowd and it is packed, a very full Inferno for a late Saturday night slot. Marduk are unhumorous when they play, with many long pauses and not much to say between songs. They are very sincere and have been performing this way since the 90's, it keeps their live show intense and perhaps this is another reason why they've maintained such a cult following.
We decided to take a moment out and landed our butts at Kniven for some whisky and catchups, but with enough time to make it back for tonights headlining act The True Mayhem. As forefathers of the Black Metal genre and as a band who's history is so heavily steeped in controversy, it's no wonder it was shoulder to shoulder all the way to the back of the Rockefeller arena. What pandemic? After a long theatrical entrance, the first thing we noticed, is that the late night light show was incredibly punishing, we could barely see the band members through the strobes. However, they engage us in songs from their newer music, then De Mysteriis Dom Sathanas. They continue to take us backwards through a musical tour of their very impressive Black Metal career. Hellhammer's drum kit is enormous, complete with its own rigging to keep it on the stage as his blastbeats rip our hearts out and sober us up. Beneath the props and paint, Attilla Csihar is not only a beastly frontman but a story teller and Mayhem is definitely a band with a story to tell. As the Red Mayhem Banner drops, so do their cloaks and Necrobutcher's bass lines rumble underneath Deathcrush. After a 70 minute set and a massive round of applause, they are done. Mercyful Fate plays for their exit as Mayhem throw out their setlist, drumsticks and guitar pics to the diehard fans exhausted in the front row. 
Back to Kniven for another late night of DJ madness. This night called for drunken 'Happy Easter' video calls from the bar, to my poor family in Australia. Boots off this time and another successful festival day it was time to retire to the fluffy pillows of the Clarion. 
To watch the Inferno Day Three recap video click HERE
For all things Inferno Metal Festival Click HERE
How useful was this post?
Click on a thumb to rate it!
Average rating 5 / 5. Vote count: 2
No votes so far! Be the first to rate this post.
Related
About the author
"It does not require a majority, but an irate, tireless minority, keen to set bushfires in people's minds." Hail Satan!