Interview with Dementia Awarefest organiser Dave Evans
15th February 2017
0
By
DJ Pixie
Dementia Aware Fest has returned bigger and better for 2017. This is the 4th Dementia Aware fest and 2017 will consist of a full weekend of fantastic live bands all giving up their time to raise money directly for Dementia UK.
Can you tell us a little bit about Dementia Aware Fest and how it all came about? 
Back in 2012 I and a dear friend Jules Barratt were chatting about music, and the conversation got onto how her day at work had gone. She was frustrated that herself and her fellow nurses and carers were snowed under and under funded, So the idea of how to raise some awareness and money for Dementia UK came to fruition. I was reviewing bands, and as such had my finger on the pulse of new music and emerging bands. We soon had a venue; Scruffy Murphys in Birmingham. The bands soon followed. The first Dementia Aware-Fest was born.
How did you become involved working in the music industry?
I quite simply wrote my own review of a Magnum gig, and posted it on a forum I was part of (Planet Rock). It got a wonderful response, so I sent it to the band's website. A few hours later they posted it up to my amazement. The seed was set that night.
What does Dementia Aware Fest mean to you?
It means everything, it affects us all. I hear and see it almost on a daily basis from people, be it friends, bands, customers etc. We are proud to have been the first in the UK to have set up an all-day live music event raising funds for Dementia. It is something that impinges on the whole family, and music is one of the best ways to stimulate the mind and revive memories.
Did you have a venue in mind when this all began?
Yes, as I'd DJ'd at Scruffy Murphys, and it was my local Rock Bar, it seemed the natural birthplace for our event. Humble but popular and well set up.
It seems like everyone at D.A HQ is working hard to make this year a great event.
The work gets harder year on year, as Richard Forbes and myself set the bar ever higher. No stone is left un-turned. The secret is attention to detail. Look after the bands, cover all the bases and they, in turn, will perform out of their skins for you. This year we have gone to a full week-end for the first time (as 2016 event sold out). It is a risk, and double the workload, but we have to step up a gear to keep the event successful, Ultimately raising money for Dementia UK is the highest goal every year.
Do you think it's important to have the right crew behind you when working a festival, and what do you look for when someone applies, how do you go about recruiting your crew?
The crew are crucial, we have so many bands to accommodate so change overs, for example, are 15 minutes maximum. As you can imagine the gear load in and outs are a blur of equipment, so having people who know what they are doing is essential. My head crew guy Lloyd Cale has been in the industry for about 40 years (trained sound engineer also). As regard, the bands Richard and myself try and get a 50/50 split to keep it all even and fair. We both know what excites us, and experience dictates who ends up on the bill. But, you also have to keep things fresh, so a few curve ball bands are thrown in to spice things up musically. There are so many wonderful bands throughout the UK, it is a joy to be able to place a small percentage of them on our bill. Personally, i'm a big fan of 'passion', I'd much prefer a smaller band that will give every ounce live, than a seasoned band just going through the motions. This year, like the previous, I think we have achieved a nice mix.
The line up looks superb, which bands are you most looking forward to having play at the festival this year?
Gosh, so many. Am elated to have Liberty Lies, Iconic Eye, Hells Addiction, Mason Hill etc, such talented bands. All of them, as we choose very carefully from top to bottom
As a festival organiser, what do you look for when choosing bands to play?
Passion, first and foremost. Then comes the professionalism, the following. The material. We need bands that will pull a crowd, in short, that way we sell more tickets and raise more money. We are blessed to be snowed under with talented bands in this country, and the musical levels are so high it is a happy conundrum to have to choose the right ones. I have a saying; "Them's your own ears, indulge them". Trust your instinct.
How early do you start booking bands in for the festival?
We already have about 5 bands booked for 2018. So very early, You have too such is the competition and sheers number of events now. 
Who would you most like to come and play Dementia Aware Fest who hasn't played before?
A few bands spring to mind personally; Trucker Diablo, Massive Waggons, Vega, Tygers Of Pan Tang. We had interest from Diamond Head, so that would be great one year. 
What can we expect from the festival this year?
An extra day, so April 29th & 30th 25 bands, an Acoustic stage. Extra stage lighting. We are in talks to get the event filmed also. We have the Rock N Roll Raffle / Auction. There will be event Tshirts and CDs also available to purchase. But mainly 2 days of the best live music we can muster, all in a wonderful family friendly venue (The Roadhouse). We know people will have fun, and in turn will raise a great amount for Dementia UK. That's all we can ask for. 
Are you doing anything different this year that you haven't done in previous years?
Adding an extra day to proceedings, due to demand, hopefully filming the live performances and bringing in extra stage lighting.
Where would you like to see the festival in 10 years time?
My ultimate goal would be to have a DEMENTIA AWARE-FEST in every major city in the UK / Eire. We have interest from Manchester and Leeds already I believe, so that may not be so far away. Ultimately we want awareness and fund raising levels to be the best they possibly can be. Dementia affects all of us, so we all need to be aware, and if possible give a little back. 
Is there anything you would like to say to the people who attend and support Dementia Aware Fest?
Without YOU we have no Dementia Aware-Fest, you the paying public, the bands, crew, staff, volunteers, donors etc are all part of what we do. We truly are humbled and thank you so sincerely for being with us every year. Together we can only get bigger and better.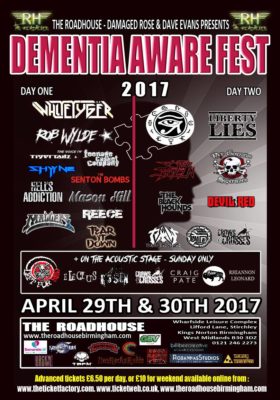 Dementia Aware-Fest 2017
29-30th April 2017
The Roadhouse Birmingham
Ticket prices £6.50 for Saturday only tickets
£6.50 for Sunday only tickets
£10.00 for weekend entry to both days
Line up
Saturday 29th April
White Tyger, Rob Wylde, The Senton Bombs, Shyyne, Sister Shotgun, Mason Hill, Mallen, Tear it Down
Sunday 30th April
Electric Stage – Iconic Eye, Liberty Lies, Hell's Addiction, New Generation Superstars, The Black Hounds, The Mighty Wraith, Spreading the Disease
Sunday 30th April
Acoustic Stage – Left for Red, Electus, Resin, Crows & Crosses, Craig Pate and Rhiannon Leonard
Keep up to date with Dementia Fest HERE
Buy tickets from 
http://www.theroadhousebirmingham.com/
https://www.theticketfactory.com/default/online/tickets/festivals/dementia-aware-fest/
How useful was this post?
Click on a thumb to rate it!
Average rating 0 / 5. Vote count: 0
No votes so far! Be the first to rate this post.
Related
About the author
I started off in media back in 2009-2010 working for Rach at Bolton FM as her PA. I was then a Radio DJ in Blackpool for 2 years 2010-2012 for Impact Radio doing the Rockout Show, until the station closed due to lack of funds. From here i went onto working for My Global Mind Webzine, TBFM Radio & Magazine and now All About The Rock. Currently writing and doing photos for 3 webzines keeps my days filled with lots of rock n roll updates and music lovelyness.