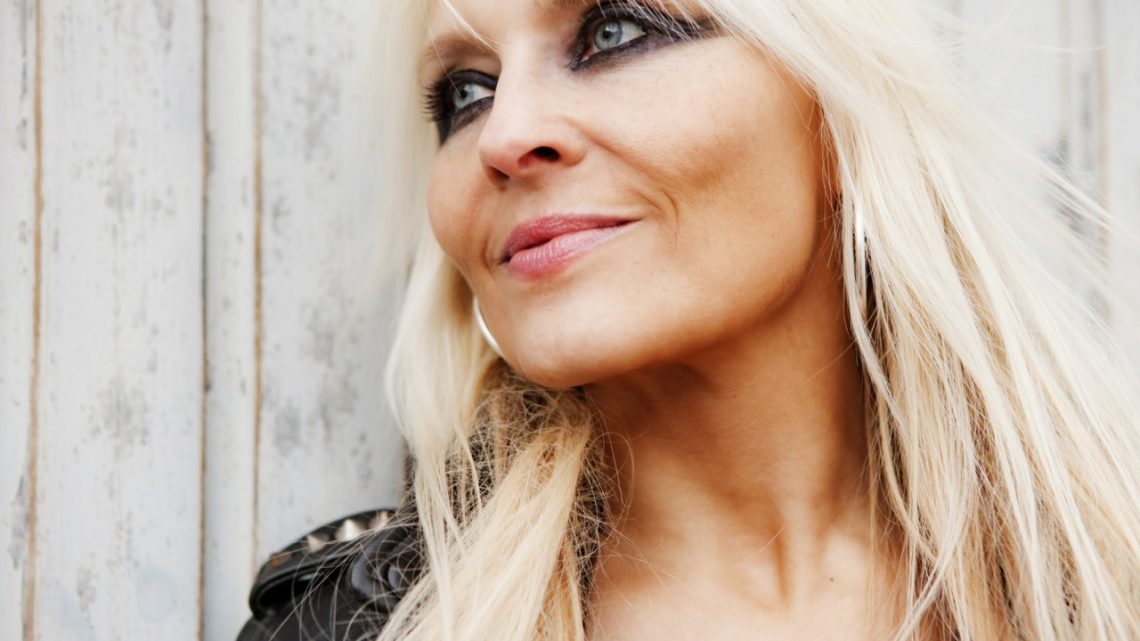 Interview with Doro Pesch
14th October 2021
There's not many singers who can boast a career lasting nearly 40 years in the Metal world, and still be going strong today. Or still sounding so good. But Doro Pesch is most definitely one of those. Initially bursting on the scene in the early eighties fronting Warlock, she's now thirty plus years into a solo career. She's been there and and done it all, with plenty of stories to tell. She recently released a live version of Warlock's classic Triumph And Agony album recorded at Sweden Rocks Festival in 2017. I had the great pleasure of chatting to her last week about that and many other things.
Hi Doro, thank you for talking to us today. How are you?
I'm really well! Everything is starting open up and get back to normal now, which is great.  I'm really excited at the moment, my album is out, and i'm coming back to the UK soon to see you guys too. We're touring over there with Michael Schenker at the end of October, we're playing Leeds, Newcastle, Wolverhampton and the London Shepherds Bush Empire which I love to play. 
That's a great venue, the audience are right on top of the stage almost. 
Yes, I played there once with Saxon, it was their anniversary show and they recorded a DVD that night too. We were only announced for the tour yesterday, I can't wait. But unfortunately Glasgow got cancelled, I love playing Scotland, but I think they have new rules up there, which is bad news. 
Is that tour going to feature the Triumph and Agony set like on the new album?
Yes, it'll have the highlights of Triumph And Agony, but will also feature all the other highlights like Burning The Witches, to Hellbound to Raise Your Fist In The Air and All For Metal. We only have 45 minutes, so we're going to give it our all. But from Triumph And Agony of course we'll be playing All We Are, I Rule The Ruins and Three Minute Warning, all that sort of stuff. 
I reviewed the album recently (HERE)and, to me, it sounded so much more powerful than it did on the original record, was it the same for you?
Yeah, I feel the same. I think every live album and DVD we do sounds much better, more powerful and energetic, you can't compare it to a studio album. I love song writing, I love working in the studio, but it's nothing compared to playing to a crazy audience, where all the metalheads are on fire. That's the best, that's what i live for. 
What was it like revisiting the album thirty years on from it being released, to play it live in full?
We never did that before, and a few years ago, I rang up my old guitar player Tommy Bolan and said "Tommy, Triumph And Agony is almost 30 years old, shall we play it live in it's entirety just one time for the anniversary?", and he was like "Oh man, I've waiting 30 years for that call!". So we got together and practiced and went to a little rehearsal studio, and it sounded so good.
We played songs that we never played live before like Make Time For Love, and Kiss Of Death. Three Minute Warning and Cold Cold World we only played once on the original tour. It was awesome, we played a Spanish tour, and an American tour. We played some festivals like Grasspop in Belgium and Norway Rocks. Sweden Rocks was the first festival where we played it in it's entirety and it was magical. The equipment was so good, they had 15 cameras on us, so I thought lets make a live CD of that show. There's a few songs from the Spanish tour on it too.
The blu-ray is only Sweden Rocks. There's  a documentary on it too where I talk about the original Triumph And Agony and other stories. There's the videos from it, and some bootleg ones too from when we toured with Megadeth and Ronnie James Dio in 87/88. I'm sure he die hard fans will love it.
Were you surprised how well it worked as a set in its own right, with the running order rearranged?
Well, it was impossible to open with All We Are (The original albums' opener), as it was such a big anthem for us. When we recorded it we thought it was a nice song that people might like to sing along with. Then it became the first single from the album, a great video and when we tour people know us for All We Are, so we couldn't open with it. So we thought Touch Of Evil was a nice powerful, mystical vibey heavy song, so we thought it was good to start the live show with that one.
I was surprised how well it worked as an opener. It's a great album track, but I never thought of it as a first song of a set. 
Yes, but when we do a long tour we can't open with it. The screams in it are so hard and my voice is immediately shot. And when you have 30 or 40 shows to do, it's impossible. We usually open up with I Rule The Ruins.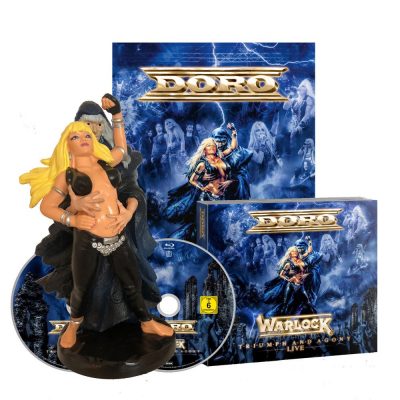 One version of the album comes with a little action figure of yourself. Was it strange seeing yourself like that?
Do you want to see it? (Doro goes off in search of it, and returns with one) Some people love it, some people don't. The face was always tricky, they're all a little different. Some people say to me it doesn't look like you. They're all hand painted, and I think some of them came out good. I did this one myself and I think it's a nice gimmick to have. We also have a giant version of the cover (a life size cutout of Doro) that comes with a marbled vinyl too. 
We have a box set version of it too, that comes with a cassette and patches. I know not many people have cassette players these days, but i thought lets bring back the good old days. Something for your collection. I gave all the special box sets away, but I had to keep one for myself! On the first record Burning The Witches, I gave all the vinyl away, and I never got to have one, but I was just so happy that people liked it and wanted a copy. 
That album started a run of four great albums in just over three and a bit years. Do you look back on that as something of a golden period for you?
Totally. That's the reason I wanted to do a Triumph And Agony celebration because it was just the best time for me. It was a great time for metal in 87, everything was huge, MTV was playing All We Are on heavy rotation. Headbangers Ball was still going too. I hosted it a couple of times when Vanessa Warwick was on vacation. It was awesome. 
I have great memories of the making of Triumph And Agony. Cozy Powell was on it, he played on A Touch Of Evil and a few other songs. It was unbelievable, a really great time. 
As well as him, you've had loads of guest artists on your records and duets over the years. I was listening to the one with Lemmy earlier, Love Me Forever. 
Oh yes, we did three songs together with Lemmy. He was my first ever duet partner, we did two songs on the Calling The Wild album. We did Love Me Forever the Motorhead classic, and Alone Again. That song was written by Lemmy on his acoustic guitar, and he played it for me in his hotel room. When I heard it, tears started coming down, it was so touching. Every knows him as the the tough guy, but he was so soulful and such a sweetheart.
That was the first time we did something together. The last time was on our album Raise Your Fist, on a song called It Still Hurts. Our last duet and we've played it live many times  together, he always came to my big anniversary celebrations, it was unbelievable. I miss him every day, I still love him so much. 
We all do. Was it strange as you became more famous to start meeting your heroes? People like Lemmy, Ronnie James Dio and Saxon?
Its still amazing, I still love the same bands and musicians, and when I meet them, i'm nervous and my heart is pumping, you know? People don't see it, but I am. My first big tour was with Judas Priest in 1986. I'm a big Priest fan, then the second was with W.A.S.P. in the UK. I'm a  big fan, and Blackie Lawless was so so nice to me. Then the third tour was with the legendary Ronnie James Dio, and becoming friends with people you love so much was so great. 
Then I got to meet Lemmy, and Biff out of Saxon. I always thought he was a hell of a frontman, and singer. I was a big Saxon fan too. When I was younger I was a big Kiss fan too when I was growing up.  I got the chance to work with Gene Simmons on an album in 1990 (Force Majeure) and he was super nice. He was very professional, caring and intelligent, it was awesome.
I learnt from the best, and I deeply appreciate the chance to work together, to tour together or work in the studio with them. It was a dream come true, and I never expected to ever meet people like that, let alone work with them. 
Over the years you've done albums like Classic Diamonds where you got to play acoustically with an orchestra. Was that you trying to stretch out away from metal, and show your different influences?
Yeah, I think all albums should be different from the last one, having a little adventure and surprise. Working with an orchestra came about when I was asked to do a benefit show for a really good cause, Animals In Need. I love animals, so I had to be on it. There were five or six singers and guitar players, and I was going to sing two songs. One week later the producer called to say one singer can't make it, can you sing four songs? A week later, another dropped out, they asked me to sing more. In the end I did 80% of the whole show! It was my first time with an orchestra, and the fans loved it. 
The fans asked me to do it again. In Germany, the Wacken Festival promoters asked me to do the show there with the orchestra. I was hoping people would love it, we played with a 65 piece orchestra, and special guests. We had Chris Caffrey (Savatage, Trans- Siberian Orchestra) on guitar, Blaze Bayley was there, and we did Fear Of The Dark. It was so great and powerful. Then we thought lets make an album out of it, and it was a lot of fun. We did a little tour too, which was fun. 
It was something a little different, but some songs sounded so much better than they would if you had just added a little keyboard to it, you know. Some songs really came to life. 
When I listen to Fur Immer on it, it sounds as if if was written to be played like that. 
You're right! When people with a lot of heart and soul play it, some songs really work so well. 
Have you got any other musical ambitions you'd like to do, away from metal or anything you'd love to do?
To be honest, metal gives you all the freedom you need to say and do whatever you feel. I always try to find some ways to keep it new and interesting. I've been doing this now for nearly 40 years, so I think every album should have something special about it. Maybe a combination of two musical styles. For example, on the Triumph And Agony album, we put a tango rhythm on a song, and came up with Metal Tango.
I like to do new and unexpected things. But to me it's all metal when it's real, deep, meaningful and powerful. I would love to do many many more records, have loads more duets. I would love to have Rob Halford, James Hetfield, Blackie Lawless or Bruce Dickinson on it. There are so many great people to choose from. You need to have a reason to do it, whether you're both at a festival for example.
On the last album we did one with Johan Hegg of Amon Armarth, i'm a big fan of theirs. Then I did one on their album. I was so happy it worked out for me to do both. 
You touched on Rob Halford and Bruce Dickinson there. You all broke through in the 80s and survived the 90s to still be here today. It was a very strange decade wasn't it, with grunge etc coming through. It must be satisfying to have seen it off? 
Totally, I was never a big grunge fan at all. There are many great new bands out there today. I was just doing a festival in Belgium, and there was a great band called Jinger on from Ukraine. She sounds great. I love all he eighties bands, but there are a lot of great new bands coming through today. 
There must be a lot of singers who were influenced by you, did you see yourself as something of a pioneer for female vocalists? 
Sometimes people come up to me and say, when I first heard Triumph And Agony, I decided to form a band, or when they saw the All We Are video. I never thought of myself as a pioneer, I just went at it full force, gave it 110% and if it inspired people, then that is great. If it did something positive that's cool.
When we first started I was just one person in the band. It was not a big deal to me being a girl, you know. My dad was a truck driver, I was always around men. It was natural to me  to just work hard. I think music is above all that, where you're from, whether you're a man or woman. You just get on with it, it's never easy. You just have to put your heart and into it, and if you do, it will pay off.  
It certainly has, you're still here 40 years on. After the Michael Schenker tour, are there plans for a new album?
Yes, we have six sings done already, and I think it will come out next year. We worked on it last year, but with lockdowns and travel restrictions we weren't able to meet in one studio. That's why I released a best of instead, the Magic Diamonds album. It started off as 15 song album, then it went to 25, then 35. In the end we ended up with 56 songs on it. We put Make Time For Love on it, which made me go back to check out the Triumph And Agony recordings. That lead to us putting out the live album. But we're still working on the new album, and things are easing. So next year you can expect a new album. 
Will that be released on your own label as well? (Triumph and Agony Live came out on her own Rare Diamonds label)
Well, we're still with Nuclear Blast, and i'm really happy, they're super supportive. They're die hard metal fans, and really understand it which is awesome. They really care. I'd love to do the new album with them. But I do my own little thing on my Rare Diamonds Productions label which allows me to do re-releases, picture discs, shaped vinyl or like in this case, cassette versions and action figures. I can do box sets or anything that's special for the die hards to enjoy. But so far we're with Nuclear Blast overall.  
It's been absolutely fantastic talking to you today. Thank you so much for our time. 
It's been nice to talk to you too, and thank you for having me. Stay safe, and I hope to see you all over there soon on the Michael Schenker tour.
For all things Doro, click HERE and to purchase Triumph and Agony Live, click HERE