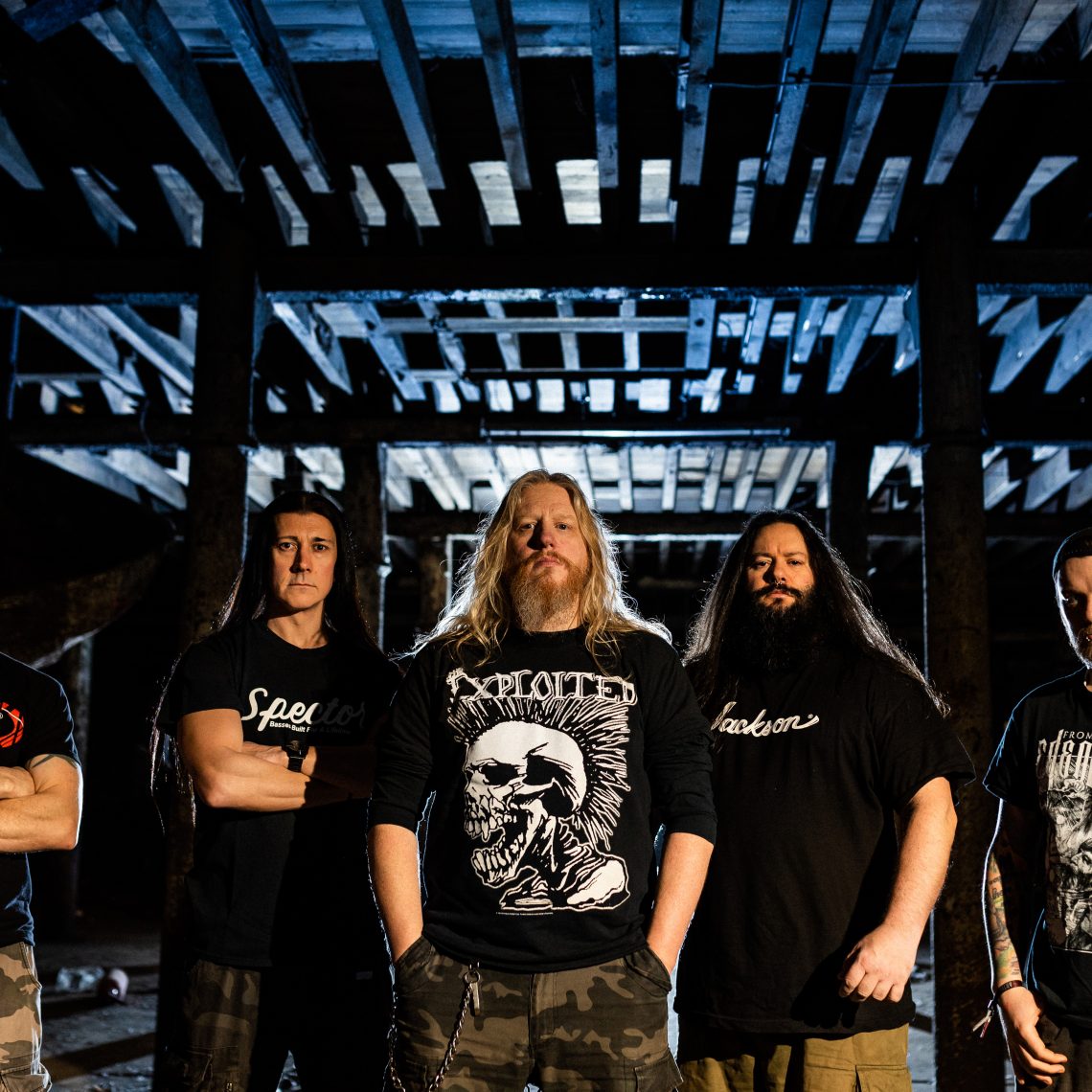 Interview With Liam and Neil of Krysthla (Bloodstock 2019)
24th August 2019
0
By
Dan Peeke
After opening the main stage on a very windy Saturday at this year's Bloodstock, we at All About The Rock had a detailed chat with guitarist/vocalist Neil Hudson and drummer Liam Turland of technical, groovy death metal band Krysthla.
Who is the best band you've managed to catch so far?
Neil: I haven't seen anyone so far!
Liam: I managed to see about 10 minutes of Cancer Bats just after we played and then we had to get over here.
So what time did you arrive this morning?
Neil: We've been awake since half 4, we arrived on stage and set everything up by 9, played at 10:45 and then headed straight to the signing tent and we've been over here [the VIP/media tent] ever since.
You can't have managed many beers before your set then?
Liam: None. Straight sober.
Neil: All business.
Liam: I'm soaking it up now but nothing on stage, gotta make sure your heads straight for the gig.
Who are you most looking forward to seeing if you get a chance?
Neil: I really want to see Aborted. That'll be a masterclass they're amazing. And I want to see Resin on the Sophie stage because they're bringing the whole orchestra thing with them and I want to see how well that translates.
Did you expect such a big crowd for such an early set?
Neil: Yes! Absolutely. I was expecting at least half a million people and it was pretty close so we were pretty happy. Could have had maybe 15 more.
Liam: Yeah 15 more and it would have been absolutely spot on.
Did the wind impact your set?
Neil: Yeah it really did actually. I didn't really expect it, but on a big outdoor stage like that its quite surprising how the wind whips in and robs the monitor a bit. You'll be in the middle of a riff and everything just bows out for a split second and pulls the momentum away for a little bit. It was ebbing and flowing a little bit so it makes you look out for where you're standing on stage.
Liam: I suppose it's different because I'm at the back so it's always pretty good for me. When I do get a bit of wind though it's quite nice really.
Neil: Yeah it was proper flapping my hair around.
Have you ever done a gig in the pouring rain?
Neil: I don't think so actually.
Liam: I have but not in this band and it's pretty rough. There is rain pouring all over your drums splashing all over your face.
Who provides the biggest influence on your playing style?
Liam: Mine has varied over the years. The one that got me into drumming was Tre Cool from Green Day. I learnt all their albums front to back, and yeah, they aren't the most intricate band technically but he is still an amazing punk drummer. From then on, its been John Rice from Job For A Cowboy and Travis Smith the original Trivium drummer. I was very intro punk when I first started. Trivium got me into metal.
Neil: Guitar-wise, a cross between Dimebag, James Hetfield and Vogg from Decapitated. A good blend of those three. I like Vogg's tightness and the angularity of some of his riffs, a lot of notes you don't expect and discords and slides. On the earlier albums it's hard to work out what he's doing without watching what he's actually doing. Then with Dimebag it's the sheer individuality of his playing. A lot of people own a whammy bar, but you can't play like him. Over years of playing he's formed such a distinctive playing style. Even if they're playing through a different amp, you know when Dimebag is playing through his phrasing and vibrato. That to me is really important. James Hetfield is for his sheer tightness and his downpicking. There are a lot of players now who rely on the gear to make their tone, you can have all these silly guitars with 15 strings but they don't play with vigour. Technically its really cool. John Browne from Monuments, his guitar playing is insane.
Do you think you can have a signature drum sound then?
Liam: Absolutely, 100%. You can put a song on and go 'I know who that band is' before the vocalist has even started. It's all about creating that signature sound.
There is literally a wasp walking into my cup.
Liam: Eat it!
Neil: It's a festival he wants to get hammered. He wants to watch Thy Art Is Murder in the pit!
Your upcoming album is due for release very soon, what can we expect from it?
Liam: Heaviness!
Neil: Extreme heaviness.
Liam: Soul.
Neil: Yeah soul is a good word. Again, individuality. There are a lot of very talented bands on the circuit today, the skill has shot up exponentially. The average band today are going to have sweeping, tapping and crazy standards. A lot of them are very similar and we know what is going to happen, big beat down section, crazy solo, big deathcore growl at the end. Whereas with Pantera you never know what is going to happen. That's what we find important to bring to our records. We want each track to have its own individuality. We put the tracks in certain orders on the records to keep the flow, we don't want tracks appearing back to back and people thinking 'I know where this is going to go'. We want to put turns everywhere.
Neil: Yeah, you're right it is proggy in a way. We want to take people on a journey, we're storytellers saying, 'this is what is happening in the world in 2019'. People latch onto bands who have something they can genuinely feel. If you're singing about blood and gore, it's cool don't get me wrong, but it's not really going to make you feel a certain way and make an impact.
Cannibal Corpse aren't known for their social commentary.
Neil: Precisely. It's why bands who get into people's psyche that stick around. You have to make each track have an identity and mean something. In 2019, we need to talk more. If you're reading this: talk to your friends! Don't be miserable on your own!
Does the band have anything else exciting coming up in the near future you'd like to mention?
Neil: We've got some stuff we can't announce this year which is pretty cool.
Liam: Got some stuff in Scotland.
Neil: We've got Uprising festival in Leicester with Napalm Death and Acid Reign. That's at Leicester o2 Academy.
For everything Krysthla, click HERE.
How useful was this post?
Click on a thumb to rate it!
Average rating 5 / 5. Vote count: 1
No votes so far! Be the first to rate this post.
Related
About the author
I like classic rock like Led Zeppelin and Pink Floyd and Hendrix, Metal like Metallica and Slipknot, into more extreme stuff like Cannibal Corpse and Anaal Nathrakh. Other than rock, I love Bob Marley, blues legends like BB King, Rock n Roll like Chuck Berry, Jazz, Country and Bluegrass. I also like a bit of Elton John and Eminem every now and then (Sorry!). But overall my favourite bands are System of a Down, Five Finger Death Punch, Rush, Children of Bodom, Led Zeppelin, Pink Floyd and Anaal Nathrakh.