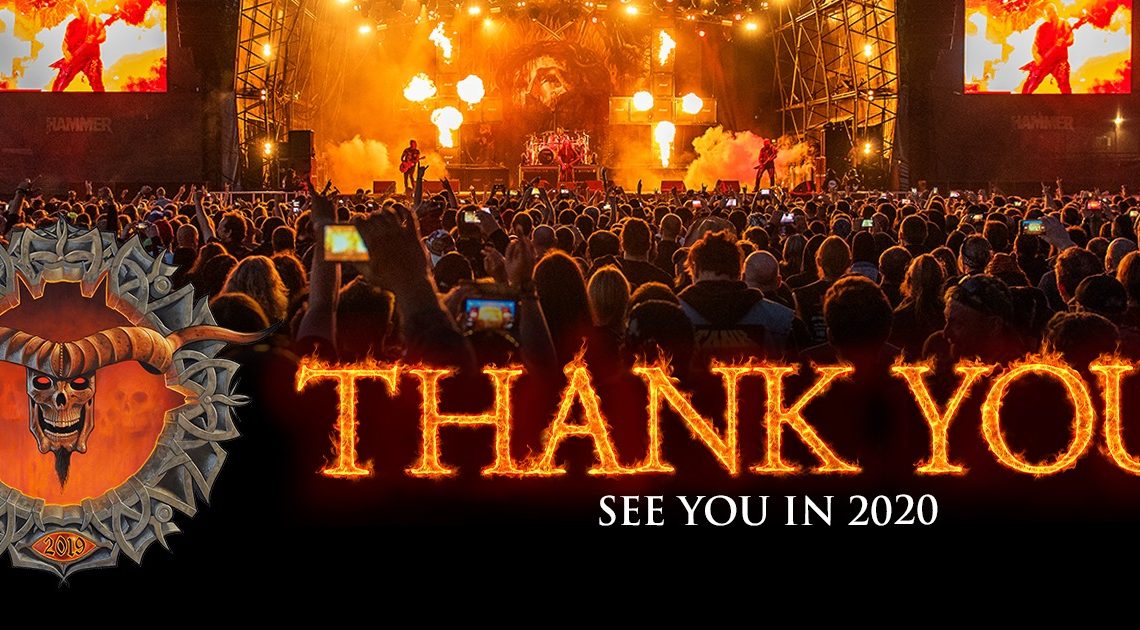 Bloodstock Open Air Festival- Sunday 11th August (Catton Hall, UK)
24th August 2019
1
By
Dan Peeke
The Sunday of Bloodstock 2019 got off to a pretty poor start. I woke up feeling like absolute death. The sort of level where you can't really move and you genuinely consider bailing on the final day. BUT a day of classic metal was ahead of me, so I pushed through. I attempted to shovel down a tin of All Day Breakfast (a tin of beans with fake sausages and meatballs and stuff that all taste like rubber mixed with bread and salt). It did not help.
I imagined that the brutal deathgrind of Aborted would perk me up, but within seconds of their set starting, the rain absolutely decimated their crowd. Some stragglers tried to watch from the Jägermeister tent, and some absolute heroes were committed to opening up some muddy most pits, but I won't lie; the VIP tent was showing The Incredibles 2. We had an interview with the band later that day and their spirits didn't seem as dampened as their audience.
Ross The Boss was gifted with slightly less rain and with a set that was basically a Manowar/Judas Priest greatest hits set went down a treat. 'Battle Hymn' and 'Hail And Kill' were particular highlights, with lead vocalist Mike Cotoia smashing lead vocal duties, before the presence of ex-Priest axeman KK Downing's first live show in 10 years overshadowed the equally virtuosic main man. 'The Green Manalishi' and 'Breaking The Law' were staple Priest live numbers performed with almost equal passion on this exact stage one year ago. If only KK could have made an appearance back then.   
The middle of the day was reserved for the back to back brutality of Soilwork and Hypocrisy who commanded large crowds, while Wheel and Aesect stood out as we travelled around the smaller stages.
At around 4pm, we were treated to one of the most surprising hits of the weekend with Dee Snider's solo set. The seasoned pro had headlined this very stage with Twisted Sister a few years ago, and pointed out his own unfamiliarity with playing in the middle of the day, but his command of the audience was second to none, nonetheless. Asking the audience not to go to the toilet during his solo tunes was a stroke of genius that actually worked, ensuring he had the same crowd for tracks like 'American Made' (which he knew basically no one knew) and 'We're Not Gonna Take It' (which was belted back at him word for word by thousands of people). Ending with an elongated 'I Wanna Rock' ("is this the song from The SpongeBob Movie", I heard someone ask), it was clear this set had drawn one of the largest and most responsive crowds of the weekend. When the king of glam metal finally left the stage, the toilets were absolutely mobbed.
Having had their set moved from yesterday's main stage closure (and all Saturday day tickets being honored today, good on you Bloodstock), Cradle Of Filth took the set Batushka were very temporarily provided with. Dani Filth's distinctive screech of a vocal pierced their textured death metal, with a few tracks from Cruelty And The Beast sounding far better live than on record (if you've heard it, you'll know its arguably the worst produced album of all time despite somehow still being really good). They took full advantage of the fire on offer and surrounded their stage with heat almost non-stop, while tracks like 'Nymphetamine (Fix)' and 'Her Ghost In The Fog' prompted some sort of strange, demented singalong.
Queensryche were up next on the main stage, with their first ever appearance at the festival marred by a weirdly tiny crowd, following Cradle Of Filth completely filling the huge field. The two bands should obviously have swapped slots (Cradle could have easily headlined), but Queensryche still had a fair few hits prepared to knock the audience into gear.
The safe decision to stick with the hits was a good choice, with only the opening 'Blood Of The Levant' having Geoff Tate replacement Todd La Torre on studio lead vocals. He handles the set well overall, with his powerful voice mimicking Tate and even throwing in a couple of death growls (for some reason?) every now and again. 'Operation: Mindcrime' is a bit too much for him though, with a couple of gratingly flat high notes knocking the power out of the track. Obviously, the triple threat outro of 'Jet City Woman', 'Empire' and 'Eyes Of A Stranger' goes down very well, but overall, they're a band more suited to a lower slot, with less pressure and less expectations.
Having turned up to replace the absent Dimmu Borgir on the main stage, Batushka ended up thrust into the sub-headliner Sophie stage slot when Cradle Of Filth were reshuffled. This is a very, very good thing. With a stage full of candles, weird churchy objects and a group of fully costumed musicians putting on a theatrical experience, it just wouldn't have worked on a massive, bright stage. The darkness compliments their brutal sound, but it really is the experience of seeing such a well-crafted, committed stage show that the anonymous Polish guys put on that makes them such a well-received last-minute booking.
Scorpions may well be the biggest band to have graced the Ronnie James Dio stage. However, after two stunning headline performances from much younger, less experienced bands on the two previous nights, they had a lot to live up to. Honestly? They didn't manage it. Smashing through repetitive bluesy, metally rock is great when you land some hits like 'Rock You Like A Hurricane' and 'Wind Of Change', but it almost never provides enough material for a full set. As such an iconic band storm out onto the stage to 'Going Out With A Bang', the atmosphere is brilliant, but by the time we reach 'Coast To Coast', the vibe has dipped. The crowd is surprisingly small, with Cradle Of Filth having drawn in most people four hours ago. For some reason, I knew every single word to the 2015 track 'We Built This House' (who knows why), and the huge singalong to 'Winds Of Change' was a highlight, but Klaus Meine's voice is weak, and the two most interesting previous members of the band, Michael Schenker and Uli Jon Roth, haven't appeared alongside their previous bandmates since Waken 2006 .
Ex-Motorhead drummer Mikkey Dee is given an endless drum solo which acts more like a break for the rest of the band than a particularly necessary part of the set, and their lack of stage show leaves their vulnerably boring filler tunes painfully exposed to a crowd who simply didn't care. Obviously, when 'Still Loving You' and 'Rock You Like A Hurricane' brought the main stage to a close, everyone was firmly back on board, screaming every word like they'd written it. For these moments, their set seemed completely worth it. However, the band are in a strange position in which they'd make the perfect afternoon slot in which they could smash through 45 minutes of world beating hits and then depart, but they're just way too famous for anything other than a massive headline slot.
'We'll be back', announces Meine. Okay, but just leave it a while, yeah?
Eluveitie close the entire festival with their powerful folk metal, filling the tent with those wandering away from Scorpions. By this point, all my body wanted to do was lay down for as long as physically possible, so we trundled back to the wet, cold tent that we had to call home for just one more uncomfortable night. Despite the circumstances, all I could think was how brilliant Bloodstock 2019 had been. Last year was pretty great, and despite the elements literally attempting to destroy the country this time round, they'd managed to one up themselves.
With the 20th year of the festival coming up next year and the likes of The Black Dahlia Murder and Skindred already locked in, I'm very excited to return.
How useful was this post?
Click on a thumb to rate it!
Average rating 5 / 5. Vote count: 1
No votes so far! Be the first to rate this post.
Related
About the author
I like classic rock like Led Zeppelin and Pink Floyd and Hendrix, Metal like Metallica and Slipknot, into more extreme stuff like Cannibal Corpse and Anaal Nathrakh. Other than rock, I love Bob Marley, blues legends like BB King, Rock n Roll like Chuck Berry, Jazz, Country and Bluegrass. I also like a bit of Elton John and Eminem every now and then (Sorry!). But overall my favourite bands are System of a Down, Five Finger Death Punch, Rush, Children of Bodom, Led Zeppelin, Pink Floyd and Anaal Nathrakh.